(CARROLLTON, Texas) — FASTSIGNS International, Inc., franchisor of FASTSIGNS®, the leading sign, graphics and visual communications franchise, was recognized for its support as a bronze partner of the American Red Cross.  
In 2016, FASTSIGNS International launched "FASTSIGNS Cares," a franchise network-wide philanthropic initiative to encourage and recognize the many FASTSIGNS centers working with causes they care about. In the first year of FASTSIGNS Cares, FASTSIGNS pledged and donated $25,000 to the American Red Cross.
We are fortunate to have a network of amazing FASTSIGNS franchisees, corporate employees and vendors who also happen to care about people," said Catherine Monson, CEO of FASTSIGNS International. "Through their efforts, we were able to meet our $25,000 pledge goal for the American Red Cross in 2016. When the devastating hurricanes hit this year, we helped rally support and have garnered additional donations of more than $3,000 through our online Red Cross managed donation site."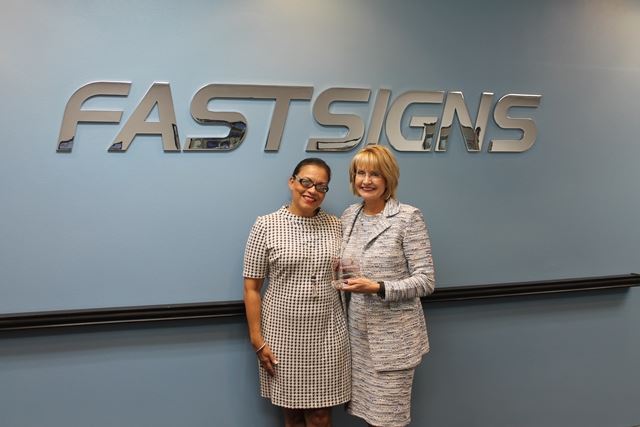 According to the American Red Cross, their workers respond to large and small disasters 180 times per day on average. FASTSIGNS franchisees in so many areas of the United States have been impacted by hurricanes, floods and fires this year, and have seen firsthand how the Red Cross works to assist those affected by disasters.
To donate to the American Red Cross, please go to http://redcross.org/fastsigns-pub or text 'redcross' to 20673.
About FASTSIGNS®
FASTSIGNS International, Inc. is the largest sign and visual communications franchisor in North America, and is the worldwide franchisor of more than 660 independently owned and operated FASTSIGNS® centers in eight countries including the U.S., Canada, England, Saudi Arabia, UAE, Grand Cayman, Mexico and Australia (where centers operate as SIGNWAVE®).
FASTSIGNS locations provide comprehensive sign and visual graphic solutions to help companies of all sizes and across all industries attract more attention, communicate their message, sell more products, help visitors find their way and extend their branding across all of their customer touch points including décor, events, wearables and marketing materials. Learn more about sign and visual graphic solutions or find a location at fastsigns.com. Follow the brand on Twitter @FASTSIGNS, Facebook at facebook.com/FASTSIGNS or on LinkedIn. For information about the FASTSIGNS franchise opportunity, contact Mark Jameson at (214) 346-5679.