(CARROLLTON, Texas) — FASTSIGNS International launched "FASTSIGNS Cares" in 2016, an initiative which blends local charity support, team building and community involvement. In FASTSIGNS Cares inaugural year, franchisees across the US and Canada choose a variety of organizations to assist including local chapters of national charities and specific local charities, and by honoring returning servicemen and women with signs and banners. Additionally, a $25,000 donation was made to the American Red Cross.
Part of the FASTSIGNS Cares initiative included  'Show Us How You Care' with FASTSIGNS franchisees sharing an overview of their 2016 activities and having franchisees vote for the five who excelled at promoting community goodwill.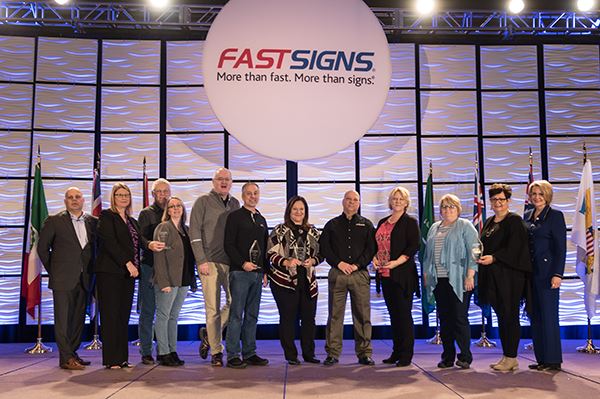 We recently recognized our first Show Us How You Care winners – four franchisees from the US and one from Canada – all who have served their local communities by providing free signs and graphics, volunteered time, hosted events and/or gave financial donations to local charities of choice, military veterans or the Red Cross (or to any combination of these). Franchisee's recognized included Donna Bilodeau and Jackie Raymond – Windsor, ON, Sam and Susan Cilone – Louisville, KY, Renee Friedman – Orlando, FL – Central, Tom and Bev Weber – Minnetonka, MN and Jeff Youngblood and Cory Merchant – Irving/Las Colinas, TX.
Additional $500 donations were made on behalf of the five winning franchisees to their local Red Cross chapter and to a local charity of their choice.  These charities included the following Red Cross Chapters - Canadian Red Cross Windsor-Essex Branch, American Red Cross Louisville Area Chapter, American Red Cross of Greater Orlando Chapter, American Red Cross Minnesota Region and the American Red Cross North Texas Region.  The local charities of choice included The Hospice of Windsor and Essex County, Inc., WHAS Crusade for Children, Friends of Down Syndrome, ICA Food Shelf and Irving Cares.
"We know that FASTSIGNS franchisees are people who care about people.  We are proud of the ways that they serve their local communities and we look forward to expanding this initiative in the years ahead", said Catherine Monson, CEO of FASTSIGNS International, Inc.
#FASTSIGNSCARES
About FASTSIGNS®
FASTSIGNS International, Inc. is the largest sign and visual communications franchisor in North America, and is the worldwide franchisor of more than 650 independently owned and operated FASTSIGNS® centers in nine countries including the US, Canada, England, Saudi Arabia, UAE, Grand Cayman, Mexico and Australia (where centers operate as SIGNWAVE®).
FASTSIGNS locations provide comprehensive sign and visual graphic solutions to help companies of all sizes and across all industries attract more attention, communicate their message, sell more products, help visitors find their way and extend their branding across all of their customer touch points including décor, events, wearables and marketing materials. Learn more about sign and visual graphic solutions or find a location at fastsigns.com. Follow the brand on Twitter @FASTSIGNS, Facebook at facebook.com/FASTSIGNS or on LinkedIn. For information about the FASTSIGNS franchise opportunity, contact Mark Jameson at (214) 346-5679.