(ROUND ROCK, Texas) – FASTSIGNS® of Round Rock, a new sign and visual graphics company, is officially open for business at 105 E. Old Settlers Blvd. Local business owner David StClair has opened the FASTSIGNS franchise location his with father, John StClair.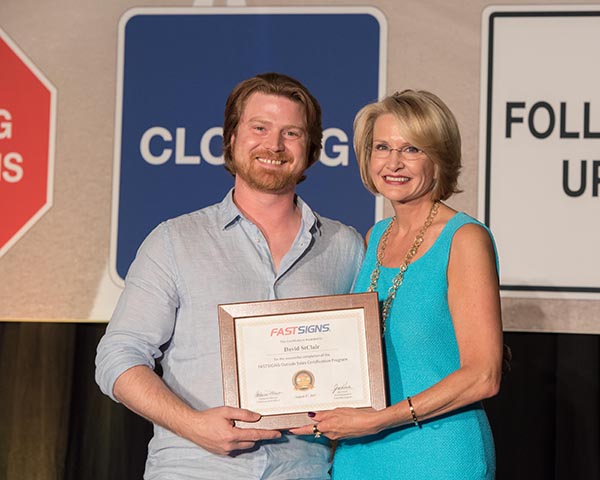 "We are thrilled to open a new FASTSIGNS in Round Rock and serve the local community," said franchisee David StClair. "We have a strong team of sign and visual graphic experts in place and state of the art technology to provide customers creative solutions that stand out and make an impact."
FASTSIGNS of Round Rock provides a wide range of signs, graphics and visual marketing solutions to help businesses and organizations strategically communicate and build brand awareness. To give back to the community, FASTSIGNS of Round Rock will donate free "Welcome Home" signs for returning servicemen and women in the military and plans to provide a 10 percent discount on all orders from local churches, law enforcement, fireman and emergency first responders. 
Prior to officially opening FASTSIGNS of Round Rock, David StClair completed the FASTSIGNS Outside Sales Certification program, which includes curriculum and activities designed to heighten and expand sales skills. Upon completion, recipients receive the distinction of 'Certified FASTSIGNS Sales Executive.' StClair was presented with the Outside Sales Certification Award from FASTSIGNS International, Inc.'s CEO Catherine Monson at the annual sales summit held Aug. 17-19. 
Longtime Austin resident Jeff Bradley is FASTSIGNS of Round Rock's graphic designer and holds two degrees in graphic arts. Michelle Bryant, the center's visual communications specialist, is originally from Lubbock, Texas and has over 20 years of experience in customer service.
About FASTSIGNS®
FASTSIGNS® of Round Rock is a locally and independently owned and operated sign, graphics and visual communications company that provides comprehensive visual marketing solutions to customers of all sizes—across all industries—to help them attract more attention, communicate their message, sell more products, help visitors find their way and extend their branding across all of their customer touch points including décor, events, wearables, digital signage and marketing materials. To learn more, visit fastsigns.com/2167 or call (512) 967-1888.