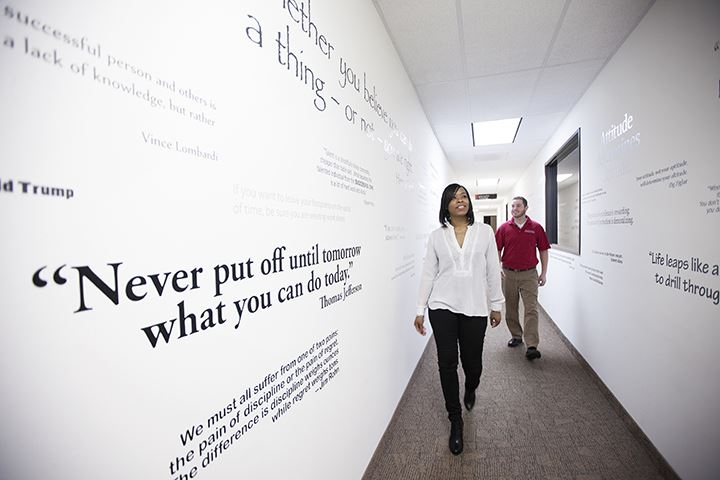 Successful companies know that having employees who are engaged leads to creating great customer experiences and more brand value. Pride in working for a company is consistently ranked among the top three key drivers of talent attraction, engagement and retention.
Your company's internal brand communications can help set the stage for meaningful employee engagement by ensuring employees are informed, recognized and motivated.
"Creating an engaging culture requires internal communication that is consistent and repetitive. Employee engagement reflects the commitment an employee has to his or her organization; the stronger the commitment is, the more value can be derived through retention, public advocacy and great performance," said Catherine Monson, CEO of FASTSIGNS International, Inc., a leading sign, graphics and visual communications franchisor with more than 650 centers worldwide.
A comprehensive visual communications strategy for reaching employees can help with engagement. "As a visual communications company, we don't simply tell ourselves that visual communications are important; we examine our processes and work environment and ask ourselves, 'Do we understand our mission and is it reflected in our work product, our environment and our actions?' Then we ask, 'How can we improve?'", said Monson.
When Monson first arrived at the FASTSIGNS International, Inc. corporate offices in 2009, she immediately recognized opportunities to create improved engagement for employees, beginning with applying large vinyl lettering proclaiming the company's mission and goals along a long, heavily trafficked hallway. That same hallway quickly became a passageway of inspiration as quotes were added, fostering the sense of frequently reaching for and achieving personal and team goals. These reminders are delivered every time someone walks through the building, and this hall is now referred to as "Inspiration Hall".
With Monson's encouragement, her staff of expert communications leaders approached FASTSIGNS' offices with the same energy and creativity that FASTSIGNS® franchisees have been providing their customers since 1985.  Gone were the endless vanilla office walls and cubicles; they became vehicles for messages conveying FASTSIGNS' values, branding and success. What were bland conference room tables now have FASTSIGNS brand graphics and messages. Hallway and doorway graphics help employees and visitors easily navigate the building.  Digital signs throughout the office have messages to remind of birthdays, kudos, upcoming events and important company news. Products are displayed in ways that educate team members and strengthen the company culture. Throughout the company workspace, there are reminders of successes and awards with photos, digital displays, prints and product samples, and on occasion, something really "out of the box" saved and put on display from a special company event.
"All of these efforts help inform, recognize and motivate employees. Surrounding them with the brand they love and with reminders of personal and team successes helps create engagement". And that engagement, Monson said, pays off with highly satisfied franchisees and employees.
About FASTSIGNS®
FASTSIGNS International, Inc. is the largest sign and visual communications franchisor in North America, and is the worldwide franchisor of more than 650 independently owned and operated FASTSIGNS® centers in nine countries including the US, Canada, England, Saudi Arabia, UAE, Grand Cayman, Mexico and Australia (where centers operate as SIGNWAVE®).
FASTSIGNS locations provide comprehensive sign and visual graphic solutions to help companies of all sizes and across all industries attract more attention, communicate their message, sell more products, help visitors find their way and extend their branding across all of their customer touch points including décor, events, wearables and marketing materials. Learn more about sign and visual graphic solutions or find a location at fastsigns.com. Follow the brand on Twitter @FASTSIGNS, Facebook at facebook.com/FASTSIGNS or on LinkedIn. For information about the FASTSIGNS franchise opportunity, contact Mark Jameson at (214) 346-5679.