FASTSIGNS International, Inc., a leading sign and visual communications franchisor, is an official endorser of Manufacturing Day 2018. With almost 700 independently owned and operated locations in nine countries that manufacture signs and visual graphics every day, FASTSIGNS
® joins organizations across the United States to celebrate modern manufacturing to inspire the next generation of manufacturers.
"Manufacturing is so important to our economy",  said FASTSIGNS International, Inc.'s CEO, Catherine Monson. "From job growth to creating products that improve our lives to building communities, manufacturing plays a significant role in our country."
Sharing our "We Can Do It!" philosophy, FASTSIGNS is taking Manufacturing Day a step further by focusing on women in manufacturing. Today, FASTSIGNS has over 140 majority women-owned centers in the franchise network.  Many women also hold leadership positions at the international headquarters of FASTSIGNS International.
FASTSIGNS has partnered with Avery Dennison, an adhesive manufacturing company, to install a 10-foot wall mural featuring "Rosie the Riveter".  This iconic image pays tribute to women who were called to work in factories and shipyards, and paved the way for others to learn new skills and bring creativity and innovation to the manufacturing industry.  The bigger than life Rosie graphic will be on an exterior wall of the downtown Austin, Texas FASTSIGNS location from October 1 through October 31 as a tribute to women in the manufacturing industry. Traffic in Austin is expected to increase significantly during the annual Austin City Limits Festival which brings approximately 450,000 people to the event each year. FASTSIGNS is encouraging individuals to pose next to Rosie and share their photos on social media using branded hashtags.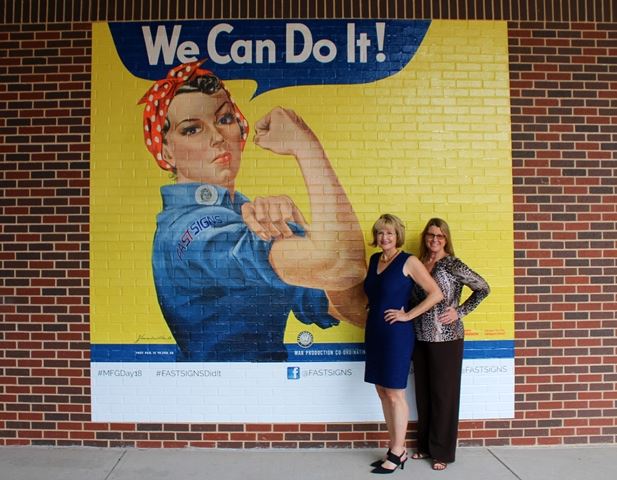 FASTSIGNS International, Inc. CEO Catherine Monson and Senior VP of Marketing Drue Townsend
"We celebrate Manufacturing Day as a way to encourage creativity and innovation, to encourage job seekers to explore opportunities in the sign and graphics and other manufacturing industries, and to say 'thank you' to the customers we have in the industry", said Monson.
About FASTSIGNS®
FASTSIGNS International, Inc. is the largest sign and visual communications franchisor in North America, and is the worldwide franchisor of almost 700 independently owned and operated FASTSIGNS® centers in nine countries including the U.S., Canada, England, Saudi Arabia, UAE, Grand Cayman, Mexico, Chile and Australia (where centers operate as SIGNWAVE®).
FASTSIGNS locations provide comprehensive sign and visual graphic solutions to help companies of all sizes and across all industries attract more attention, communicate their message, sell more products, help visitors find their way and extend their branding across all of their customer touch points including décor, events, wearables and marketing materials. Learn more about sign and visual graphic solutions or find a location at fastsigns.com. Follow the brand on Twitter @FASTSIGNS, Facebook at facebook.com/FASTSIGNS or on LinkedIn. For information about the FASTSIGNS franchise opportunity, contact Mark Jameson at (214) 346-5679.