Catherine Monson, CEO of FASTSIGNS International, Inc., has been voted the 2018 Top Female Executive in an award sponsored by the North Dallas Business Magazine. This recognition is designed to honor influential female business leaders in North Dallas, based on public and peer nominations. Monson was presented the award during the Top Female Executive Awards Luncheon on March 7 at the Bent Tree County Club in Dallas, Texas.
"The 16 nominees in the North Dallas Business Magazine's Top Female Executive Awards are an outstanding group of accomplished women who are making a positive impact in the world every day," Monson said. "I'm honored to be recognized and thankful for the support of the community and the entire FASTSIGNS® network."
A California native, Monson relocated to the Dallas area in 2008 when she became president and CEO of FASTSIGNS International, Inc., the franchisor of FASTSIGNS with more than 675 locations worldwide.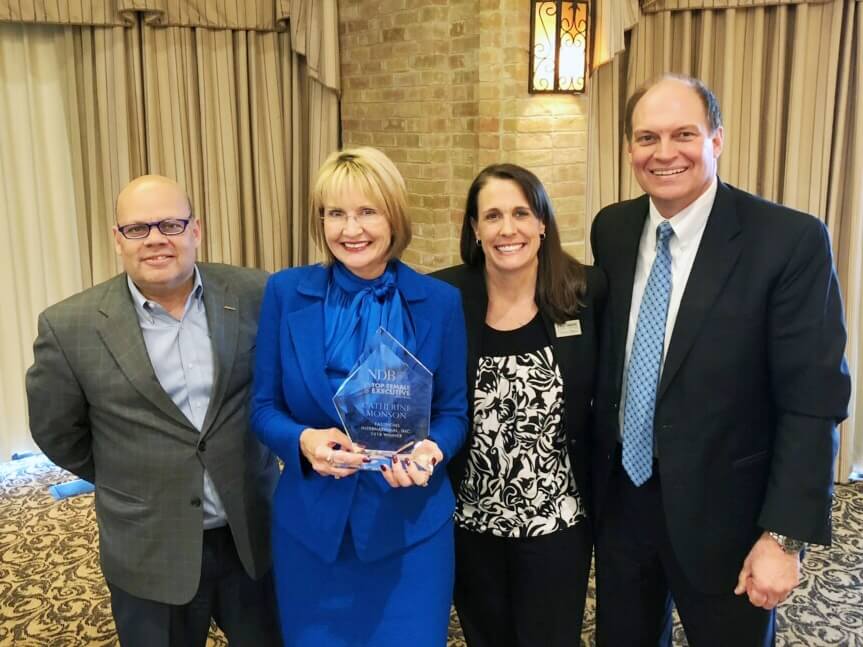 Pictured left to right: Mark Jameson, EVP of Franchise Support and Development; Catherine Monson, president and CEO; and Shawn and Mark Glenn, owners of four FASTSIGNS® in Dallas and Carrollton
About Catherine Monson
Catherine Monson is the CEO and President of FASTSIGNS International, Inc. She joined FASTSIGNS® in 2008 and has more than 30 years of franchising and management experience in sales and marketing, operations, development, training and advocacy. Monson is a past recipient of the International Franchise Association's prestigious Bonny LeVine Award. She has been recognized by the Dallas Business Journal as one of the top 25 Women Industry Leaders and an Innovator and an Influencer by Sign and Digital Graphics magazine. In 2012, Catherine appeared on the two-time Emmy Award-nominated reality series, Undercover Boss, to learn new ways to further advance the FASTSIGNS brand. In 2015, she received the inaugural Franchise Action Network FAN of the Year award for her advocacy work in the franchising community. In 2016, she was selected as a Soderstrom Society Inductee for her contributions to the printing and graphic communications industry and was also honored with the 2016 Leadership Award from the Women That Soar organization. In 2017, she received the Distinguished Women Award presented by Northwood University and also selected as the 2018 Ambassador of Free Enterprise by Sales and Marketing Executives International (SMEI), joining the Sales & Marketing Hall of Fame in the SMEI Academy of Achievement. She currently serves on the Board of Directors of the IFA and acts as Secretary. Additionally, she serves on the Board of Directors for two franchise companies – The Learning Experience® and Brain Balance – and one other industry association, Idealliance.
About FASTSIGNS®
FASTSIGNS International, Inc. is the largest sign and visual communications franchisor in North America, and is the worldwide franchisor of more than 675 independently owned and operated FASTSIGNS® centers in eight countries including the U.S., Canada, England, Saudi Arabia, UAE, Grand Cayman, Mexico and Australia (where centers operate as SIGNWAVE®).
FASTSIGNS locations provide comprehensive sign and visual graphic solutions to help companies of all sizes and across all industries attract more attention, communicate their message, sell more products, help visitors find their way and extend their branding across all of their customer touch points including décor, events, wearables and marketing materials. Learn more about sign and visual graphic solutions or find a location at fastsigns.com. Follow the brand on Twitter @FASTSIGNS, Facebook at facebook.com/FASTSIGNS or on LinkedIn. For information about the FASTSIGNS franchise opportunity, contact Mark Jameson at (214) 346-5679.