(CARROLLTON, Texas) July 19, 2018—When employees are engaged, they are happier, produce better results and are more mindful of safety procedures. Creating employee engagement is a challenge for many companies and organizations—especially those in manufacturing. Fifty-one percent of the U.S. workforce is not engaged, and those in manufacturing jobs are reported to be the least engaged, according to Gallup's 2017 State of the American Workplace Study.
"Creating an engaged culture where employees understand the company goals, take pride in their work and feel valued should be a priority if companies want to be successful," said Drue Townsend, Senior VP of Marketing, FASTSIGNS International, Inc. "It's important to have an effective employee communications strategy in place to ensure team members are well-informed, collaborative and protected. Workplace signs and visual graphics can play an instrumental part in creating an organized, motivating and efficient environment that promotes employee engagement throughout an organization."
Take a look at the on-site employee communications at Faurecia, an automotive technology and manufacturing company. The organization launched a new corporate initiative to promote a culture of performance and value creation, and needed to rebrand its facilities. FASTSIGNSⓇ in Tuscaloosa, Alabama helped brand the local Faurecia facility with new signs and graphics that were custom-designed to enhance employee communication, workflow and workplace safety.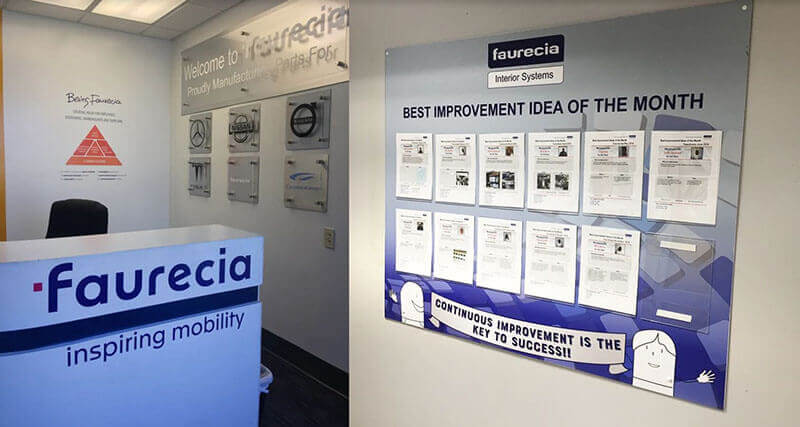 Improve Employee Communication
In the reception area, employees and visitors are welcomed by acrylic wall signs and counter graphics. The company's core values and "Being Faurecia" initiatives are displayed using vinyl wall graphics. An interchangeable wall display is used to engage employees and communicate team members' "Best Improvement Ideas of the Month," which recognizes employees' innovation and professional development.
Maximize Workflow
Custom magnetic dry erase boards were designed and mounted on the walls in conference and training rooms to boost interactive discussion and collaboration. In smaller rooms, the boards are double-sided and can rotate to display more content during strategic meetings. To display workflow charts in the production and manufacturing areas, double-sided dry erase boards have wheels so they can be moved to workstations as needed. An acrylic wall display board with document placeholders was created to help manage project statuses, goals and timelines.
Promote Safety
Wayfinding signs create an organized environment and help people find their way. To identify production departments and communicate safety messages, fabric cube signs were hung from the ceiling of the production facility. A custom, mobile "Accident Clean-Up" display houses safety and accident-prevention products, and branded wall graphics reinforce safety reminders and procedures.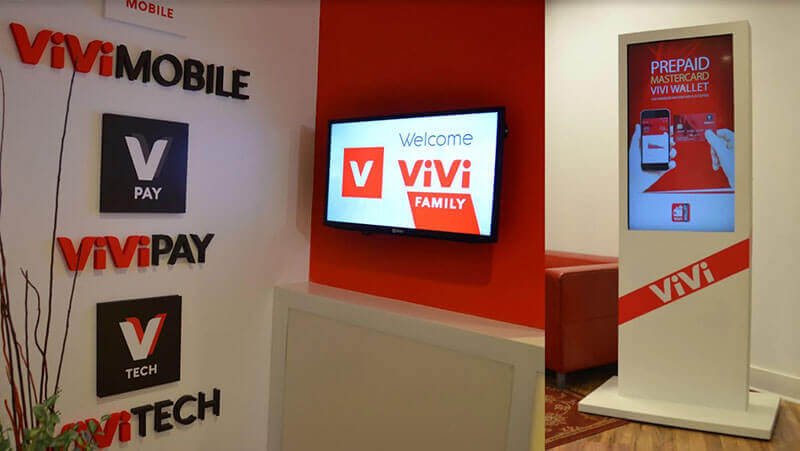 Other strategies for effective employee communications is the use of brand decor and digital signage. ViVi Holdings, Inc., a Brazilian commerce company that recently expanded to the U.S., created a completely branded environment for their new corporate headquarters using graphics on walls, glass partitions, counters and doors that reinforce the company vision and culture. A digital display is placed in the front reception area to welcome people and display timely announcements, events and brand messages. Stand-alone digital kiosks are used to display product information in an engaging way and are wrapped with the ViVi logo
Other visual communications that keep employees informed, engaged and productive include labels and decals to identify equipment, products and areas. Company and employee achievements can be announced and celebrated with banners, promotional items and custom awards. Regulatory and ADA-compliant signs help keep employees protected and up to code.
Having a comprehensive visual communications plan can help a company improve employee communication, maximize workflow and promote safety.