Navy veteran Thiago De Araujo and his wife, Julie Fuller, recently opened a new FASTSIGNS® franchise in St. Augustine, Florida, providing businesses and organizations a wide range of custom signs, graphics and visual marketing solutions.
"We're excited to bring FASTSIGNS to the oldest city in the country," De Araujo said. "Our mission is to help local businesses, organizations and events with their visual communications strategies. Whether they need to improve visibility of their location, attract visitors, promote a new product or cause, refresh their branding or stay compliant, we can provide effective and creative solutions to achieve their goals."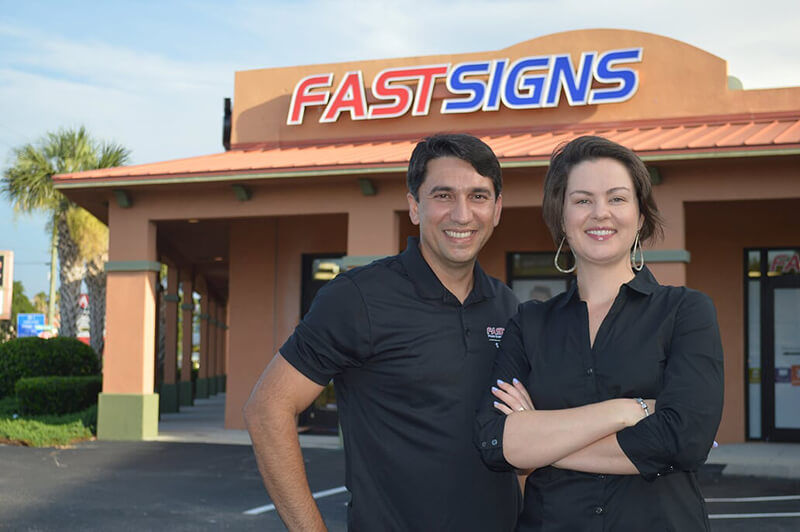 Originally from Brazil, De Araujo has a diverse professional background. He studied Naval Architecture at Westlawn Institute of Marine Technology and, most recently, served in the U.S. Navy. A Tampa native, Fuller has a background in education and she earned her bachelor's degree from Florida International University and master's degree from Florida State.
The team at FASTSIGNS of St. Augustine includes graphic designer Danyel Hicks, who recently relocated to the area and brings a wealth of expertise in graphic design, photography, production and installation. Clive Jeffrey is the company's visual communications specialist and has more than 30 years of experience in the printing and graphics industry.
"Although we are a new business, I'm confident in our team's incredible talent and dedication to help clients of all sizes and industries," Fuller added. "Together, we are more than ready to serve the community and help people bring their visual branding ideas to life."
Types of custom signs and graphics FASTSIGNS of St. Augustine provides include wall, window and floor graphics, architectural signs, banners, flags, trade show displays, wayfinding signs, digital signage and content, vehicle wraps, decals and interior décor graphics.
FASTSIGNS of St. Augustine is located at 2303 N Ponce de Leon Blvd. The business is open Monday through Friday from 9 a.m. to 5 p.m. and can be reached at 904.800.1776 or 2202@fastsigns.com. 
About FASTSIGNS®
FASTSIGNS® of St. Augustine is a locally and independently owned and operated sign, graphics and visual communications company that provides comprehensive visual marketing solutions to customers of all sizes—across all industries—to help them attract more attention, communicate their message, sell more products, help visitors find their way and extend their branding across all of their customer touch points including décor, events, wearables, digital signage and marketing materials. To learn more, visit fastsigns.com/2202 or call 904.800.1776.