(CARROLLTON, Texas) —Successful companies have marketing and visual communications strategies that get people's attention to get their products or services noticed. Using signs and visual graphics to communicate consistent messages and reflect brand messages can help achieve this.
"By creating a visual communications plan that extends consistent messages to all customer touch points, brands are more likely to attract, inform and influence action about their products and services," said Drue Townsend, Senior VP of Marketing for FASTSIGNS International, Inc. "Whether it's a seasonal marketing campaign, a new product launch or a full company rebrand, ensuring the right signs and graphics are being used is crucial to reaching your audience and communicating your intended message."
FASTSIGNS® can help companies determine where and how to extend brand messages to increase awareness, recognition and understanding of a brand or a product or service offering. For instance, By the Yard, a manufacturer of outdoor patio furniture and accessories based in Jordan, Minnesota, used a variety of signs and visual graphics to communicate their message and inform customers of their maintenance-free, recycled products.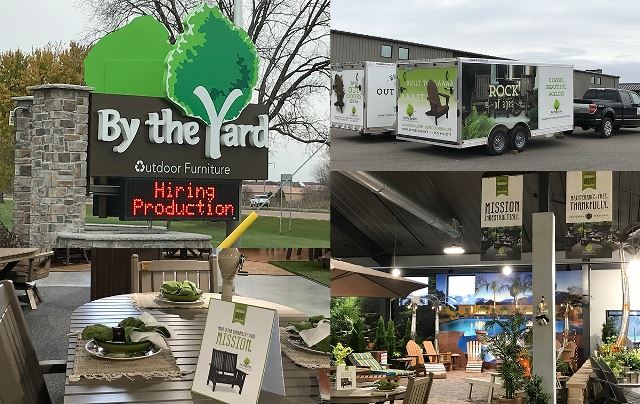 To get noticed and increase awareness outside of their manufacturing and retail location, FASTSIGNS provided a monument sign with a dimensional logo and an LED digital display board that can communicate changeable messages. Branded graphics were also placed on delivery trucks and company trailers.
Inside By the Yard's retail showroom, FASTSIGNS provided point of purchase signage to inform customers about featured products and to further extend brand messages, including table top displays, banners hanging from the ceiling, wall graphics and 3-dimensional cube graphics. Wall murals of outdoor scenery were used to complement the product displays and to extend branding.
Other visual communications solutions brands should consider include floor graphics, digital displays and interactive signs, window graphics and custom displays.
Using cohesive signs and graphics helps customers understand a company's purpose, be more educated about products and services and, ultimately, have a better brand experience. 
About FASTSIGNS®
FASTSIGNS International, Inc. is the largest sign and visual communications franchisor in North America, and is the worldwide franchisor of more than 675 independently owned and operated FASTSIGNS® centers in eight countries including the U.S., Canada, England, Saudi Arabia, UAE, Grand Cayman, Mexico and Australia (where centers operate as SIGNWAVE®).
FASTSIGNS locations provide comprehensive sign and visual graphic solutions to help companies of all sizes and across all industries attract more attention, communicate their message, sell more products, help visitors find their way and extend their branding across all of their customer touch points including décor, events, wearables and marketing materials. Learn more about sign and visual graphic solutions or find a location at fastsigns.com. Follow the brand on Twitter @FASTSIGNS, Facebook at facebook.com/FASTSIGNS or on LinkedIn. For information about the FASTSIGNS franchise opportunity, contact Mark Jameson at (214) 346-5679.