After working at FASTSIGNS International, Inc., for the corporate office for 15 years, Mark Glenn first took ownership of FASTSIGNS® of Carrollton, Texas, along with his wife Shawn, in 2011. In their first three years the Carrollton center's sales volume tripled. Today, Mark and Shawn own three additional FASTSIGNS centers in the Dallas area.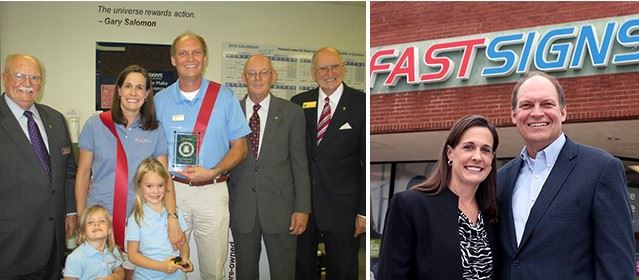 As a multi-unit owner, Mark's daily leadership and decisions influence his four centers and 29 employees. His centers' work has a positive impact on the surrounding community. As a devoted husband and father who tries to strike a balance between work and family life, he loves being an entrepreneur. Let's get to know Mark Glenn, one of the franchise owners, in a day in the life of FASTSIGNS.
Q. How do you start each day?
When I just owned and managed the Carrollton FASTSIGNS, I often spent my mornings at local business networking events. On days there weren't any, I came into the center and attended our daily workstart meeting or followed up on projects. 
Now, I begin most days working from home on admin items. Then, I drive into one of the FASTSIGNS locations for the day. I also still attend local business events. I am serving my sixth year on the Board at the Metrocrest Chamber of Commerce, and am involved with the Farmers Branch Chamber of Commerce, the Dallas Regional Chamber, the Addison Business Association and the North Texas GLBT Chamber of Commerce. Depending on the event and the association, I have team members who also might attend instead of me so that we are all staying involved with our local communities. 
On Wednesday mornings, I have a hard-standing one and a half-hour management meeting with my seven managers—I have a General Manager in each center, a Production Manager, a Business Manager (payroll, HR) and a Fields Operation Manager. Together, we prioritize anything and everything that may be going on - from personnel needs and issues to projects and production schedules and so on.
Q. When do you arrive to work at FASTSIGNS?
I arrive between 9:30 a.m. and 10 a.m. 
Q. What is your role in the daily operations of your center?
My managers do well with their specific jobs. My responsibility is making sure they have what they need to do their jobs successfully. I try to provide the vision and the resources. I communicate our business goals, from having the right people in place to empowering them to do their job with training and resources. I still make a point to get the face-to-face customer interaction and build relationships. One way I do that is by keeping all of the appointments our Outside Sales Professionals make on my calendar. Then, I am able to attend some of those meetings to help provide support where I can and stay involved with our sales efforts at the grassroots level.
Q. What does your typical lunch look like?
Many of my lunches are meetings and I eat a lot of convention chicken. When I can, I tie in meetings with networking and relationship-building. 
Q. How do you spend the afternoon?
Depends on where a project is that I might need to help with, whether it is customer-facing, in production, or training-related. Afternoons are open for anything related to whatever may need to be done in the business. 
Q. How do you effectively manage that many locations?
My team leaders are great at keeping me up-to-date on everything, as well as staying solutions-oriented; they make good decisions and value this business as much as I do. One of the most valuable things I've invested in are these strong managers that help me run this business and push it forward.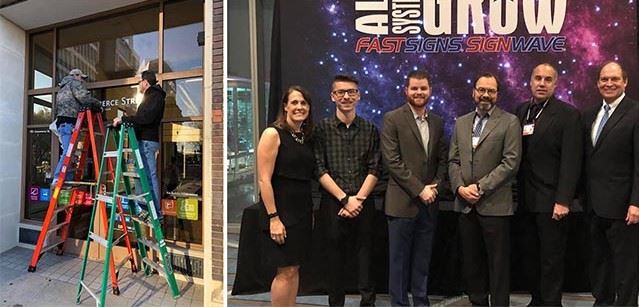 We have a score card that the management team updates. It focuses on sales, placed orders, accounts receivables balance, A/R over 90 days, Listen360 (customer reviews) scores and the number of appointments for every salesperson. I adopted this method from the Entrepreneurial Operating System (EOS®) and it helps me keep a pulse on our activities, from all the different angles of our business, and helps the whole team stay on the same page.
Q. How do you spend your evening?
You are never really off work, but I try to get home by 6:30 p.m. We have routines of homework and getting our two daughters ready for school the next day and then off to bed. I enjoy spending time with my family and enjoy relaxing by the TV with a glass of wine with my wife.
Q. How do you spend your weekends?
If we are at home, we are working in our yard. The real joy is having the four of us together doing anything, really. As a family, we are outdoors people and like to spend time in Oklahoma, where I grew up and where we have rental cabins. We also have a farm out in East Texas with some animals and we love spending time out there together taking care of everything. 
Q. What influenced you to decide on FASTSIGNS?
When we decided to leave the corporate world in 2010 and we looked at a variety of franchise models in different industries. We realized that the support offered by other franchises was nowhere near what we know FASTSIGNS offers from operational and marketing to technology and even our designated Business Consultant. Instant support is a phone call or text away.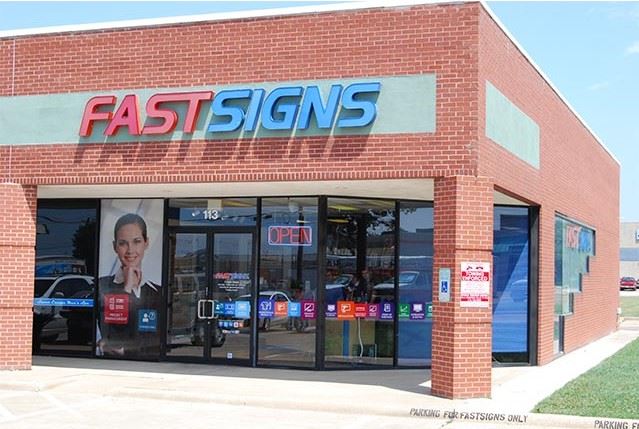 Q. What is it like being the owner of four FASTSIGNS centers?
It is hard work, but there are nice rewards. Currently, I have very trusted managers who, all together, have over 150 years of experience in the sign and visual graphics space. I love the culture that they and our whole team have helped create. I do believe part of my job is to help dictate what kind of culture we have; good or bad, culture is influenced by leadership. It really is important to nurture it.
Shawn and I both make an effort to contribute to our organization's culture in positive ways and make it a worthwhile place for our employees.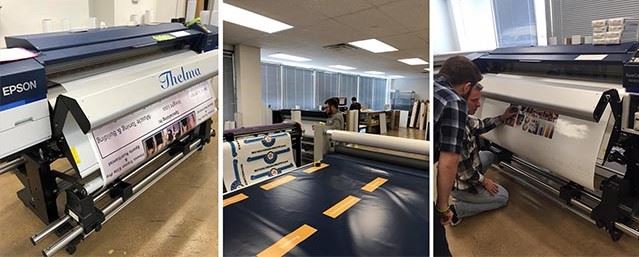 Q. What is rewarding about your business?
When we first became franchise owners, my goal was to have more independence in the second half of my career compared to what I had in the first half. It drove me to become an entrepreneur. Some days are challenging, but it has been a great experience. The sense of ownership is very rewarding. We are helping other businesses grow and most companies need our services. I like knowing we did right by people and produced something that a business or individual needed. And it is all custom and unique. 
For me, the biggest satisfaction comes from recognizing wins with my team—some are big, some are small, but praising them for their hard work is one of my favorite things. Hearing someone at a Chamber event telling me how much they love working with someone on my team… for me, that is the good stuff.  
Q. What are your hobbies or other interests?
I'm a gun enthusiast and a lifetime National Rifle Association (NRA) member. I collect guns and love to go hunting. I like dinner at a nice steakhouse and a good Merlot. We take a family vacation each year, whether it's a cruise for the kids' spring break or time at our farm or cabin during school breaks. I'm just a country boy who likes to do country things, but I happen to work in the city.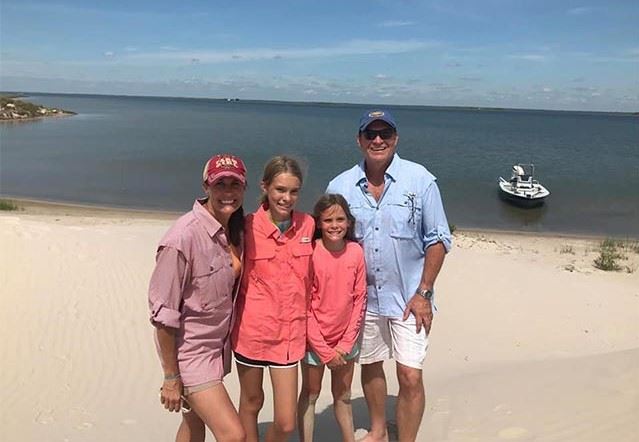 Q. What inspires you?
I collect business and motivational quotes and read a lot about being an entrepreneur. 
Here are my favorite quotes:
"The universe rewards action." – Gary Salomon, founder of FASTSIGNS International, Inc.
"Great things in business are not done by one person; they are done by a team of people" – Steve Jobs
"Business is a relationship… not just a transaction. Numerous people offer the same products or services as you do… You should be your "brand"… You should be your best "product"… make certain that when a person does business with you it is worth it for them". – Author unknown 
Q. What business accomplishment are you most proud of?
It's important to recognize our staff and the heartbeat of our team. One of the first business accomplishments we achieved several years ago that I am most proud of is the Metrocrest Business of the Year Award that a customer nominated us for and we went on to win. The award recognized our time as business owners, but to us it really belonged to our team. We're very proud of them and their work.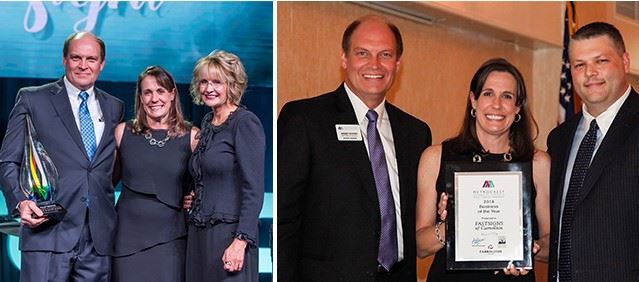 Most recently, in 2018, Shawn and I received the FASTSIGNS Award—a very prestigious award in the franchise network. We were so blown away and surprised. It was extremely special to us and a huge honor. So many wonderful people have been recognized over the years, so it is incredible for us to be in the company of those individuals. 
Q. What's next for you?
I am looking for more opportunities to make an impact. For example, I am interested in finding more ways to get involved with the International Franchise Association to help contribute to the franchising industry and make a difference for small business as a whole, not just the FASTSIGNS network.