FASTSIGNS® of Windsor, ON, owned by Jackie Raymond and Donna Bilodeau, is celebrating 20 years in business this year. To celebrate this business anniversary milestone, the team at FASTSIGNS® of Windsor, ON has created a 20/20 initiative focused on philanthropy in which they will contribute to more than 20 charitable organizations during their 20th anniversary year in business.
First meeting through nonprofit involvement and eventually deciding to go into business together while sitting around a campfire one evening, they eventually purchased a local FASTSIGNS center. With Raymond's Graphic Design and Printing experience combined with Bilodeau's Customer service experience, they knew this was the perfect opportunity to make their dream of owning their own business a reality.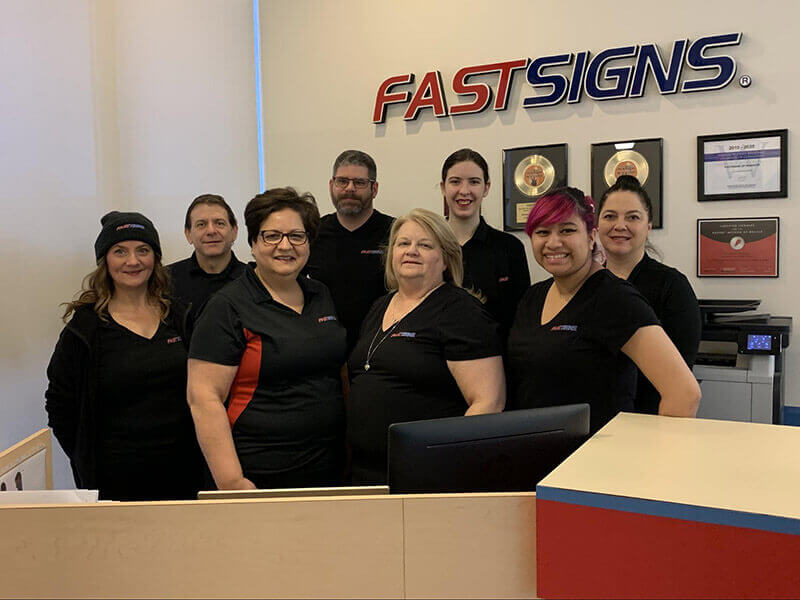 When they first started out, they were merely a three-man team but have now grown to eight full-time employees and one part-time employee. Both franchisees know just how important a role their team plays in their success.
"Hiring the right people has been instrumental to our success," said Donna Bilodeau, franchisee at FASTSIGNS® of Windsor, ON. "Everyone on our dedicated team has an open mind to learn, grow and every team member sells. We all work as a cohesive unit and truly enjoy what we do. Our employees are our greatest asset, and we could not do it without them."
They have witnessed incredible changes within the industry over the past 20 years. From cut vinyl graphics to digital printing, the scope of their work has grown immensely to provide a wide variety of options for customers. From single sign orders to more comprehensive projects, the two have adapted with the industry and the ever-changing needs of their customer base. As an integral part of their local business landscape, the center has garnered a respected reputation in their local business community.
"Our customers have also been key to our success in Windsor," said Jackie Raymond. They trust us with their work year after year and refer their colleagues, family, and friends to us. Without our loyal customers, we would not be in business. We are grateful that they choose us again and again."
Donna and Jackie utilize their FASTSIGNS network for support and even encourage other new franchisees to do the same when starting out.
"I have never met someone in our network that was not only willing but eager to help. There is so much to learn from those who have come before you and so much to share with those who come after," said Jackie Raymond.
In the future, these friends and co-owners look forward to continuing to grow by offering more options and becoming a major local provider for interior decor applications. With plenty of experience and future aspirations, they are perfectly positioned to hit their target goals in 2020.
"We have learned that we can do anything we set our minds to - you're never too old to reinvent yourself," said Donna Bilodeau. "Throughout this entire journey, our friendship has grown stronger each year, and we have become open-minded to change in our business. We have also seen the ability to truly impact others with our work and impact our community through our business."