FASTSIGNS of Aiken Under New Ownership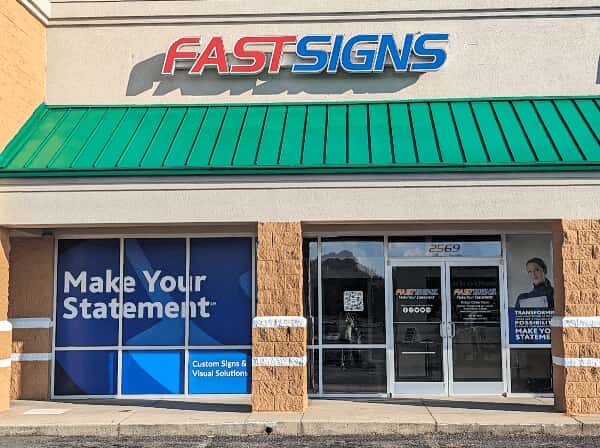 (AIKEN, SC) September 13, 2023 - FASTSIGNS® of Aiken, a well-established sign and graphics provider, is thrilled to announce its transition in ownership. Ken Bunton, a mechanical engineer, and Brian Petree, a biomedical engineer, have taken the reins of this locally owned and operated business.
The duo's professional journey, which began as former colleagues, has culminated in the acquisition of FASTSIGNS® of Aiken. Their shared passion for teamwork and a knack for problem-solving led them to this exciting venture.
"It was the first thing we found where all the numbers worked out," shared Ken Bunton, a franchisee at FASTSIGNS of Aiken. "We always talked about buying a business together because we worked so well together, and now here we are."
Since its inception in 2019, the center has been led by Production Manager Dominic Martin, who remains a cornerstone in delivering custom solutions to customers and overseeing day-to-day operations. Additionally, the team includes Installers Greg Fincher and Dan Martin, Production Specialist Tom Simpson, and Visual Communications Specialist Julia Miller.
Krystal and Brentney, the wives of the franchisees, will be contributing their expertise in accounting and customer relations to ensure a seamless and efficient financial process.
Ken, a graduate of the University of South Carolina, and Brian, an alumnus of the University of Tennessee, bring a wealth of technological proficiency to their roles. Their backgrounds in automation design, robotics, and high volume manufacturing uniquely position them to elevate the sign business through streamlined and efficient production processes. Both partners have extensive management experience leading large teams to solve complex problems.
Both Bunton and Petree hold Project Management Professional (PMP) certifications while Ken is also Six Sigma certified, a testament to their commitment to enhancing operational quality within the organization.
Beyond their business pursuits, Ken and Brian are avid problem solvers with diverse hobbies. Ken's passion lies in restoring classic cars, while Brian is an active member of his church community, lending his musical talents to the church band.
In line with their dedication to the local community, the new owners plan to actively participate in local business organizations. FASTSIGNS® of Aiken operates Monday through Friday, 9:00 a.m. to 5:30 p.m., ensuring convenient access for their valued customers.
About FASTSIGNS®
FASTSIGNS® of Aiken is a locally and independently owned and operated visual communications company. FASTSIGNS is an industry leader that began over 35 years ago and has over 760 centers in the U.S. and internationally. We celebrate the spirit of creativity and the power of possibilities. Working with FASTSIGNS can leave a lasting impression for your business. What we make together is a brilliant reflection of your brand, your personality…your statement.
FASTSIGNS is frequently recognized for franchisee satisfaction and through franchising awards which include being ranked #1 on Entrepreneur's Highly Competitive Franchise 500® List for the sixth consecutive year for 2022 as well as being named a 2022 Best-in-Category Franchise by Franchise Business Review. Let us help you "Make Your Statement." Visit https://www.fastsigns.com/aiken-sc/ or call 908-761-9200.