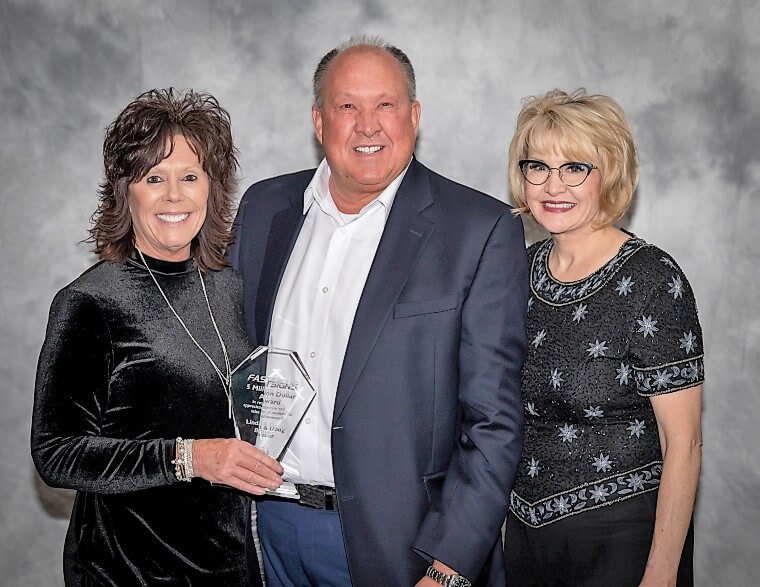 (APPLETON, WI) March 7, 2023— FASTSIGNS® of Appleton, WI, a local custom signs and visual solutions provider, was recently recognized as a top-performing center at the 2023 FASTSIGNS® International Convention held in Las Vegas, NV.
Owned by Doug and Linda Brauer, Appleton, WI received the CEO Circle Award, which recognizes the top 25 centers with the highest sales volume in the U.S. and Canada between Oct. 1, 2021 and Sept. 30, 2022.
"We are excited to be recognized as a top-performing center in the FASTSIGNS network of over 765 locations in eight countries worldwide," said Doug Brauer, franchisee at FASTSIGNS of Appleton "This award reflects our entire team's hard work and dedication to helping businesses and organizations solve their visual communications challenges in our community every day."
FASTSIGNS of Appleton, WI has been serving the area for over 26 years and has been recognized year after year for exceptional performance and customer service, both in the community and in the signage industry. FASTSIGNS of Appleton, WI is located at 135 S Casaloma Dr, Appleton, WI 54914 and is open Monday through Friday from 8:00 a.m. to 4:30 p.m.
"We thank our customers for their support and look forward to further helping companies of all sizes achieve their goals using comprehensive signs and visual graphics," said Brauer.
About FASTSIGNS®
FASTSIGNS® of Appleton, WI is a locally and independently owned and operated visual ideas company. FASTSIGNS is an industry leader that began over 35 years ago and has over 765 centers in the U.S. and internationally. We celebrate the spirit of creativity and the power of possibilities. Working with FASTSIGNS can leave a lasting impression for your business. What we make together is a brilliant reflection of your brand, your personality…your statement.
FASTSIGNS is frequently recognized for franchisee satisfaction and through franchising awards which include being ranked #1 on Entrepreneur's Highly Competitive Franchise 500® List for the sixth consecutive year for 2022 as well as being named a 2022 Best-in-Category Franchise by Franchise Business Review.
Let us help you "Make Your Statement." Visit https://www.fastsigns.com/appleton-wi/ or call (920) 954-9778.
-###-