Appleton Center Facts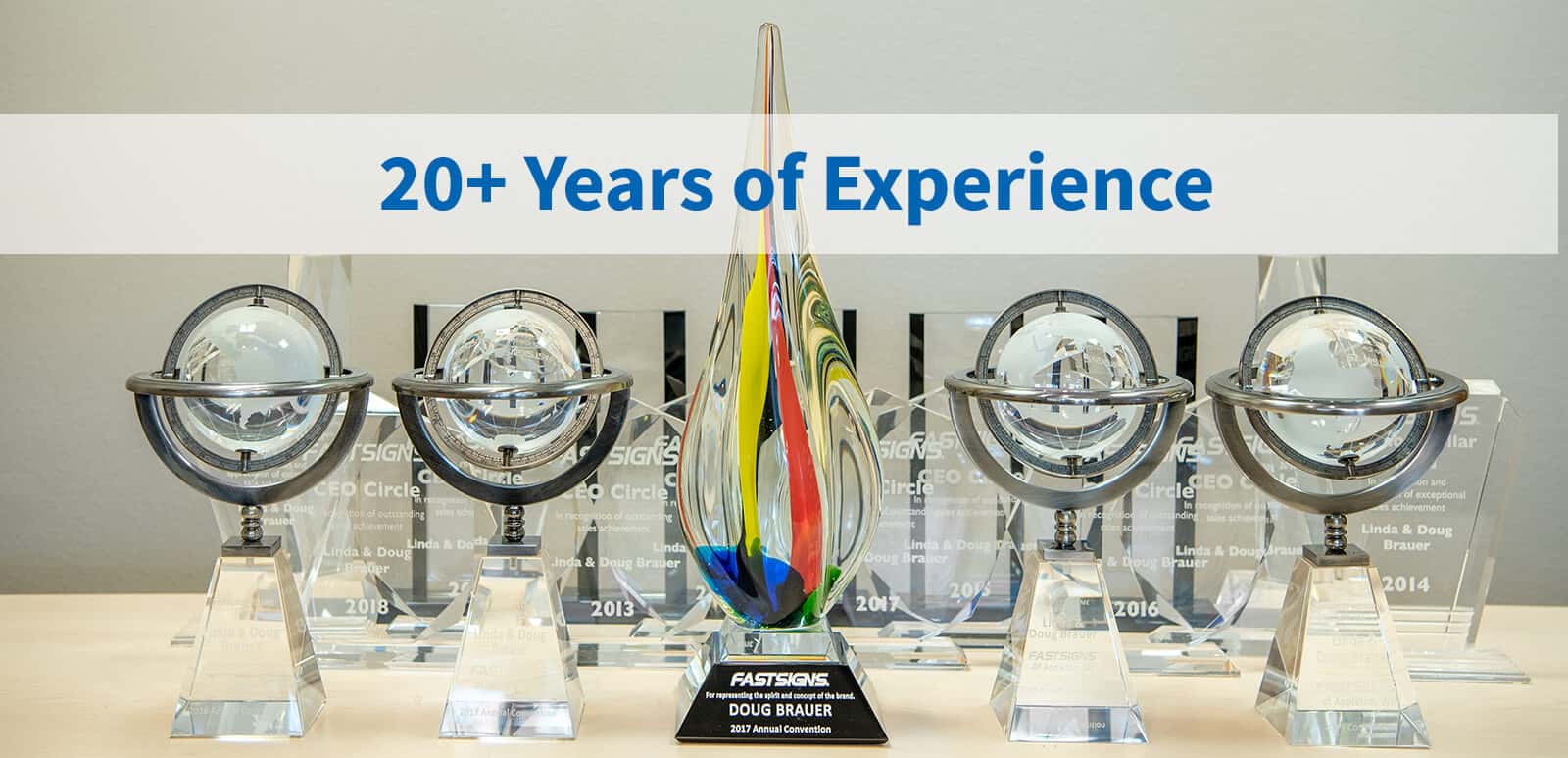 Company: FASTSIGNS of Appleton, WI
135 South Casaloma Dr.
Appleton, WI 54914
Telephone: 920-954-9778
Website: www.fastsigns.com/267
History:
Doug Brauer opened August 19, 1996, FASTSIGNS of Appleton serves businesses and organizations in the Appleton and surrounding communities. Established as one of FASTSIGNS International Inc.'s earliest independently owned franchises, Doug Brauer made FASTSIGNS of Appleton one of the top centers in the country in production and sales. The successes of the Brauers allowed them to expand to Green Bay, WI, where they are also now setting records for center sales.
FASTSIGNS Concept:
FASTSIGNS is a signage, graphics and visual communications partner that provides comprehensive solutions to help customers of all sizes – across all industries – meet their business objectives and increase their business visibility through the use of all types of visual communications solutions including vehicle and floor graphics, point of purchase and digital signs, labels and decals, architectural and interior décor signs, printing, promotional products and wearables, mobile marketing and other related marketing services.
Management Team:
Doug Brauer - Owner/President
Linda Brauer - General Manager
Chip Seidler - Business development
Chad Olson - Production Manager
Becky Knuth - Creative Director
Trevor Hauk - Project Manager
Products and Services:
FASTSIGNS provides consulting, project management, file transfer, design, production, delivery and installation for a full range of visual communications solutions. Examples of products include wide-format banners; point-of-purchase signage; architectural site signs; exhibit graphics and trade show displays; window, floor and vehicle graphics; decals and labels; safety and ADA signage; building identification signs; digital signage equipment and content.
FASTSIGNS Network:
FASTSIGNS of Appleton enjoys the support and resources of being part of an international network. There are more than 650 independently owned and operated franchise locations worldwide. FASTSIGNS centers operate in the United States (and Puerto Rico), Canada, the Caribbean, the United Kingdom, Mexico, the UAE and Saudi Arabia. FASTSIGNS centers also operate in Australia under the name SIGNWAVE®.
Most Recent Awards:
2018
CEO Circle
Sales Achievement Award - Highest Volume Center
K-Club $300K
Million Dollar Threshold Award - $4 Million
2017
Sales Achievement Award/Multiple Centers
CEO Circle
Sales Achievement Award/Highest Volume Center
Customer Solutions Awards/Runner-Up
FASTSIGNS Award
K-Club $400K
2016
CEO Circle
Sales Achievement Award/Multiple Centers
Sales Achievement Award/Highest Volume Center
Comprehensive Solutions Award/Runner-Up
Franchise Agreement Renewal
K-Club $340K
2015
CEO Circle
Sales Achievement Award/Highest Volume Center
K-Club $300K
Center Manager Recognition
Million Dollar Threshold Award/$3 Million