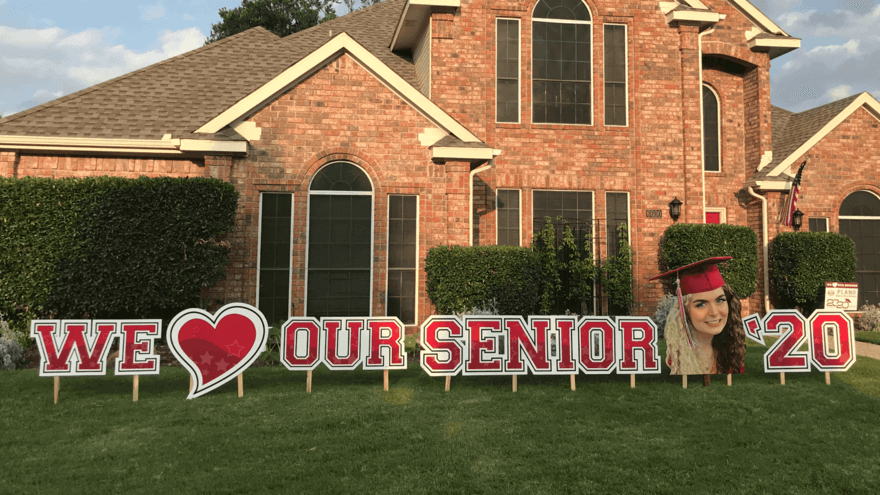 This year, traditional graduation ceremonies and celebrations have been canceled due to COVID-19. Parents of preschoolers and kindergartners were excited to help their little ones mark this milestone in the beginning of their educational journey. High school seniors missed out on potential college tours, prom and the opportunity to mark 13 years of schooling with a walk across the stage. Those completing college studies are crossing the finish line virtually instead of at their now alma mater. 
Graduates may be celebrating at-home instead of with their peers and friends, but there are still  ways to show them a little love from afar.
1. Decorate their yard.
Yard signs can be simple with school colors and a "congratulations" message. They can also be customized and over the top with cut-outs that show off their school mascot, their personal interests, sports or instruments they played, and activities they were involved in. For those in apartments or urban townhomes, large window decals and banners are just as festive.
2. Send a stand-in.
Loved ones may not be able to hug their graduate in person, but that doesn't mean they can't celebrate them in a special way. Take a strategically posed photo of your graduate and have it turned into a life-size cut out. These displays can be shipped flat and unfolded when they reach their destination. Send them to grandparents and other special family and friends. Have them take photos with the cut-out that they can send back for the graduate's scrapbook. These can also be fun props for virtual graduation parties.
3. Stage a drive-by.
For those that are local, plan a special vehicle parade. Set a time and day, and communicate it to those interested in participating. Have your graduate stand outside within view of the road. Encourage those driving by to decorate their cars with vehicle magnets and decals that celebrate the graduate. Tie balloons to car door handles and have signs ready to hold up with congratulatory messages.
Whether your graduate was looking forward to walking across a stage or just wanted to get their diploma in the mail, they all deserve to be recognized with a little fanfare. Social distancing may have changed the plans of how we celebrate those graduating, but it can still be done in a  memorable way.