Events are designed to bring people together. From musical entertainment and seasonal festivals to industry trade shows and company conventions--events give us something to look forward to, a place to make memories and opportunities for learning. In-person events are slowly, but surely, returning, many in hybrid forms offering both on-site and virtual experiences.
The pressure to put on an unforgettable event is even higher amidst pandemic living. How do you stand out and make an impact on those who chose to spend their time at your event in person? Let's shine a light on how renting LED Digital Displays from our new program can provide the needed experiential spark for your next event.
Energize Directional and Wayfinding Strategies
As people begin arriving at your event site or building, they need to know exactly where to go. Outdoor LED displays can offer easy-to-read parking information and reminders about the day's agenda, timed entries and current capacity. Utilizing well-placed LED digital displays can more efficiently direct vehicle and pedestrian traffic, and ultimately lead to a better experience. 
Amplify Important Information
Use your signs and graphics to emphasize safety protocols, establish trust and ensure clear communication. LED digital displays can be updated with content that changes along with the day's events. Highlight upcoming speakers, performances or product showcases as attendees arrive. On the way out, thank them for coming and drive them to your website for post-event, exclusive content. 
Connect with Attendees
Create dynamic digital content for your LED displays that complements the static signs and graphics in place, coordinating with the theme and design of the event. Place LED digital displays throughout your event with live feeds of your main stage to help attendees feel more connected. Providing a more up-close and intimate view from multiple angles and areas also allows for better social distancing and the comfort of visitors.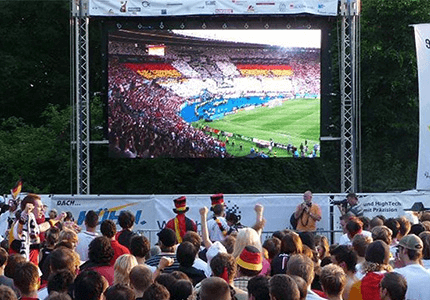 FASTSIGNS LED Display Rental Program Will Transform Your Events for the Better and Brighter
Glow up your next event with LED displays that can make a visual impact, day or night. FASTSIGNS has an LED digital display rental program that allows your next event to shine, without overloading your budget or workload. It is a one-source solution from custom content to onsite set up and tear down. 
Our team will put together an event marketing plan that also includes creative uses of static signs and graphics, to provide a seamless experience for your guests at every touchpoint.