When it comes to sporting event signs , Major League Baseball is the truly the big leagues. Only the best visual communications make it to "The Show" to engage fans and promote advertisers. We spoke with Jim Cochrane, Senior Vice President of Partnerships with the Texas Rangers, to learn more about what makes effective sport signs and how stadium and event signage will evolve in the future…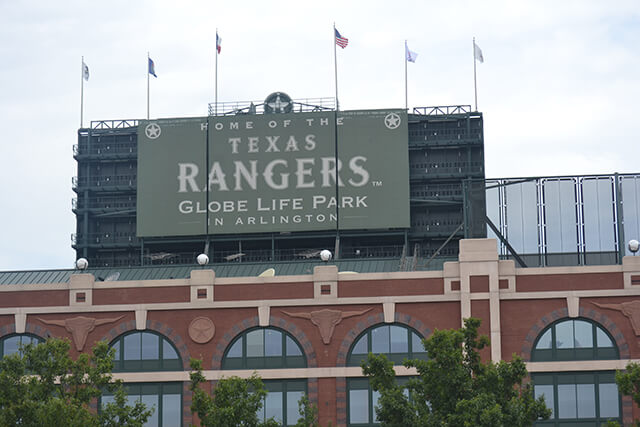 How has visual communications for sports teams and ballparks changed during your time with the Texas Rangers?
"I've worked with the Texas Rangers for 18 years, and for at least 16 of them FASTSIGNS has been our partner for sponsor signage.
When I started in the late 90's there was no rotational signage behind home plate. Today you can't watch an MLB game without seeing rotational, fixed or both behind home plate. We put ours up in 1997. In 2010 we replaced the main video board with one that is six times larger. Today our LED digital signage is more than 1,200 linear feet, one of the longest in MLB.
Digital provides our advertisers with the option to change messaging more often than fixed signage. It also provides more options for different investment levels. A half-inning of LED advertising requires less spending than a fixed outfield sign."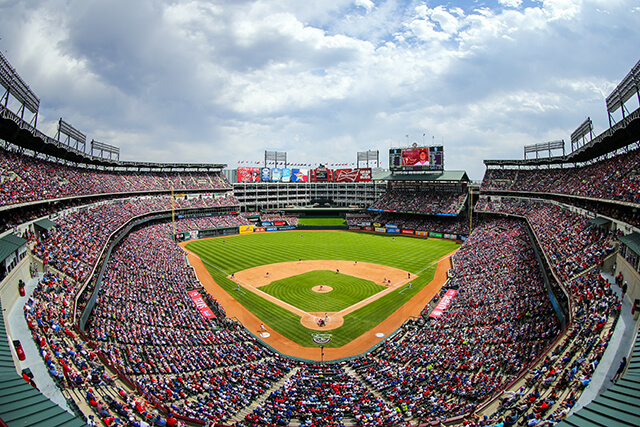 What aspects of visual communications are most important to potential sponsors?
"It really depends on the advertiser and their goal. We start by talking about what they want. Are they looking for camera-visible placement or more of an in-stadium presence? On-camera signage includes placement at field level, home plate and the outfield fence. Television is expensive, and having camera-visible placements in an MLB stadium is a great way to get eyeballs on your brand.
We have large format sign options, such as a 32 by 52 foot sign on the roof that won't be picked up by broadcast cameras but are highly visible for fans at the stadium. If there are other goals, like driving traffic to stores we might suggest a coupon program at the doors instead of signage.
Typically the overall goal is to create an affinity between the fan base and the company, with the team being the glue that connects them."
You probably pay more attention to the details in other stadiums and large venues than the general public. What stands out to you when you visit other arenas?
"We're always keeping an eye out for new trends, where people are putting signage and who's advertising with them. The industry has evolved to include so much more signage. I saw an old Gretsky highlight the other day and there were no signs on the dashers!
I always look at the creative. It stands out to me when someone paid for a sign that you can't read on television, or see clearly from the stands. We try to keep that perspective and focus on creative when working with our advertisers and FASTSIGNS to create new signage."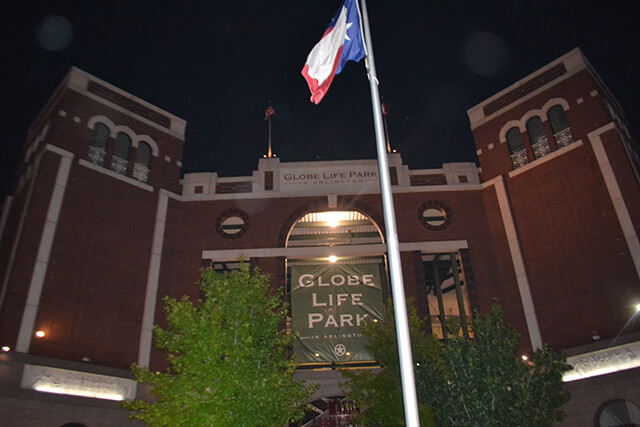 You played a key role in the negotiation of the ballpark naming rights with Globe Life and Accident Insurance Company. When a deal like that goes through, what are the ramifications for changing the overall branding and signage at a ballpark?
"We knew the deadline the contract had to be signed by for all the changes to be implemented before Opening Day. We started in late January of 2014 and had about two months to ramp up all the signage. With FASTSIGNS' help we were able to hit all the items on the long punch list.
A big part of a project like that is working with a partner to make sure the items with the longer lead times get priority. The facility naming rights sign had to get started first because it took six to eight weeks to create, deliver and install that large of a sign with an etched-stone look. Smaller, less complicated signs can be turned around in a few days so those were created last."
What new trends or technologies in signage do you see as opportunities for partnership growth and enhancing fan experiences?
"Certainly the digital world and integration of social media with hashtags on signage. Today there's signage most places you can think to put it in sports. The exception is the NFL, where the league doesn't allow on-field signage. That's why most NFL stadiums all have higher digital signs. Last year was the first year I saw digital insertion for broadcast in the NHL. They digitally insert ads on the glass and behind the goals during broadcast.
As the [Atlanta] Falcons, [Minnesota] Vikings and [Sacramento] Kings all build new facilities it will be interesting to see how much of the signage is digital over fixed. At our facility we have 'concourse dioramas', or backlit signs in every little tunnel from concourse to seating bowl. If new stadium were built, those would probably all be digital."
A big thanks to Jim Cochrane for taking the time to share his sport sign expertise with us! Questions about the interview? Tweet us @FASTSIGNS .
Related Articles: