There are so many things to consider when hosting an event. You want your event to be a success, and that means having people participate in and get around it without having issues. Two topics that are important to consider are the need for crowd control and safety. Here are eight things that you should never hear an event attendee say if your event signs and graphics have the right messages on them and are properly placed around the event:
1. "Where Do We Park?" Signs
Event attendees are excited to get to the event, but first, they need to know where to park their vehicle. By providing them with easy-to-understand parking signs, you can direct them and keep traffic flow organized. Informational signs labeling designated parking areas can also alleviate hassle from the outset of the event, keeping vehicles and foot traffic under control.

2. "How Can I Find the Event Entrance?" Signs 
Once parked, event attendees will be looking for the entrance to your event, facility or venue. Don't leave them confused and aimlessly wandering. Use large directional signs with arrows to point the way to a conference entrance, gate area and more. Use smaller directional signs such as A-frames with arrows to guide them at points where directional questions may arise or closer to an entrance for a reminder.  
3. "How Can We Get to an Exhibit, Building or Session?" Signs
The job doesn't end once they get inside the event.  Help attendees get where they want to go with informational and directional signs taking them to interesting exhibits, specific buildings or timed sessions. Incorporate ceiling signs and floor graphics into your communications solution plan so people can look up and down when surrounded by people. Well-planned map directories can also be effective for helping visitors know where they are located at a specific moment and guide them to their desired destination. 

4. "Where Does The Line Form?" Signs
If your event involves a check-in or ticketing station, stanchions or dividers can direct event-goers and organize and contain lines for optimum crowd control. Create order out of chaos by partitioning people based on their needs and extend your brand to all dividers and partitions.

5. "Which Way is the Restroom, Entertainment, Food and More?" Signs
As event-goers are enjoying their days listening to music, eating and taking part in the activities, direct them to specific areas at your event. With colorfully contrasted signs, easy-to-read words for high visibility and arrows pointing the way, you can ensure that attendees can quickly get where they need to go. Directional signs keep the flow of foot traffic from becoming too congested, which can affect crowd control.

6. "Can You Tell Me More About…?"
Event attendees are curious. They want to look, learn and know more. Educate and inform them by using creative exhibits. Use tabletop signs in congregating areas. Provide details and contact information on booth signs at trade shows and on digital screens in the space where events are hosted. Help manage crowd control and congestion by providing the answers (in words on signs) to some of the assumed questions people may be asking. Keeping attendees moving efficiently through an event or trade show provides an organized, memorable and uncongested experience.

7. "Is This Area Safe?"
Keeping attendees safe is important. Use signs near elevators, stairs, exits, around construction areas and on the ground to direct event attendees away from unsafe areas. Incorporate bright and contrasting colors on signs, so you can more easily alert them and warn them by attracting their attention. Label rooms and stairways for emergency evacuation routes. Use signs to alert attendees of areas for specific personnel. Perimeter signage can also be used to keep people away from dangerous construction areas and extend your brand outside a space.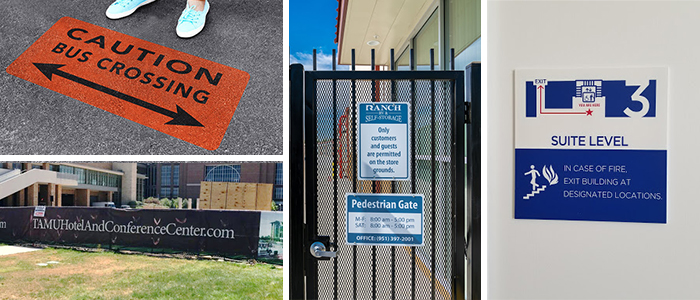 8. "Where Are The Exits?"
When event attendees are ready to go, make it easy for them to find their way out. By using signs to label doors, floors and areas, you can ensure that attendees know which exits to use and which doors to avoid when exiting a premise or event area. With signage, you can also keep large crowds of people in a stadium or venue moving through proper exits in a short amount of time. Minimize hazards and liabilities by designating exits for attendees.

Events can be amazing experiences that stick with attendees for years to come, however, they can become frustrating and unsafe if attendees don't know where to park, how to find entrances and exits, where to find food and necessities, and how to get around. Successful events are the result of having interesting content, great crowd control and a focus on safety, and with properly designed and placed signs, you can minimize statements of confusion like the ones above.
For more details on event signage, read this article from FASTSIGNS about successfully using signs and graphics at events.  
Need help with your event signs and graphics? Call FASTSIGNS® - we're more than ready to help.