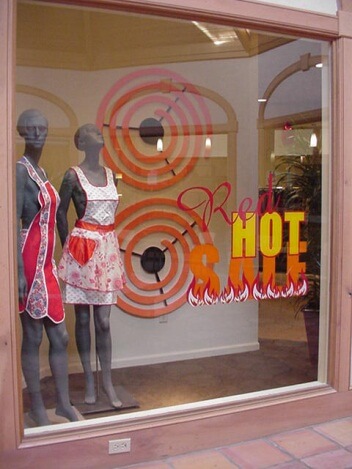 As a retailer, you want to incorporate signs and visual graphics that make a difference in your store. Whether you want to promote sale items, help people find their way around or just set your store or restaurant apart from the rest, you need clear and impactful retail signage.
Here are 5 questions to answer before you create or update your sign and visual communications plan.
1. Are signs and visual graphics a priority in your store?
If they are not, they should be. Why? Signs and visual graphics serve many purposes including helping to reinforce your brand, communicating product features and benefits, and providing an organized and informative customer experience. Make sure your signs are professional looking and easy to read. Keep your message simple and consistent with your brand image. Use visual communications as part of your interior décor to reflect who you are as a company and brand.
2. Do you use a professional to design and produce your signs?
There are many reasons to work with a sign and visual graphics expert, and it's always good to have an objective party experience what a shopper does and then use that information to create visual graphics to capitalize on communication opportunities. Work with a professional who understands marketing and visual graphic design. Your signage is an extension of your brand, so it's important to make sure that your signs are not only designed well, but also printed or created well, and then hung, placed, mounted or otherwise installed to maximize their exposure.
3. Do you change your signage regularly?
It's very important to update your message on signage. You should change your signs regularly to share a different message, promote a new product or follow a changing season or trend. When you see the same message on a sign too many times, it can start to become white noise. By changing the color, the design or the message, you can generate new interest that can help customers notice the sign again.
4. How can you improve the look of your store with signage?
While you want your signs and graphics to stand out and be noticeable, you can improve the look of your store by making sure that all of the graphics in your store coordinate and blend with your décor and represent your brand in a consistent way. This applies to colors used, typestyles chosen and graphic style used (photos, illustrations or abstract graphics). A sophisticated, upscale retailer will want to use graphics that are elegant and classic, while a toy store might have bright colors, whimsical type styles and photos of kids playing.
5. Do your customers talk about your signs and visual graphics?
When a customer tells a friend about their experience with a retailer, they don't talk about the interior signage. Instead, they talk about a great (or poor) customer experience. Signage can help you create the desired customer experience by making it easy for shoppers to find what they are looking for, understand the product or service's features and benefits, know if something is on sale, and understand the store policies.
Signage can also entertain and engage customers with motion and interactivity. Digital signs placed in your store can show customers using your products or providing testimonials, help you promote specials, invite people to join your loyalty program for special offers and so much more. You can also add interactive tools like SMS text to signs to have people opt in to receive weekly messages and offers from you on their mobile phone, or you can use QR codes on graphics in-store, on printed materials or even on bags that once scanned, take people to an online video or content about your store.
Want to learn more about creating your sign and visual graphics plan? FASTSIGNS is more than ready to help. Purchase your copy of Signs Sell today. To learn 5 BONUS questions, check out this video.