Red Wagon Pizza Company began as a mobile wood-fired pizza business attending Farmers Markets and participating in catering events. Three years later, having built a loyal fan base, they opened a permanent location in Minneapolis. The restaurant needed help branding its location, increasing visibility and communicating special promotions and events.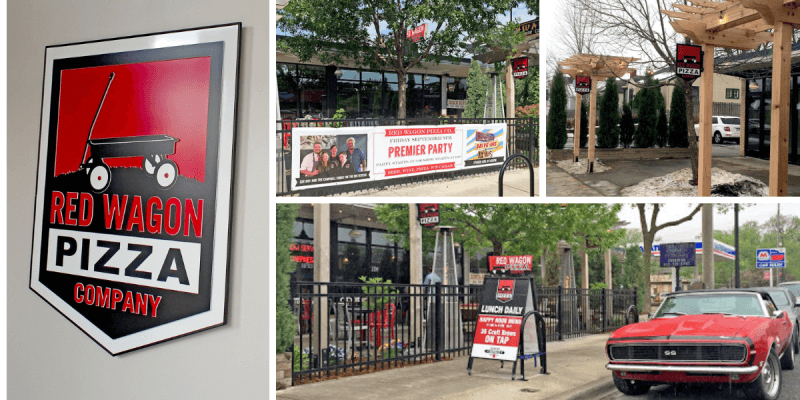 "When we first designed the logo for Red Wagon Pizza Company, the client actually preferred the black wagon on a red background, instead of a red wagon on a black background," explained FASTSIGNS' Dennis Campbell. "As they continue to grow and become more successful, they get asked about the black wagon in their logo, even though their name is 'Red Wagon.' It has become a sort of 'tongue-in-cheek' approach to their branding that helps add to the personality their customers know them for, and we incorporated it into each of their sign and graphic elements."
To identify the building and increase street visibility, an illuminated LED cabinet sign was placed on the roof above the entrance. In front of the outdoor patio, logoed blade signs were mounted on the side of wooden awning structures facing the sidewalk. An eye-catching LED sign that reads "Now Serving Happiness" was placed in a prominent window to communicate the family business's mission and to create a welcoming environment.
Inside the restaurant, a large photographic mural that spans an entire wall tells the family's story and provides information about the restaurant's roots. Black and red labels sit above 36 shaped and logoed beer taps. An acrylic stand-off display featuring prints of the restaurant's press coverage is mounted on the wall showcasing achievements and food critics' reviews.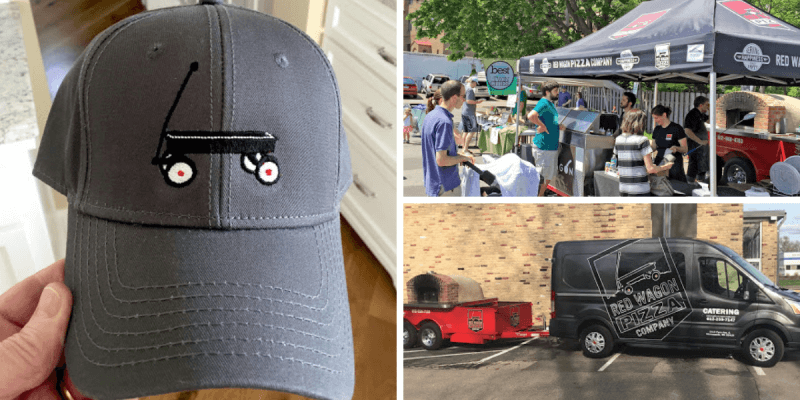 For local events, a branded canopy tent and vehicle graphics are used on their transportation vehicles and mobile wood-fired pizza oven. Other signs and graphics provided include an A-frame sign to promote specials and logoed hats to extend brand awareness.
The combination of great food, a memorable atmosphere and outstanding hospitality resulted in the Red Wagon Pizza Company being featured on Diners, Drive-ins and Dives less than two years after opening their doors. FASTSIGNS provided a colorful banner to build awareness and promote the restaurant's watch party event. In 2018, MoneyInc.com named Red Wagon Pizza one of the "10 Best Restaurants in Minneapolis."
From their vehicles and event signage to the signs outside of their building leading into their restaurant, Red Wagon Pizza is a great example of how coordinated, branded signs and visual graphics can communicate and reinforce a brand's story. FASTSIGNS® is proud to have had the opportunity to help play a part in helping them grow their brand awareness.