Sponsors always welcome more awareness for their message and brand. By using the right signs and visual graphics, you can give them the recognition they deserve.
From galas and sporting events to trade shows and conferences, sponsorships connect the community by helping increase awareness, communicate a message, drive traffic and ultimately, sell more products or services. Here are 7 ways to bring more awareness to your event sponsors:
1. Place Sponsors Messaging in the Direct Line of Sight
Because sponsors often help an event come to life by proving their support, they deserve to be seen. Install sponsorship signage at the level where eyes will be regularly directed or frequently landing. Above a stage, on a scoreboard or on a podium are all great locations for providing sponsors with the exposure they want.


2. Keep your Sponsors Moving with Event Attendees
Make sure to keep sponsors messages as active as your event attendees. Include sponsors on shuttles and vehicles such as golf carts, floor graphics and escalator graphics so they can be seen as people are transporting from place to place. Include sponsor information on temporary yard signs where pedestrians will be passing at golf tournaments or community events.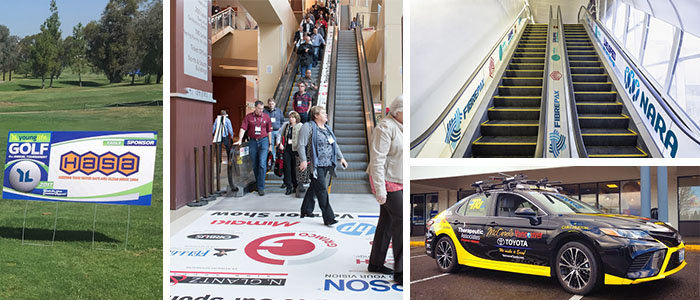 3. Find Clever Applications to Feature Sponsors
Take stationary pieces and transform them into a sponsorship opportunity. Communicate a sponsor's message to a captive audience on applications from tabletops to elevator doors. Consider other places and surfaces where groups of people are congregating or have to wait for periods of time as ideal spots for ad placements.
4. Use Sponsorship Signs to Improve Aesthetics
If you've got a less-than-attractive space at your event, use that wall, column or structure to share information for and about your sponsors. By thinking outside the box, you can feature sponsors in ways that may gain them more recognition and maybe even some broadcast media time at publicized events.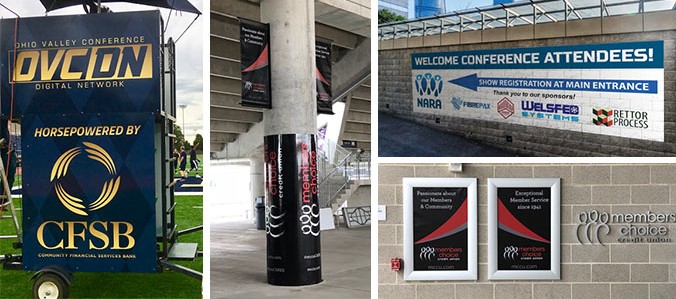 5. Enable Walls to Become a Canvas for Sponsorship Opportunities
From sporting events to outdoors festivals to event venues, pre-existing walls can provide the perfect space to share sponsor logos and messages. Whether it's the outside of a building or inside above a well-frequented exit, these flat surfaces provide the ideal canvas to visually communicate with an audience. It's also an efficient use of space to take something that's already there and use it for another purpose!

6. Use event photo backdrops for sponsorship opportunities 
Since social media channels are where people are frequently spending time, turn your photo vignettes into a branding and sponsorship opportunity. By customizing a photo backdrop with sponsor logos, you provide sponsors with brand awareness and increased visibility to attendees and media. To take it a step further, create a handheld photo frame with sponsorship branding and encourage attendees to take pictures behind it for even more exposure.

7. Don't Forget Digital Displays 
Incorporate digital displays into your indoor and outdoor visual communications solution. Share multiple messages as you inform event attendees about sponsors who have helped make the event possible. Sponsors will appreciate their brand being top of mind and will be more inclined to become sponsors for future events.

By offering innovative sign design and placement, you can create sponsorship packages that are customized and can generate more revenue for your event. With so many locations and sign and graphic applications to use, the options are endless for providing exposure for sponsors and your budget.
Are you in need of more sponsors at your event? Learn 7 ways to attract additional sponsors and increase revenue. 
Ready to put your sponsors at the forefront? FASTSIGNS® is ready to help.