If you've ever been to an old baseball stadium, say Wrigley Field or Fenway Park, you've seen a stadium employee manually update the game scoring each inning. This was once the best way to keep track of the game you were attending as well as other games being played around the country. But with digital technology and the availability of the Internet, these scoreboards are now just traditions followed for the sake of preserving history.
Now professional sports franchises are using scoreboards and other stadium signage to give fans an experience. It's an experience that ditches old-school nostalgia for modern digital entertainment. Here's how sports stadium signage is stepping into the future.
Everything is Bigger in Texas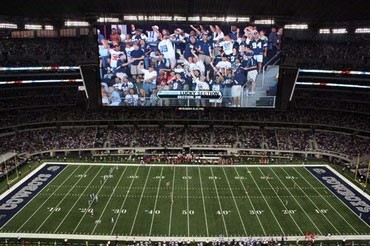 Photo credit: Mental Floss
In 2009, the Dallas Cowboys and owner Jerry Jones unveiled the latest supporting evidence that everything is bigger in Texas. The $1.3 billion Cowboys Stadium in Arlington, Texas, was officially opened and celebrated for its display of excess and spectacle. Perhaps the most celebrated feature of the stadium was its high-definition video board, a 160-by-72-foot display that stretches from one 20-yard-line to the other 20-yard-line. The digital video board was recognized by the Guinness Book of World Records as the world's largest high-definition display. But the record wouldn't last for long because in 2014, the Jacksonville Jaguars installed a 362-foot long video board that reportedly uses 35.5 million LED bulbs. In the "anything you can do, I can do better" culture of professional sports, we expect that record to be short-lived as well.
It's All in the Details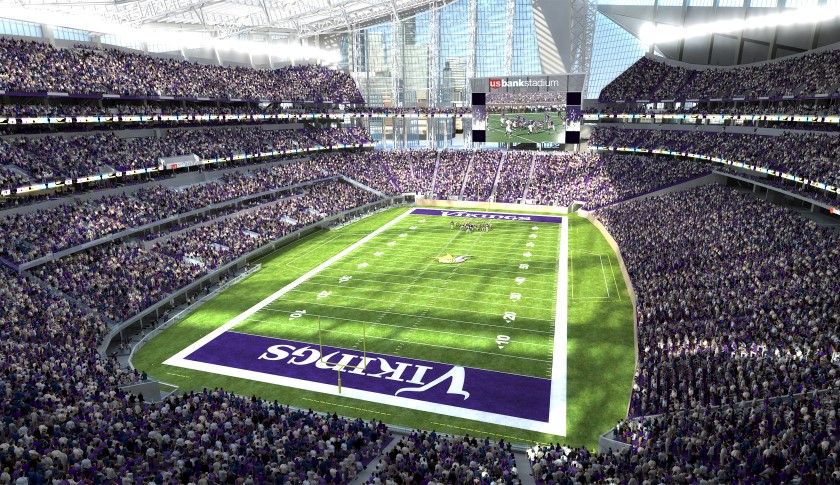 Photo credit: Minnesota Vikings
Most eyes in the stadium will be drawn immediately to the big, shiny video board, but there are plenty of other stadium signs that enhance the game day experience. Stadium ribbons, while not as flashy and bulky as the primary video board, wrap the entire stadium in digital signage. These boards are used to show stats, update scores of other games and perhaps most importantly, promote advertisements. The ribbons may seem like a small detail, but they are vital to the stadium atmosphere –providing information and entertainment for fans throughout the game.  
Meshing With Tradition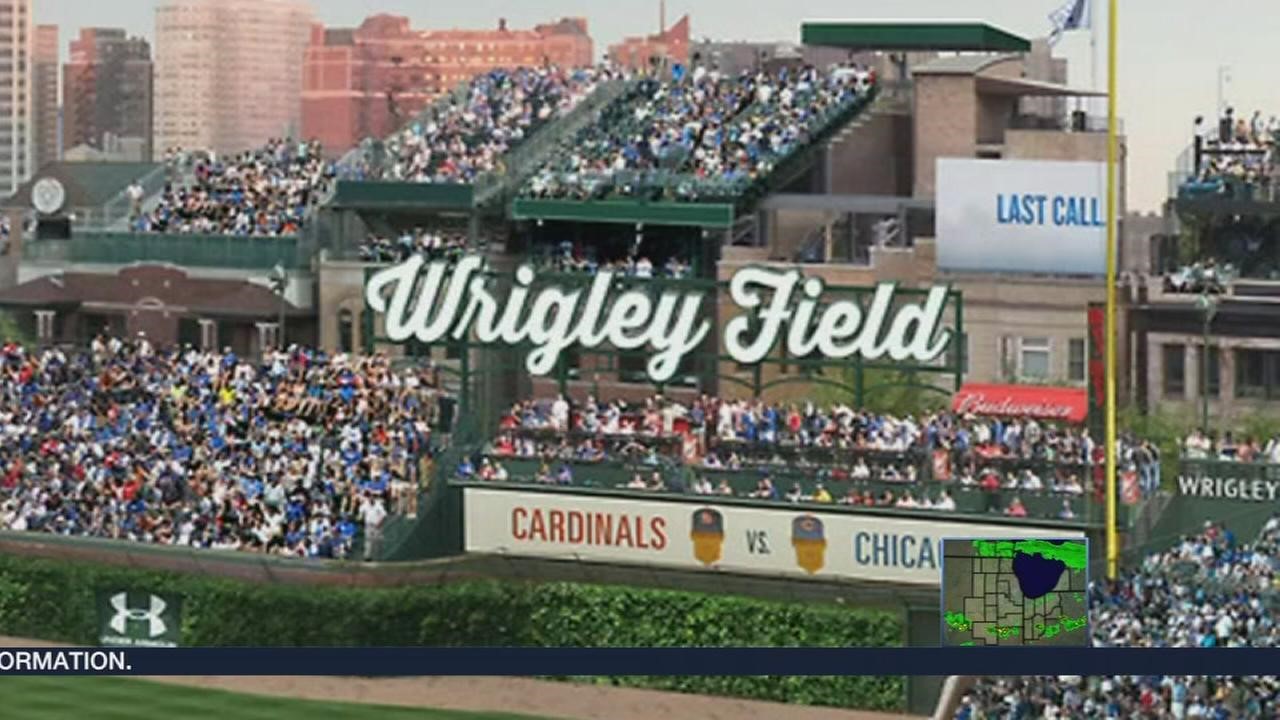 Photo credit: Ad Age
Updating your stadium signage doesn't mean you have to tarnish tradition. Wrigley Field, one of the iconic stadiums in all of sports, was renovated in 2014 to include several stadium signage upgrades. The image above shows one rendering of a large outdoor sign simply displaying the stadium name. And while the Cubs organization eventually opted for a video board instead, the image shows how stadium signs don't always have to be drastic, technologically advanced installations. They can be tasteful improvements that mesh with the already-established stadium history.
A Taste of Luxury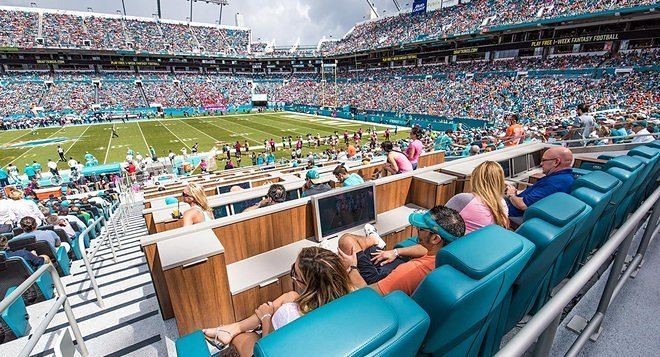 Photo credit: Curbed
One of the most popular trends in sports stadiums is the luxury suite, where fans can experience game day in style. These suites often feature on-demand food and drinks and enough entertainment to make fans forget they're even at the game. You can bring your living room to Sun Life Stadium in Miami (above), replete with a recliner and private screen. Or you can keep up with your fantasy team on the digital screens at CenturyLink Field in Seattle (below).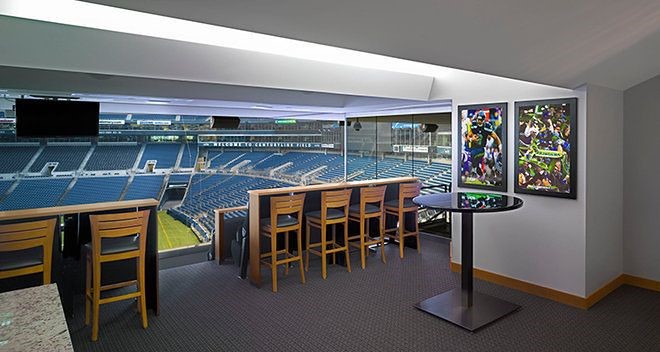 Photo credit: Curbed
All of these stadium signage solutions have the ability to transform your facility from an old-timey homage to history into the all-inclusive center of entertainment that sports fans have come to expect. For more information on how FASTSIGNS can bring any stadium to life, from high school to the pros, call us at 800-FASTSIGNS!
Related Articles
The Texas Rangers Show Us How to Maximize Sport Signs
5 Best Fan Signs at Sporting Events
International Traditions in Signage for the Big Game
Resources
http://www.curbed.com/2016/2/3/10942392/nfl-football-luxury-suite-nfl
http://adage.com/article/news/budweiser-logo-coming-wrigley-s-field-sign/244032/
http://mentalfloss.com/article/24976/100-years-scoreboard-watching