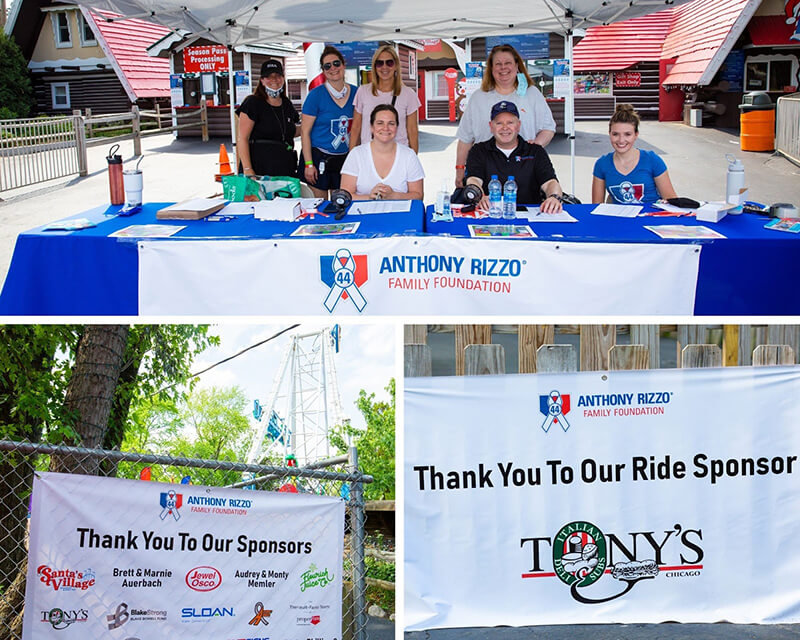 (CARPENTERSVILLE, IL) July 01, 2021 - FASTSIGNS believes in giving back to their community. As a result, they recently provided 12 banners as a sponsor for an event at Santa's Village in East Dundee on June 11 to benefit the Anthony Rizzo Family Foundation.
The team at FASTSIGNS first received an email from the meeting organizer. After learning about the event, Deb offered to donate signage directly. In addition to FASTSIGNS, there were also several event sponsors.
"Eric and I have both lost parents to cancer," said Deb Christiansen. "Because of that, it's important to us to give back to our communities and also to families that are fighting cancer."
The Anthony Rizzo Family Foundation is a 501 (c)(3) non-profit organization founded by Chicago Cubs First Baseman Anthony Rizzo. Anthony realized during his own battle with cancer that no matter how difficult fighting cancer was for him, it was even more difficult for his family. Anthony believes that an individual does not battle cancer alone, but that the whole family battles it together. The mission of the Anthony Rizzo Family Foundation is to raise money for cancer research and to provide support to children and their families battling the disease. Everyone at the Anthony Rizzo Family Foundation believes that every family deserves a fighting chance.
"The Anthony Rizzo Family Foundation helps so many children and families fighting cancer. We were grateful to be able to help in this small way," said Deb. "Giving these families a night out of fun, where they can just spend time with their families without the stress and worry of cancer, is priceless. We're thankful to be a part of it."
About FASTSIGNS®
FASTSIGNS is a locally and independently owned and operated sign, graphics and visual communications company that provides comprehensive visual marketing solutions to customers of all sizes—across all industries—to help them attract more attention, communicate their message, sell more products, help visitors find their way and extend their branding across all of their customer touchpoints including décor, events, wearables, digital signage and marketing materials. To learn more, visit fastsigns.com/carpentersville-il/ or call (847) 551-3033.