Tampa High School
Branded Wayfinding Signs Help Students, Faculty and Visitors Find Their Way
The Challenge: Differentiate Campus Buildings from Others to Make it Easier to Get Around Campus
Located on property shared with a church and other organizations, Cristo Rey Tampa High School needed to identify and differentiate their buildings from those of others, communicate their core values and help people get where they wanted and needed to go.
The Solution: Provide Comprehensive Sign & Visual Graphic Solutions for Interior and Exterior boulevard banners to identify the property.
FASTSIGNS® provided a variety of branded signs and visual graphics across Cristo Rey Tampa High School's campus. These included a series of branded directional signs along the roadways and sidewalks, custom speed limit signs and "Do Not Enter" signs to improve safety.
Post and panel signs identify the buildings and communicate which entrance is for the church and which is for the school. Window graphics are also displayed above the glass doors at the entrance.
Inside the school, custom dimensional blade signs are placed above the doors in the hallways to identify administrative offices and classrooms, branded ADA-compliant and braille signs display room numbers, and dimensional letters identify the cafeteria. A branded mural in the hallway reinforces the school's mission, vision and core principals.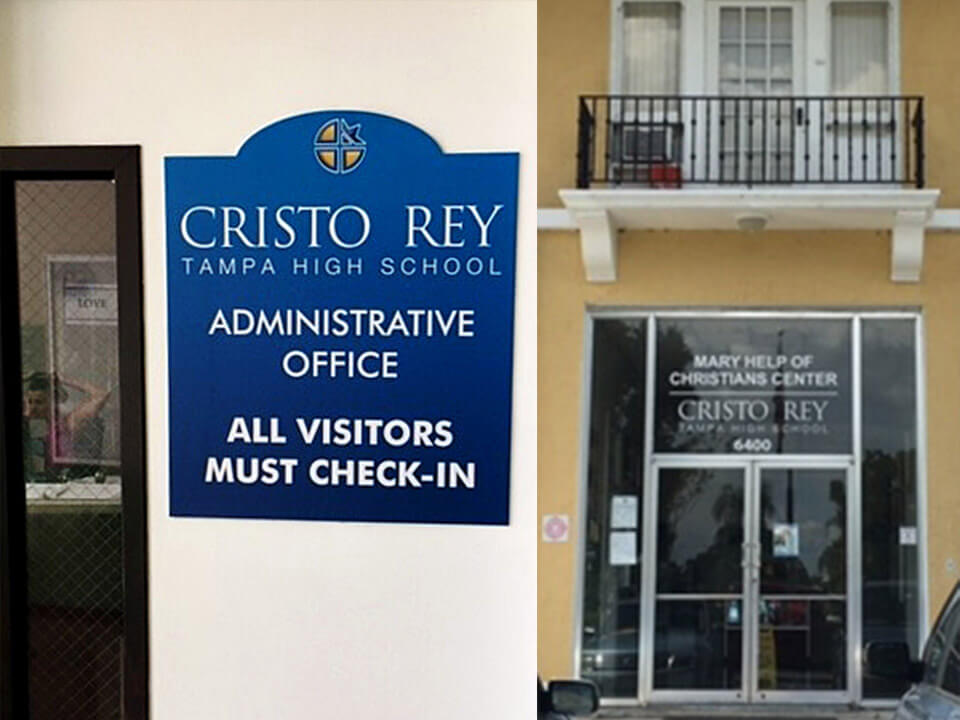 The Result: Students, Faculty, and Visitors Are Able to Get Around Campus Easily and Effectively
The strategic placement of the signs and visual graphics at Cristo Rey Tampa High School keeps people informed and helps them find their way while reflecting the school's branding.
*FASTSIGNS of Orlando – Central is owned by Renee Friedman.