WOWT
Engaging TV News Viewers with Visual Communications

The Opportunity
WOWT is Omaha's local NBC affiliate (Channel 6). They have diverse and creative programs on and off the air. To increase their brand awareness and to differentiate themselves from other local news stations, they called FASTSIGNS® to solve their visual communications challenges.
The Challenge
WOWT's business objectives include having a professional presentation, being active in the community, generating advertising revenue and increasing their brand awareness. They have a very creative staff that likes to think outside of the box. FASTSIGNS needed to bring their ideas into reality through innovative marketing solutions and cutting-edge products all while staying consistent with WOWT's brand guidelines.

The Solution
To extend the station's brand on air and in their building, FASTSIGNS provided a wide-range of visual graphics for the news studio, including dimensional signs and lettering, window graphics, interior décor, backdrops, name tags, branded microphone cubes and wayfinding signs.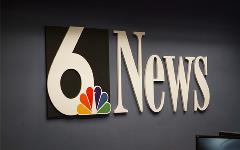 To integrate the news station's branding with their wayfinding and directional signs, FASTSIGNS created arrows on sleek metal signs that reflected the brand look and feel to direct staff and visitors throughout the building. The FASTSIGNS team also provided exterior building signs that illuminate at night, and a large window mural covering the entrance of the building featuring the channel's news anchors.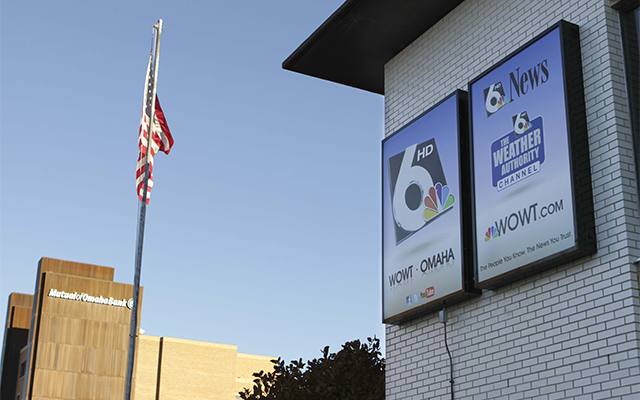 The station's weather deck needed enhancing, so FASTSIGNS provided a copper sign with cut-offs and suggested adding seasonal plants from the local nursery to accent the environment.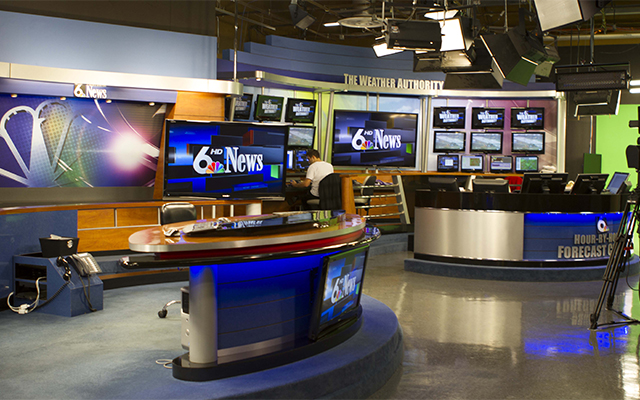 WOWT participates in many community events. To engage event participants and attendees, FASTSIGNS provided attractive tradeshow displays, banners, tents, custom barricades and flags. During the Olympic Swim Trials that WOWT was covering, FASTSIGNS provided a backdrop and display for attendees to stand in front of and get their picture taken. WOWT then posted the pictures to their social media platforms, integrating the signs and graphics with social media. They also provided an interactive weather station for a kids' event, along with removable weather icons that participants could play with and take photos with.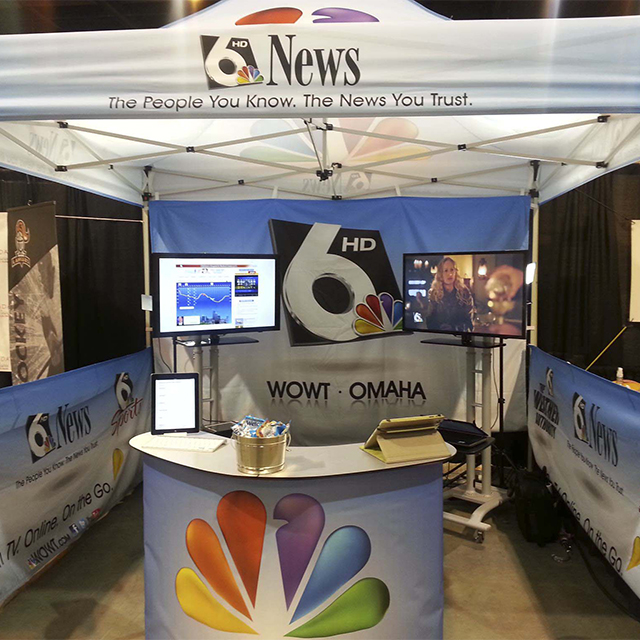 At tradeshows and community events, FASTSIGNS provided branded promotional products the news station could hand out to guests, which included items such as rechargeable emergency batteries, cell phone cases, thank you cards and fun, kid-friendly lunchboxes.

Finally, for the times when the WOWT crew is offsite covering local news and events, FASTSIGNS designed and installed attractive vehicle graphics for multiple cars and news trucks to raise their brand awareness.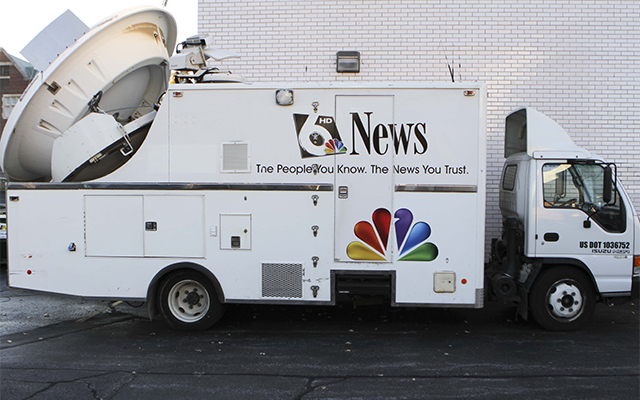 The Result
With the help from FASTSIGNS, WOWT's signs and graphics present a professional and consistent image that has helped maintain their status as the number one news station in Omaha. WOWT and FASTSIGNS continue working together to come up with creative visual ideas to uphold the news station's strong brand.
*FASTSIGNS of Omaha – 114th Street is owned by Bob Danielson.