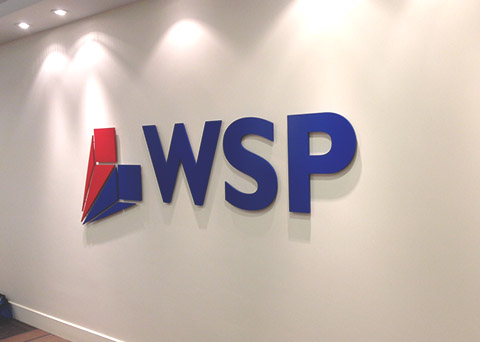 WSP
Managing a Global Company Rebrand
The Challenge:
Genivar, a Canadian-based engineering consulting firm, acquired WSP and merged the two companies under the WSP name. The headquarters and locations across the country needed to be rebranded systematically and in priority order, with the goal of having each location and site follow a brand standard, which at the time was not defined.
The Solution:
FASTSIGNS® developed a comprehensive visual communications program for WSP so that each location was consistently branded with the needed signs and visual graphics. FASTSIGNS managed the project from start to finish, first conducting thorough site surveys and coordinating any permitting that was needed.
To brand the exterior of the locations, FASTSIGNS provided and managed the installations of large illuminated channel letters and light box signs. Site signs and cabinet signs were rebranded for locations that had them in place and parking signs and construction signs were also provided.
Inside, the WSP name and logo were displayed as dimensional letters and on aluminum wall signs in reception areas, meeting rooms and offices.
Lastly, custom magnets and name badges that reflected the new branding were provided to employees.



The Result:
FASTSIGNS helped WSP communicate their new brand seamlessly across 30 locations and managed all aspects of the project — from initial consultation to production to installation. The new signs and visual graphics helped WSP communicate the power of their growing brand presence.
*FASTSIGNS of Toronto East – Scarborough, ON is owned by Craig Gibbs.