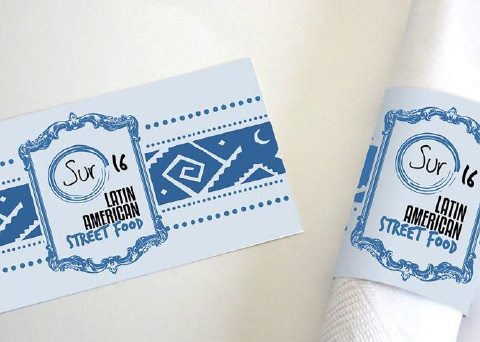 Sur 16
Cooking up a Consistent Brand Identity
The Challenge:
Sur 16, a Latin American-inspired restaurant located in a lively area of Seattle, Washington, needed to attract foot traffic and create a consistent brand identity in all their visual touch points.
The Solution:
After consulting with Sur 16, FASTSIGNS® designed a new logo, tagline and graphic elements to bring their brand message to life. "The new, fresh look attracts attention, shows the restaurant as modern and interesting, and maintains the brand's visual identity. The new look was applied to all of their signs, graphics and marketing materials across the board," said FASTSIGNS franchisee Jorge Villamil.
FASTSIGNS branded the exterior of Sur 16's location by adding new graphics to the awning and doors, making it easier for passers-by to identify the restaurant. A series of window graphics was used to attract attention and communicate what the restaurant offered. New "Open for Business" signs direct customers into the restaurant and display the hours of operation. Visual graphics were used to cover security blinds on the building and a removable magnetic sign is displayed when the restaurant is closed.
To extend the new branding inside of the restaurant, menu boards featuring the updated logo and vibrant interior décor graphics were used on the doors, walls and windows. FASTSIGNS enhanced the restaurant's wayfinding and regulatory signs, provided branded napkin rings and decals for to-go food containers, and designed and produced new business cards and materials related to the catering offering.



The Result:
FASTSIGNS developed a cohesive brand identity for Sur 16 that reflects their unique flare and culture. The restaurant's new signs and visual graphics present a consistent, professional look and create an inviting experience for diners.
"The new branding and designs have received really positive feedback from our client and their customers at Sur 16," Villamil said. "Other businesses in the area have also taken notice and reached out to us for help with their visual communication needs."

FASTSIGNS of Seattle – University District, WA is owned by Jorge Villamil.