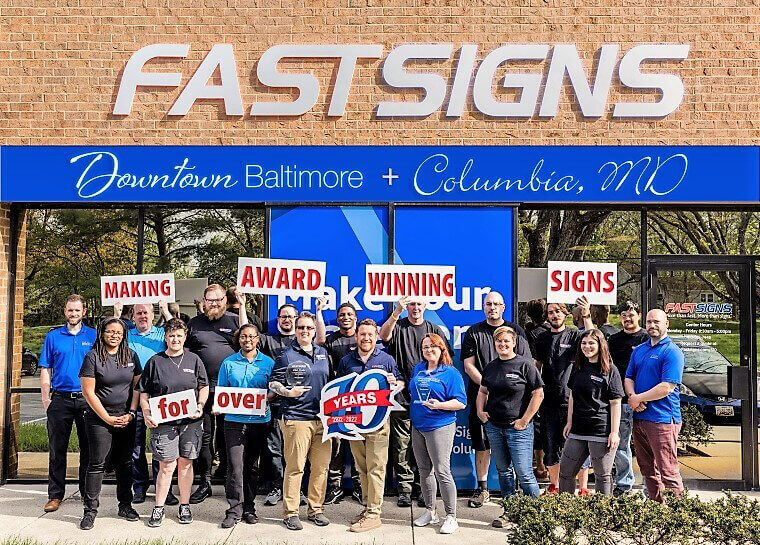 (BALTIMORE, MD) July 5, 2022 - FASTSIGNS® of Downtown Baltimore is celebrating 10 years in business this year. Opened in 2012 by Tony Amador, the business has experienced extraordinary success in its relatively short time, becoming among the Top 5 centers in sales for 2021 for the Northeast region, and Top 12 nationwide, among over 750 locations in the network.
Tony attributes this success to the amazing team he's been blessed to work with through the years including its second-to-none center Managers (Krista Wilson and Glenn Szymanski), it's streamlined Processes, a solid Brand, a fabulous Location (Downtown Baltimore) and of course, some of the best Customers only Baltimore can provide!
Winners of multiple awards throughout the years, from Top Sales to CEO Circle, and recognized as top performers in the network, they continue to grow by double digits every year.
"It has been an honor to serve the Baltimore community for a decade," said Tony Amador, franchisee at FASTSIGNS of Downtown Baltimore. "We are thankful to our loyal customers, and we value every client who has contributed to our success here. We're looking forward to another 10 years!"
FASTSIGNS of Downtown Baltimore is located at 312 W. Lombard St. and is open from Monday through Friday from 8:30 a.m. to 5:00 p.m.
About FASTSIGNS®
FASTSIGNS® of Downtown Baltimore is a locally and independently owned and operated visual ideas company. FASTSIGNS is an industry leader that began over 35 years ago and has over 750 centers in the U.S. and internationally. We celebrate the spirit of creativity and the power of possibilities. Working with FASTSIGNS can leave a lasting impression for your business. What we make together is a brilliant reflection of your brand, your personality…your statement.
FASTSIGNS is frequently recognized for franchisee satisfaction and through franchising awards which include being ranked #1 on Entrepreneur's Highly Competitive Franchise 500® List for the sixth consecutive year for 2022 as well as being named a 2022 Best-in-Category Franchise by Franchise Business Review.
Let us help you "Make Your Statement." Visit https://www.fastsigns.com/downtown-baltimore-md/ or call 410.873.9120.
-###-