Local sign and visual graphics business FASTSIGNS® of Maple Shade, NJ won the 2016 Vehicle Graphics Contest by Signs of the Times – by re-wrapping the 2013 Wrap Like a King winner in the Avery contest!
FASTSIGNS owner Jeffrey Chudoff has been wrapping vehicles for 20 years, but winning Readers Choice for Signs of the Times after placing first in his category this year has been a great confirmation of his work and the progress his company has made over the years.
"We have now won 22 national awards for our wrap designs over the years in Sign Business Magazine and won several first place awards in Signs of the Times magazine," said Chudoff. "In January, I decided it was time to expand my business and converted from Arizona Designs to a FASTSIGNS center."
FASTSIGNS® of Maple Shade, NJ offers a one-stop-shop for businesses' visual communications and marketing needs, from their award winning vehicle wrap design to building signs and eye catching dimensional letters, wall graphics, custom displays and digital display kiosks.
"My in-house design team is top notch," Chudoff said. "We have established a record of high quality designs, which I've honed over the years as the creative director."
Chudoff really enjoys the challenge of capturing his customers' messages, supporting their goals and missions. One example was for client Carmen Brancato, a Marine who tours the country promoting the Wounded Warrior Project.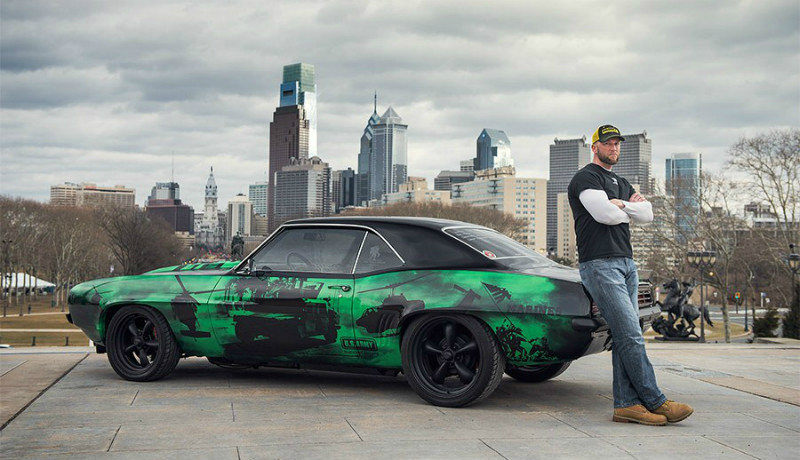 That client wanted to tribute all the armed forces. The driver's side honors the Marines and Army; the passenger side honors the Air Force, Navy and National Guard. The hood carries the Wounded Warrior Project logo with the U.S. flag. His inspiration was to make it look like it would through night vision goggles.
From simply lettering trucks to becoming a certified instructor for Avery, Chudoff's expertise has developed steadily over the years. Expanding his team's design skills across different media to provide comprehensive graphic solutions for his customers was a natural progression. And entering his creations into national contests is a way to measure up to others in the industry; they typically make it past at least the first round.  Winning third place nationally in Avery's first competition with his shop truck in 2013, and then changing the design a few years later with another national winner that placed first all around confirms he's on the right design track.
Located at 3121 Rt 73 in Maple Shade, the center is open Monday through Friday 8:30-5:00 and by appointment only on Saturday.
About FASTSIGNS®
FASTSIGNS® of Maple Shade, NJ is an independently owned and operated sign, graphics and visual communications company that provides comprehensive visual marketing solutions to customers of all sizes — across all industries — to help them attract more attention, communicate their message, sell more products, help visitors find their way and extend their branding across all of their customer touch points including décor, events, wearables and marketing materials. To learn more, visit fastsigns.com/maple-shade-nj/ or call (856) 259-1262.