At FASTSIGNS® we are fortunate to have amazing people in our network—from our franchisees and their teams at our more than 675 locations, to our 115+ FASTSIGNS International, Inc., corporate employees. As we enjoy holiday season festivities, we asked corporate employees to submit family photos for an internal slideshow to display on our office digital sign system. Through that process, we began reflecting on a fun and unintentional fact—we happen to have quite a few family members within our offices. Over the years, as positions have become available, the candidate with the right skills and experience sometimes happened to be the family member of someone already employed here at the corporate office in Carrollton, TX.
Can family members work at the same company? Several of our hardest working employees happen to be a family member of another employee. Of course, each team member works for separate departments, with different direct-report supervisors.
One of our husband and wife franchisee teams, Shawn and Mark Glenn, actually met at FASTSIGNS corporate in 2001 and married in 2004. They now have two daughters, and own and operate four D/FW-area FASTSIGNS centers.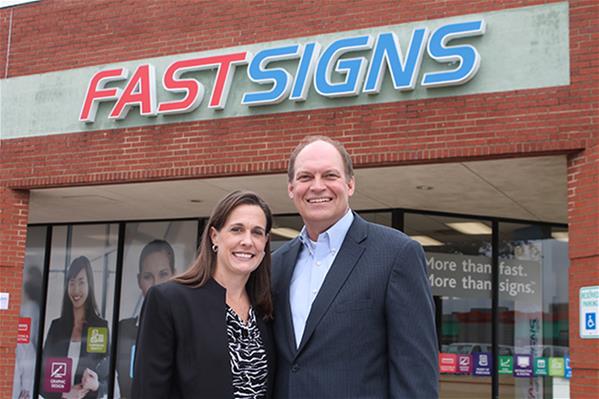 Two of our current corporate couples met while working at FASTSIGNS. The longest running couple is our VP of Creative Services, Chris Brooks, and Stephanie Brooks, Senior Director of Legal. The two first met in 1993 when Chris came on board in the Marketing department. After several years as acquaintances and coworkers, they began dating in 2001. In 2002, they combined families and married.
The "newest" FASTSIGNS-bred corporate couple is William Nelson, Senior Systems Administrator in the IT department and me, Jayme Nelson, Content and Communication Manager in the Marketing department. We first met in 2007, shortly after Will joined the IT team. In 2011, we got married and then welcomed our first child and "FASTSIGNS baby" in 2014.
In January 2011, Jim Howe joined FASTSIGNS as a Business Consultant for our Midwest and Eastern Canadian regions. A year later he was promoted to Director of Training and began the process of relocating to the Dallas area with his family. With him, he brought over 20 years of experience in franchising and management – as well as his wife Shelley. In 2012, Shelley became a Project Manager for FASTSIGNS National Accounts. Today, Jim is our VP of Franchise Support and Shelley is utilizing her administrative and management experience as our Office Manager.
Our newest FASTSIGNS corporate couple is comprised of Lisa Becraft, Director of Development Services, who joined the team in 2014, and Chris Becraft who recently came on board as the VP of National Accounts.
Our first aunt/niece combo occurred this year with the arrival of Emily Shuler to our Internet Marketing team as the Project Manager. A new graduate with marketing and internet experience, she learned of the open position from her aunt, Susan Shea. Susan has been with FASTSIGNS since 2014 and serves as the Franchise Services Administrator.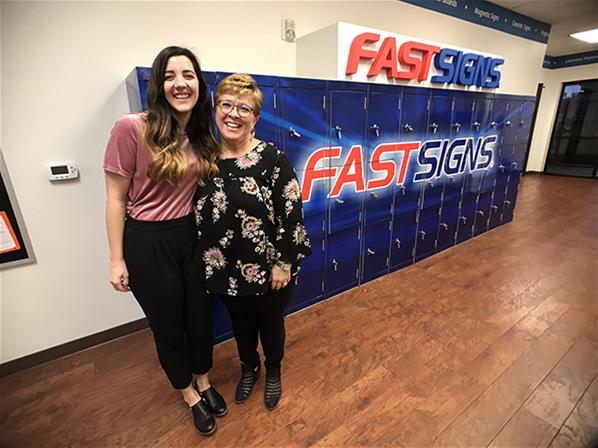 From time to time, Shelley has to send out an email to the building reminding peeps to clean up after themselves in the break rooms. The saying, "your Mom doesn't work here, please clean up after yourself," applies to everyone, except Ian Arellano. In December 2010, Ian applied for and gained a position in the IT department as a Service Desk Technician. His Mom, Renae Fogarty, is across the building in the Marketing department. Our Director of Internet Marketing, she has been leading the Marketing Eteam since 2007.
Part of Renae's team are four talented web specialists, including Web Content Specialist Mike Kilpatrick. Known as much for his singing and musical talents as for his web editing skills, Mike has been with FASTSIGNS since 2010. In 2012, his daughter Haley came to FASTSIGNS to fulfill the role of Receptionist. A proven team player, Haley is now the Legal Administrative Assistant for our Legal Services team.
Rounding out our current collection of family coworkers is the longest running family duo we have at FASTSIGNS International, Inc. In 1998, Chuck Kaylor joined FASTSIGNS National Accounts. Shortly after, he moved to an open position on the Marketing team, where we could better benefit from his past experience and talents. Next year, Chuck, now our Director of Marketing Services, will celebrate 20 years with FASTSIGNS. Once Chuck migrated to the FASTSIGNS Marketing team, his father Ed Kaylor joined the FASTSIGNS National Accounts team as a Project Manager.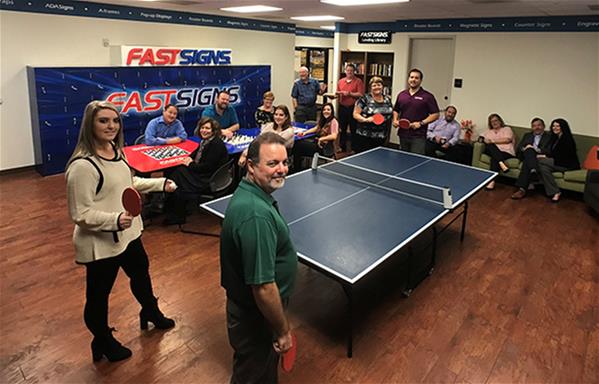 Whether related by blood or not, every employee at FASTSIGNS International, Inc. is part of the greater FASTSIGNS family. The FASTSIGNS International, Inc. family has four common, shared goals in our FASTSIGNS key strategic objectives. Most of all we work to support and ensure the success of our franchisees. Our team makeup may vary, each position with its own needs and requirements, and some of the last names may be the same, but our end result is always unchanged -- to do the best job possible.