FASTSIGNS of Grand Rapids, MI has provided Kids' Food Basket with signage for 12 years. Recently they chose to amp up the support by moving into the area of food-based donations in addition to sign donations. In this particular FASTSIGNS center, there's a volunteer committee comprised of four team members who collaborate in goodwill efforts.
The entire team at FASTSIGNS of Grand Rapids has joined the efforts in supporting this local charity. By providing signs at a discounted rate, purchasing food items and packing sack suppers in their center to deliver, they are committed to the cause. They have also hosted "wish list" food drives, promoted the nonprofit through their social media network and even volunteered on weekends to pack sandwiches for distribution to children in need.
Overall, this charitable FASTSIGNS center has provided over 400 sack suppers, compiled more than 1,000 sandwiches and donated several hundred pounds worth of wish list items. The efforts have even extended beyond the FASTSIGNS center to friends, family and customers. When collecting "wish list" items, the team invited friends, family, customers and social media followers to join in the donation process.
"It's really great for team building and we love being able to help our customers further their cause," said Melissa Kinstner with FASTSIGNS of Grand Rapids.
"We love being hands on and seeing the results of our efforts," said owner, Erin Gilpin. "We also love knowing that what we're doing is going to directly impact youth in our local community."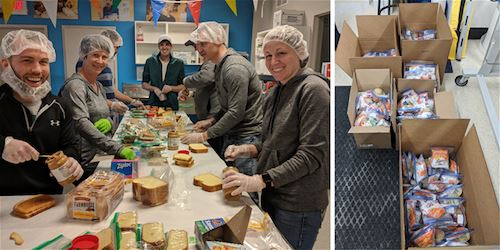 Because of givers like the Gilpins and their team at FASTSIGNS, children in need are being supported in the Grand Rapids community.   
"The Gilpins are amazing to work for and work with," said Kinstner. "Their hearts are always in the right place."