BRAKEmax and Max Auto Glass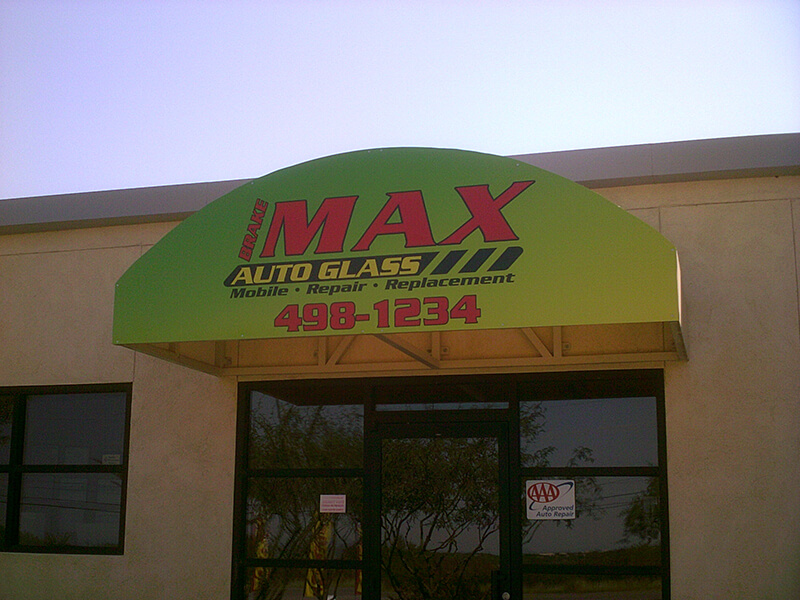 The importance of a single phone call can't be overstated. For Paul Jamison, Sales Director FASTSIGNS® of Tucson – Speedway, it was the reason the owner of BRAKEmax and Max Auto Glass named FASTSIGNS his go-to visual communications provider.
BRAKEmax was founded in 1997 in Tucson and after years of using different sign vendors, the company finally settled on a shop to use. Then, in 2011, BRAKEmax called their sign shop and couldn't get the store to call them back. Frustrated, the owner began looking for another sign and graphics vendor and his next phone call ended up being the only one he needed to make.
"BRAKEmax has 12 locations in the area and their first call to us was to have every menu board at each location replaced. Of course, we were happy to make this happen for them and it ended up being a pretty large project. When the owner came in, he saw the floor and counter graphics we have in our center and asked if we could make some for him," said Paul.
As it turned out, BRAKEmax was trying to promote their new division called Max Auto Glass. The owner wanted to use the floor and counter graphics to promote an offer where customers could get a gift card for using one of Max Auto Glass' services. To add another dimension to the promotion, the team at FASTSIGNS of Tucson – Speedway also made cards for the company to hand out with information about the promotion.
When the owner came in to get his graphics and promotional cards, he asked Paul if there were any other ways he could think of to help raise awareness and increase customers for Max Auto Glass. Paul suggested using perforated window vinyl to advertise the auto glass business in the front windows of each BRAKEmax location. Additionally, Paul learned that the company had old, unappealing sail flags that were placed on each location's property near the road, so he told the owner he could update them to complement the new and improved branding pieces he was ordering for the other parts of his business.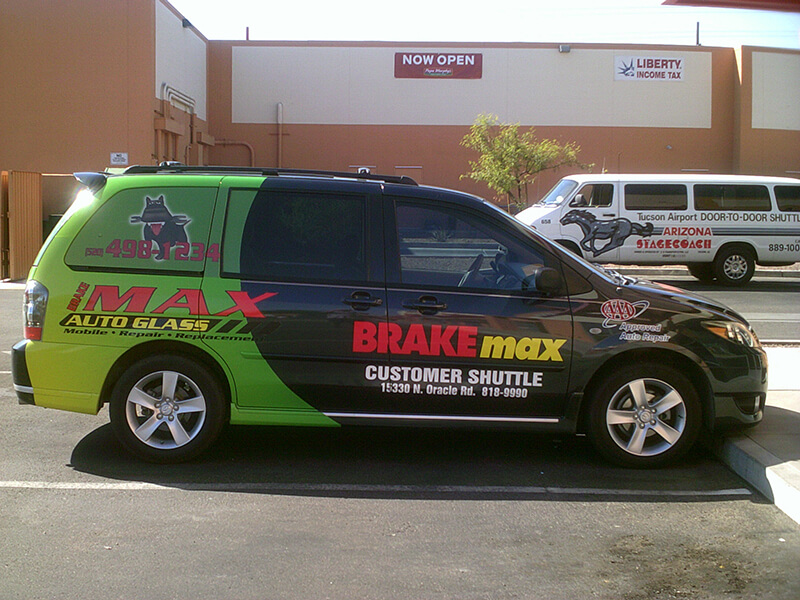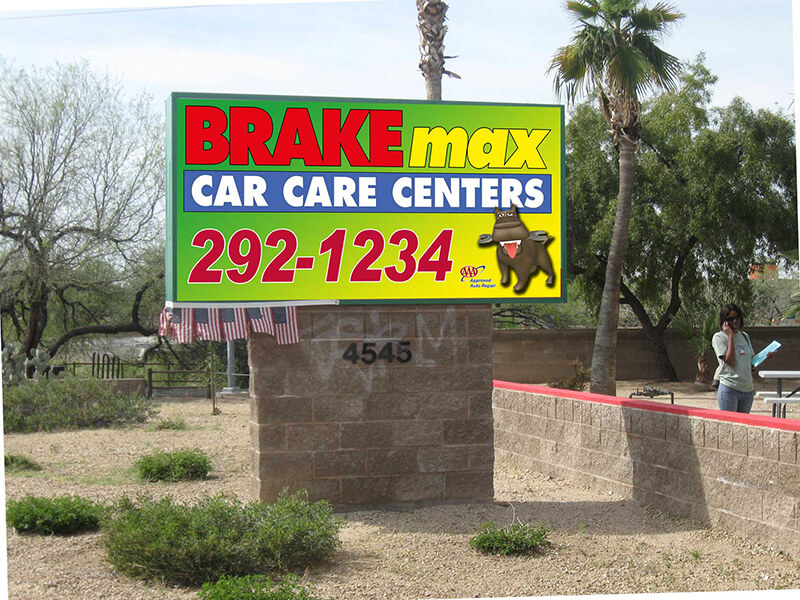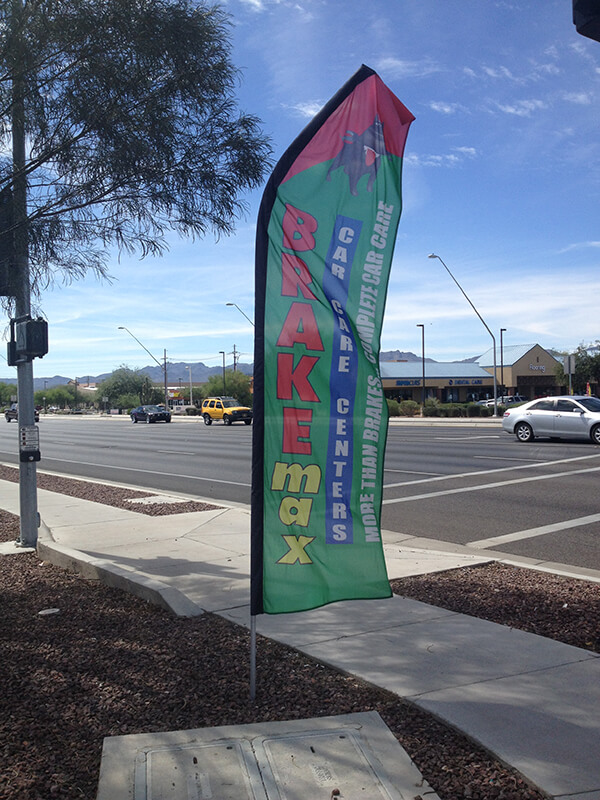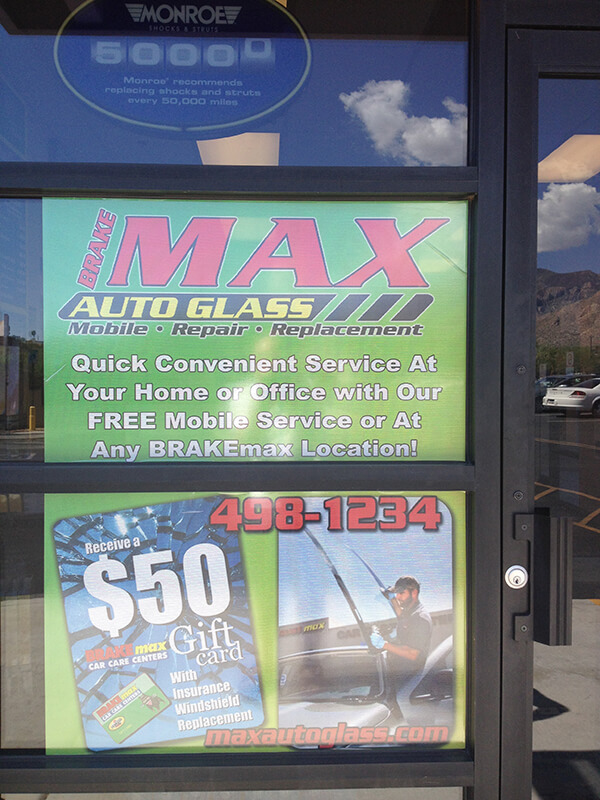 "The orders continued to snowball with each job we completed since our client loved everything we created for his businesses. When I saw that each location has a courtesy van with simple lettering, we got another idea to help him spread the word about his companies. We told him that we could wrap each of the vans with both BRAKEmax and Max Auto Glass graphics to promote both services every time the vans are on the road. He was thrilled with the idea, so we removed the tired and dated lettering and applied fresh and professional wraps that reinforce both of the company's brands." Paul noticed two more opportunities to create a comprehensive brand identity for his customer while he was visiting some of the BRAKEmax and Max Auto Glass locations. There was a blank awning over BRAKEmax's door and Paul told his client that FASTSIGNS could create a branded awning to help identify the entrance and reinforce BRAKEmax's message to passersby. Additionally, Paul was told that the entrance door for the Max Auto Glass division office was simply a dusty, metal and glass door with a few sun-parched decals adorning it. Paul explained that with a full-color door wrap, the entrance would look much more appealing and inviting. Once again, the client agreed to Paul's vision.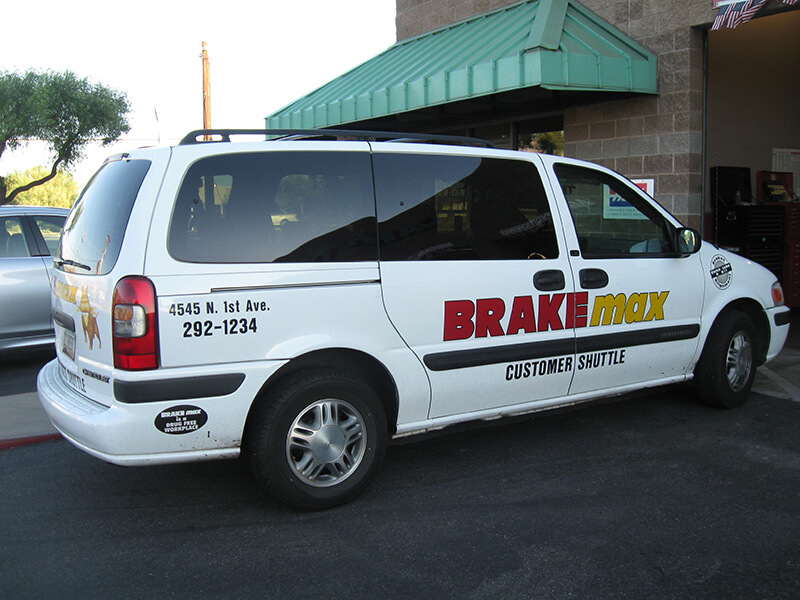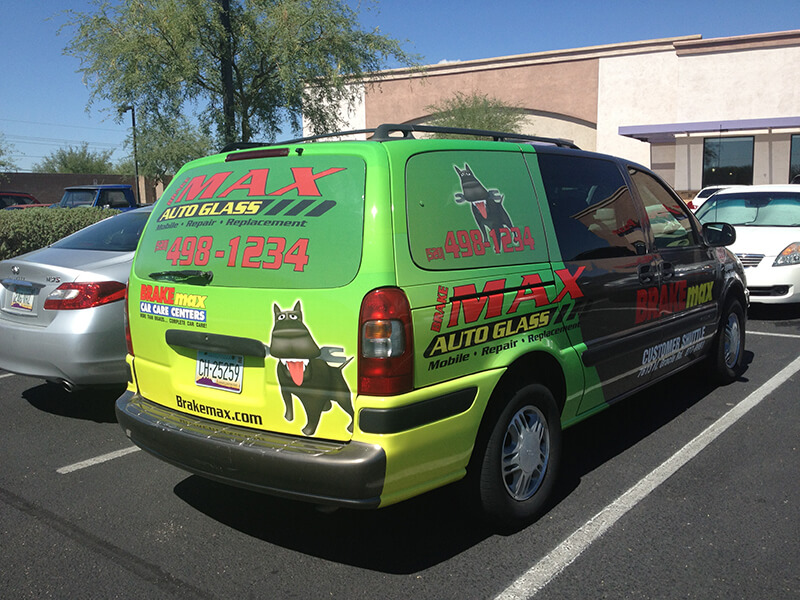 "Our client loved everything we completed for him, which was why he would order something new each time he came in. He's been so happy with all of the innovative solutions we've provided that he still orders from us regularly. The new signs and graphics have really helped reinforce BRAKEmax's brand identity while also creating awareness for Max Auto Glass. My team and I are more than ready to find additional visual communications solutions for BRAKEmax and Max Auto Glass to help them continue to take their business to the next level."