You've researched, written, re-written and prepared your PowerPoint, rehearsed in the mirror and have selected the perfect outfit. Your palms are sweaty and the adrenaline is pumping. Does this sound familiar? Well, whether you are speaking to an audience of three or 3,000, it is important to keep your audience engaged and excited, and no matter the number of people in front of you, giving a presentation can be nerve-wracking! But never fear, FASTSIGNS is here with some tips and solutions to help you give your best, with our experts at concept, design, production, installation of banners, signs, posters, and more!
Advertise Your Event: It's important to get the word out so your presentation has a strong audience attendance. (You don't want to hear crickets when you speak after all!) We can link your website to your signage through a URL, QR code and Augmented Reality experience. Consider using a QR code on signs and graphics to provide location information, a link to your website or promotional offer!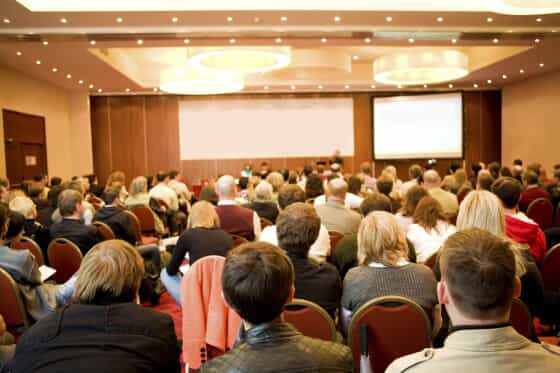 Engage the Crowd: Interactive Digital signage can provide an interactive experience with a touchscreen display interface and through the integration of QR codes and SMS text message marketing into the displayed content. Don't have a QR code or know how to set up SMS text message marketing? FASTSIGNS has you covered in those areas as well!
Set the Stage: Make a statement with your space. Create impact with interior décor solutions from FASTSIGNS that bring your message to life. We can also provide table toppers, banners, A-frame signage, and any graphics necessary to create the ambiance for your presentation.
Keep it Compliant: FASTSIGNS specialists perform accurate surveys and procure and obtain permits, helping you ensure all your signage is in compliance with all local laws, codes, regulations and ordinances. We handle all the details so you can rest easy.
It's in the Setup: Consider the setup of your presentation space. How you decide to interact within the space with your audience often depends on how your plan to use it.
Are you speaking at a business conference breakout session? What's the seating like? Is it row upon row of chairs, where you may want to consider positioning a display (or multiple displays) for everyone to see, or are there tables that you will want to place table-toppers or festive table landscaping? It's up to you to set the stage for what environment your audience is in for the duration of your presentation. Even if it's just a simple board room meeting, coming up with a unique display – a cardboard cut-out, a banner, chart, graphs, or other information – whether your visual communications rely on images, words or both – to enhance and get your point across – FASTSIGNS is the company to help you take it to the next level!
Eyes on the Prize: Drop your focus from your notecards and presentation slides and look people in the face. Know your topic well enough to speak from the heart and enhance your slides, graphs, charts, and professionally printed presentation boards with the help of FASTSIGNS printing services. Having appealing visual aides will make all the difference!
Be a Storyteller: When you have a storyline to your speech, you automatically increase your ability to connect with your audience. Everyone loves a good story! Opening your presentation with a relevant story, or sprinkling various tales throughout that carry home your point and strengthen your presentation, increasing audience retention. Let's face it, there's nothing more deflating and embarrassing than your audience members slipping out one by one because they weren't engaged in what you were saying! Our FASTSIGNS content experts can help you create a targeted message that tells your story with clarity and creates interest.
Prop it Up: Fun storytellers often use props – so why shouldn't you? Get creative and use a fitting (perhaps even unusual) prop that's large enough for everyone to see. As long as it's something relevant to your points, this might just be the unique item that makes you memorable. Perhaps you'd like a backdrop or a podium banner to create ambiance or set the stage to pop. Or how about engaging and interacting everyone with props that they can take home? FASTSIGNS has promotional products that add that extra special touch. Having something special for your audience to take home will surely make your presentation memorable!
Your imagination and the possibilities we help provide at FASTSIGNS are limitless!