Wedding season is in full tilt, and here at FASTSIGNS we're head-over-heels for the wedding signage trend. From artsy chalkboards to rustic wooden signs to classy mirrored finishes and anything and everything in between, wedding signs make for a lovely addition to any ceremony and add a thoughtful, crowd-pleasing touch to your décor. A country-themed barn wedding venue is the ideal scenario for customized signage on your special day, but knowing what to say and how to say it can be tricky and time consuming. Between organizing caterers, florists and DJs, the last thing you need is another thing to worry about. Don't worry, FASTSIGNS is here to help. Take a peek at a few of our favorite wedding signage ideas and how to word them.
•  The Sweetheart Table:
This seating option is becoming more and more trendy—a table set dedicated to just the bride and groom, with two empty chairs across the table. Guests have the chance to stop by and congratulate the happy couple, and the bride and groom aren't obligated to make rounds to every table and guest—save that energy for the dance floor! Incorporate an eye-catching, fully-customizable wedding sign from FASTSIGNS extensive range of options to reserve your seats as bride and groom and give your guests a heads up that they're welcome to sit in the open chairs across from the new Mr. and Mrs. Here's a few ideas for the text: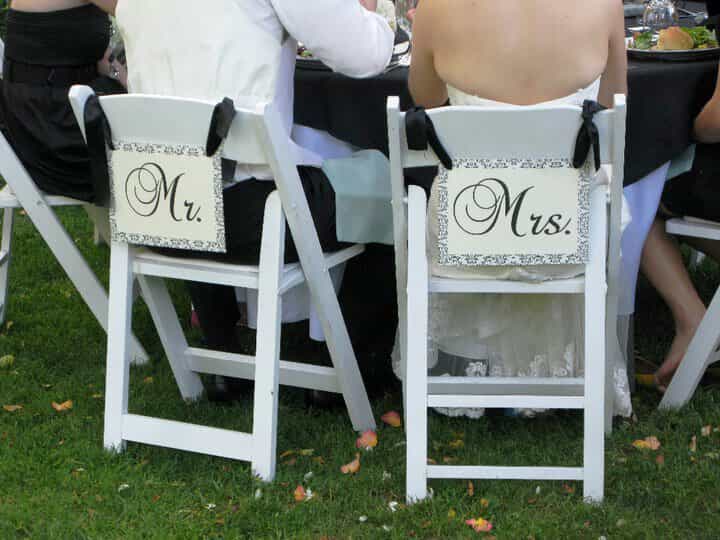 Mr. + Mrs.
Bride + Groom
His + Hers
Husband + Wife
To Have + To Hold
His Beloved + Her Beloved
I + Do
Stop by and say hi!
•  Directions:
This is sort of a no-brainer, but it doesn't mean you can't have fun with the wording and design. Add phrases to arrow signs that point guests toward the important locations on your big day. Consider personalized ways to indicate directions to the key areas on your big day like the ceremony, reception, parking, restrooms, bar, photo booth, etc. Not only will these witty signs bring a smile to your guest's face, they'll make things run more smoothly and efficiently.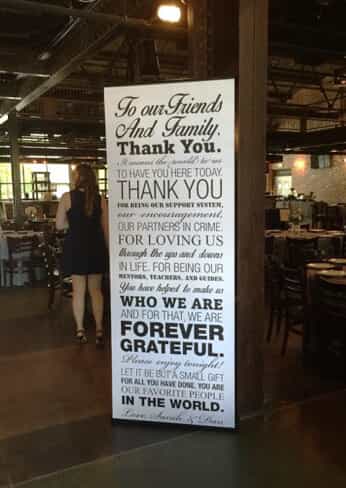 •  Ceremony:
I Do's this way!
Tie the knot
Best day ever
•  Reception:
Wild revelry this way!
Dancing and drinks
Celebration
Dance the night away
Booze and bad dance moves
•  Bar:
Cocktails
Drinks
Wine & Dine
Wet your whistle
•  Overall:
______ here, _______ there, love everywhere.
•  Seating:
We've seen a lot of brides and grooms opting for an open seating option, either at the ceremony, the reception… or both! Clue your guests in if they are welcome to sit anywhere with personalized wedding signage with some of these thoughtful and clever messages: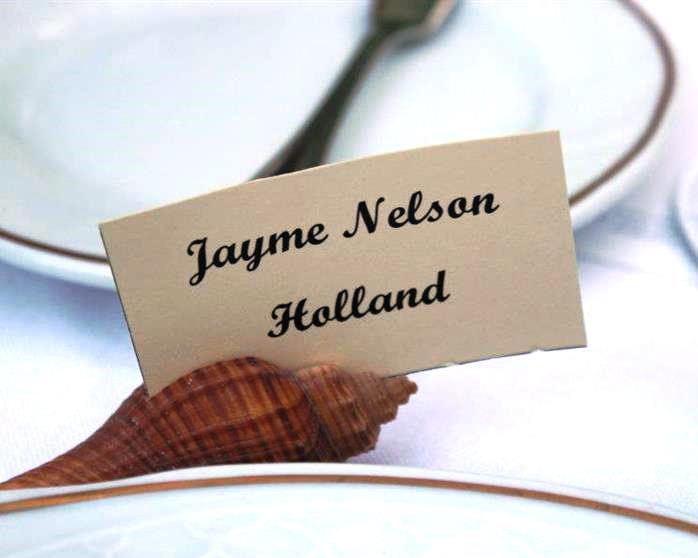 Friends of the bride and friends of the groom, please sit together—there's plenty of room!
Take a seat on either side, you are all equally loved by the groom and the bride.
Come as you are, stay as long as you can. We're all family here, so no seating plan.
Choose a seat, not a side—we're all family once the knot is tied.
Now that we are together forever, please enjoy a seat wherever.
Whatever your wedding signage needs are, make sure they're personal to you and your wedding style. These custom touches to your décor—no matter what theme you're going for—make a sweet impression, and add a fun photo opportunity to your big day. We'd love FASTSIGNS to play a part in making your wedding day perfect and memorable!