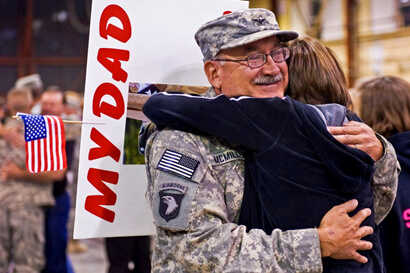 If you have a loved one deployed overseas, it may have been months or years since you've seen them. Now they are on their way home safe and you want to celebrate. You also want them to know how much you've missed them, how much you love them and just how proud they have made you. Signage is one way to say these things to your veteran. Welcome home signs can often communicate words that are difficult to say. Below are five signage options you can use to welcome home your veteran.
Vinyl Banners
Vinyl banners and signs make great welcome home tokens for veterans. You can choose from a wide range of words and graphics including, "Welcome Home," "We're Proud of You" or "We Missed You." Signs can be thoughtful, romantic or funny. If you're inviting your veteran's friends, family and neighbors over for a welcome home party, a vinyl banner can hang inside or outside, or both. These banners are durable, weather-resistant and nylon-reinforced so you can worry more about welcoming home your veteran and less about paper signage falling apart in a rainstorm.
Bumper Stickers and Custom Car Magnets
You're proud of your veteran—so let people know! A bumper sticker is a great way to show the world that you have a mother, father, brother, sister, uncle, aunt, etc. serving our country. You can find bumper stickers in a variety of styles, colors and statements or create your own unique sticker. You can also make custom car magnets that are easily removable. General statements like "I Support My Troops" or more tailored declarations like "My Son is a Hero!" showcase how thankful you are for your veteran or active-duty military member.
Vehicle Graphics and Wraps
For businesses or organizations looking to show gratitude and support for their troops, vehicle wraps are a standout way to do so. Vehicle graphics aren't just for businesses either. They can also be an eye-catching reminder to others to express thankfulness for all the brave veterans throughout history. Individuals and families can apply smaller vehicle graphics to convey patriotism, love for their veteran and appreciation for the sacrifices made by those in the military.
Wall Decals
Maybe you have a son or daughter that misses their father, mother or other relative overseas. Wall decals are a great reminder that this person is doing something heroic and brave. Consider having a photo of your veteran or the entire family blown up and made into an unforgettable full wall decal. Your veteran will love to see your full-scale smiling faces on the wall upon his or her return.
Future Plans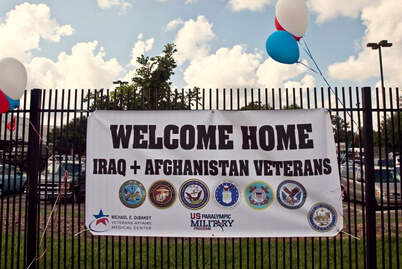 Welcome home sign for veteransIf your veteran has been gone for a while, chances are he or she might not know yet what they want to do outside of their military career. FASTSIGNS wants to help our nation's heroes transition into successful careers after their tour of duty. Though unemployment rates for veterans have decreased slightly, they are still higher than the rates of non-veterans. For this reason, FASTSIGNS participates in the VetFran® program and offers discounted franchise fees to veterans.
Signs and graphics are a great way to communicate to veterans returning home that they have been on the minds and in the hearts of those they had to leave behind. Remember when designing your veteran's signage, to keep font , colors and graphics in mind to best display your sentiments. A homecoming party can be embellished with signs and graphics welcoming your veteran and affirming your pride in them for all to see. Whichever avenue you choose, put honest words and feelings into the sign and chances are it will mean more to your veteran than you know!
FASTSIGNS Articles Throughout:
Six Romantic Signs for a Creative Marriage Proposal
Maintenance Tips to Keep Car Wraps and Details Looking Great
Right Sign, Right Font: Sign Design That Fits
References:
http://iava.org/blog/bls-reports-slight-decrease-unemployment-rates-veterans-august-2014-chantell-frazier-ma
Veterans Franchise Program