It is the time of year when swimming pools are packed with families and kids ready to take advantage of the summer weather. But with that excitement also comes an unfortunate danger: drowning. Swimming is one of the most dangerous summer activities for children as well as adults. According to the Centers for Disease Control (CDC) and Prevention, drowning is "a leading cause of injury death for young children ages 1 to 4, and the fifth leading cause of unintentional injury death for people of all ages." That unfortunate reality means that it's absolutely necessary that your pool compliance signage is up to date and satisfies all legal requirements. Here's a guide to help keep your pool a safe option for summer fun.
Make Safety a Pool Priority
Attention-grabbing water slides and a wide selection of pool accessories and games can attract a big crowd, but safety should always remain the top priority. Pool staff should receive proper training and always stress safe pool practices to guests, such as never swimming alone or leaving a child unattended. During the current COVID-19 pandemic, limiting capacity and providing social distancing reminders are vital safety practices. Building a strong culture of safety can go a long way in preventing unnecessary injury or illness.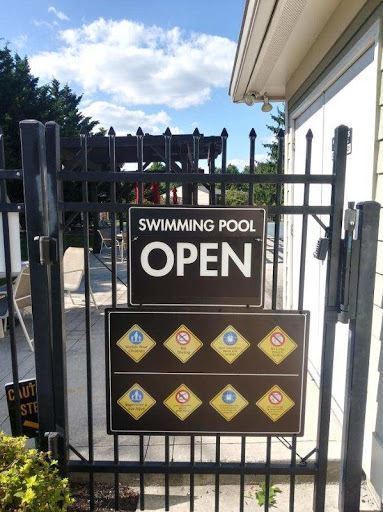 Update Your Compliance Signs
Each state has a different set of requirements when it comes to pool safety signs. Be sure to take a close look at state law as well as your specific municipal regulations, especially those related to minimizing the spread of COVID-19. Many states require a variety of warnings, tips and rules to be posted around the swimming pool. These signs can come in the form of official state signs or custom pool signs designed by the pool owners. If you're designing custom pool signs, guests should be able to recognize and clearly read all compliance signage. 
Provide Safety Equipment
Having proper safety equipment on hand can make all the difference in the event of an emergency. First-aid kits, defibrillators, life jackets and other safety devices are just a few examples of equipment that should be present at your pool. Be sure to post pool signs that properly label equipment and give directions in the case of an emergency. 
Swimming pools are a great source of summer fun for many people of all ages, so it's important to recognize all of the strategies it takes to keep everyone safe. For more information on ways to keep your swimming pool and those who visit it safe during the COVID-19 pandemic, review CDC recommendations here.