Custom Visuals Help Create the Experience
It's her first day of college. You know she's feeling nervous, and your stomach is in knots as her parent. Will she easily get to her classes? Will she make friends? Starting college for the first time is always anxiety-provoking for incoming freshmen. Until now.
With some advance planning, visual communication and sign experts can transform a college campus into a much friendlier place that is easy-to-navigate. Campus directional signs, full of school pride with branded mascot graphics, can provide this for students, parents, and faculty alike. Here are four types of college campus signs to both educate and leave a lasting impression on everyone who visits.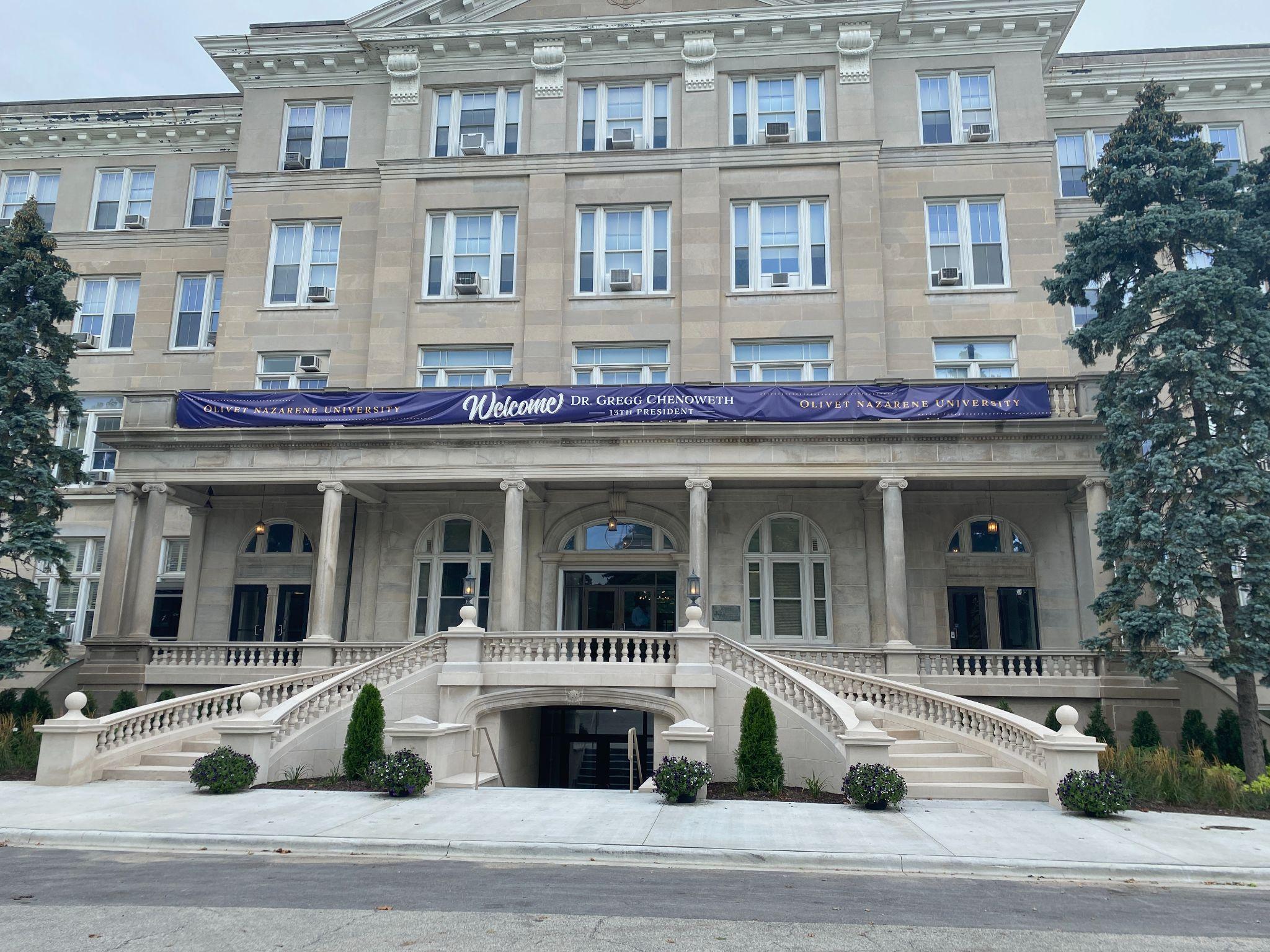 Custom Branded Signs
Every college campus is unique and has its own branded look and feel. Therefore, the signs on those campuses need to embrace their brand on both a functional and emotional level. College campus signs can truly help students get in the spirit of the school, connect with the mascot and engage emotionally with your entire brand and messages. As students begin to see themselves as a "tiger, governor or mustang," you can convey school spirit everywhere anyone looks on campus from the large windows down to the floor and even on branded wearables.
One important factor to a school's success, according to John LaBrie in this piece by US News and World Report, is a well-defined brand. LaBrie shared that a rising school is one that can align a valuable society need with the school brand. This means that college success is built upon a school that knows who they are and can share that messaging with prospective and current students.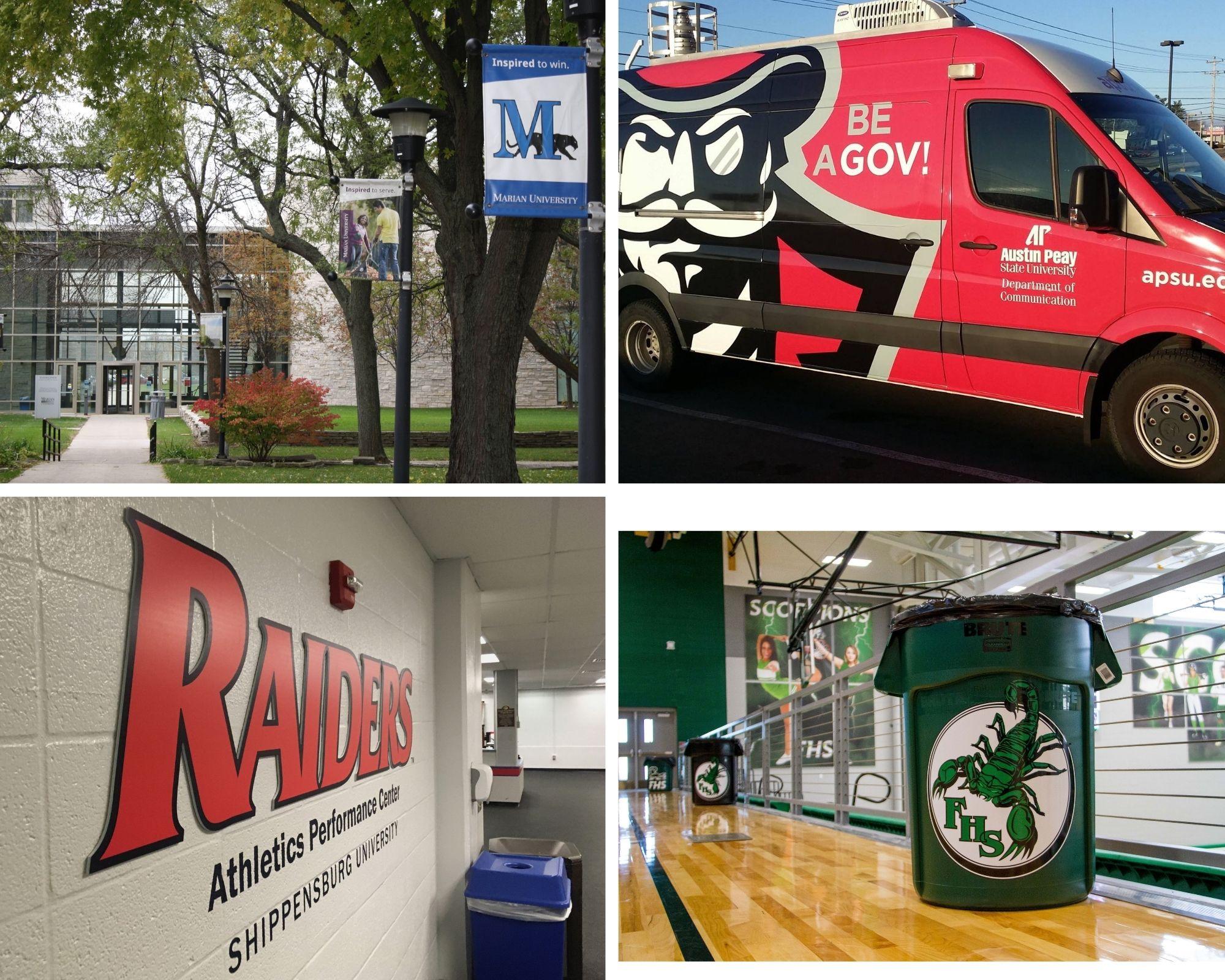 Wayfinding and Directional Signs
Whether you were a college student at some point in your life or not, we can all relate to being lost at an event or utterly confused in a parking lot around a large campus. Campus Directional Signs ensure that students, parents, faculty, and staff can more easily find their way to their final destination on campus. It's important to implement these types of signs that will create an overall positive experience because greater than one third of students will actually transfer to a new school once in their college career, often within their sophomore year. Make sure to help students by incorporating helpful signage solutions.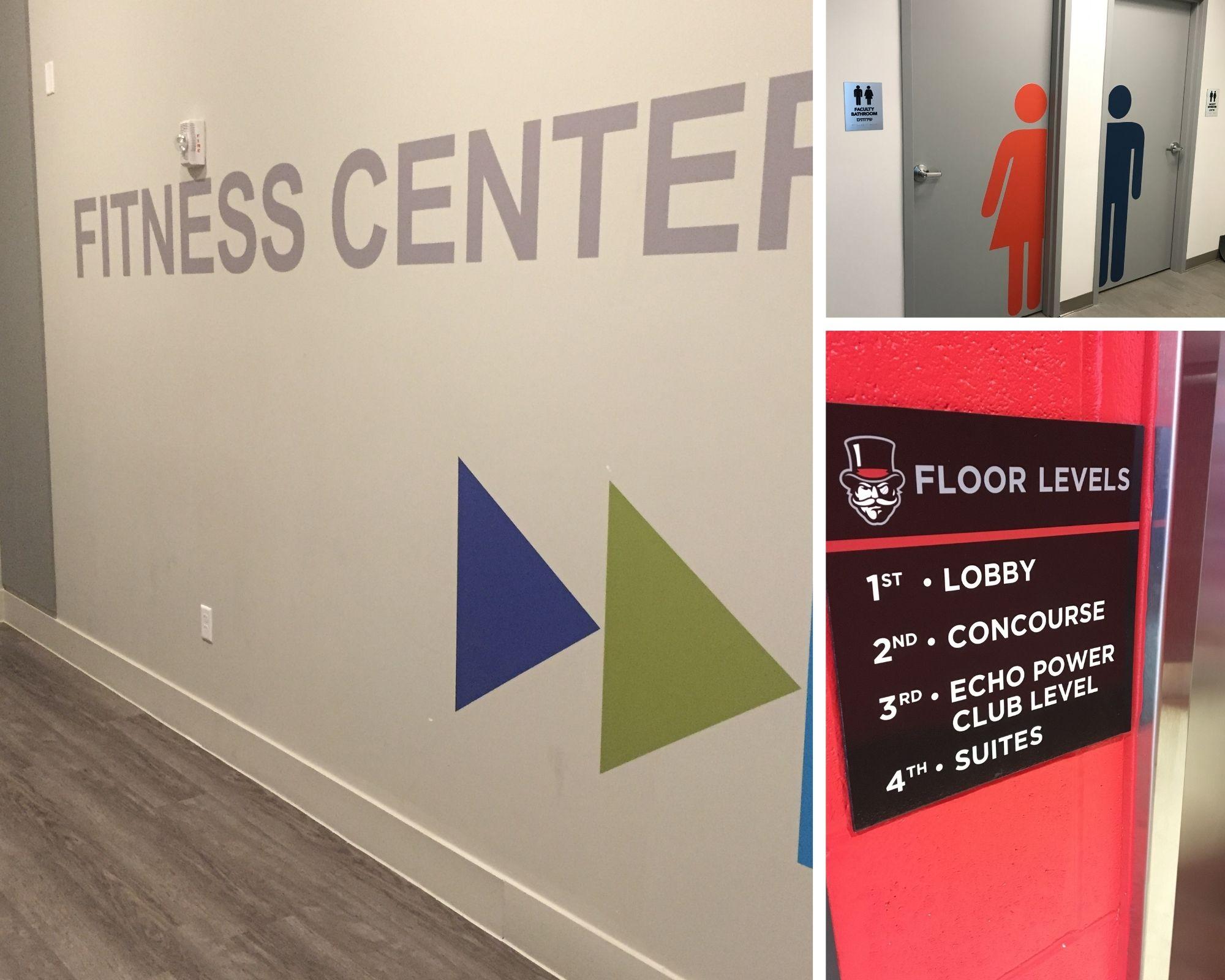 Impactful Signs
A college campus is somewhere that should inspire excitement and encourage involvement from students, parents, and faculty. Visual communication is key to helping you transform a campus and make your statement. From dimensional applications to graphics that are larger than life and infused with color, impactful visuals create a wow factor that helps create lasting memories and overall positive experiences with your school and brand.
While there are a myriad of reasons to have great signage, signs can truly help you tout your school identity. For example, when local, regional, or national press covers your school from athletics to art, you want to have ideal branded locations for photo opportunities, aka the "money shot." Signs and graphics can also play an important role in transforming your campus athletic department to enhance the game-day experience for everyone involved from students to vendors, and family to community fans.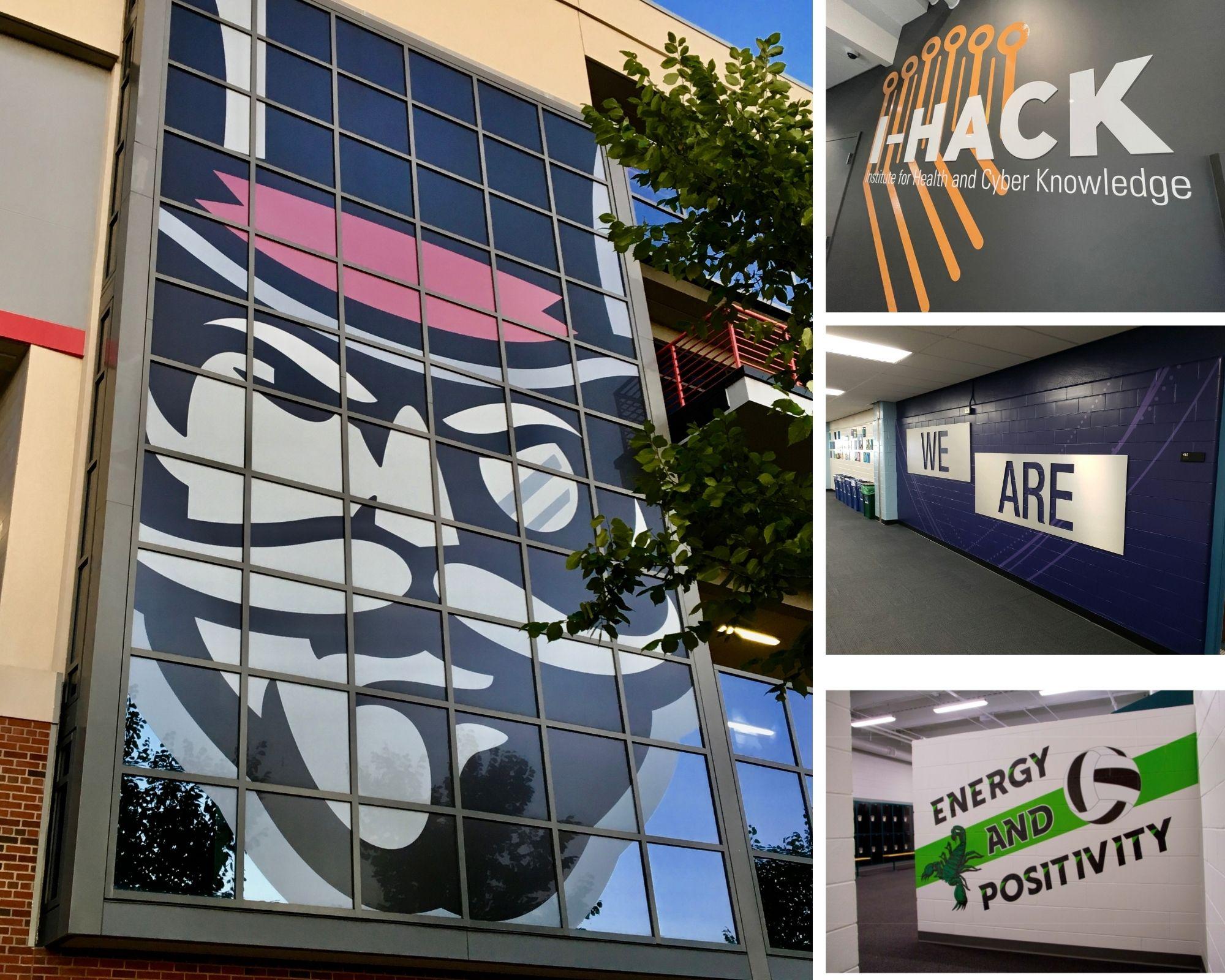 Student-focused graphics
Student engagement is truly top-of-mind on a college campus. A goal of administration, faculty and staff is to ensure students feel like they belong and are a part of something bigger. Highlighting them in your overall visual communication plan shows that they are central to your mission and focus as a school. With visuals of students in their various elements from art to sports to technology, you are better able to help prospective students envision themselves at your school or current students connect to a specific department or degree program.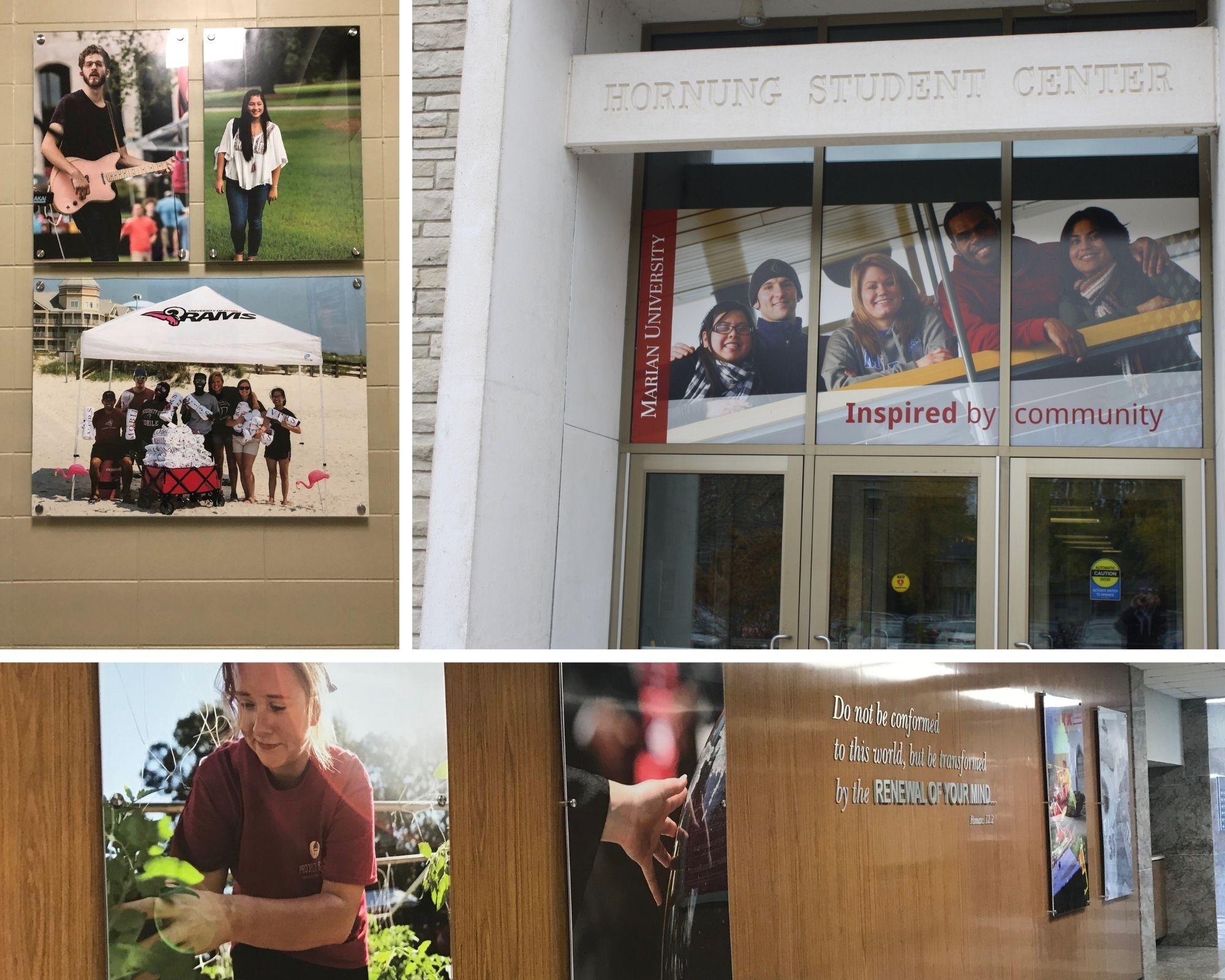 Transform Your Campus with College Campus Signs
So, whether you're ready to completely update your college campus for the upcoming year or you need to inspire prospective students to select your school over others, eye-catching signs and graphics can help you increase enrollment, enlighten parents and enhance anyone's overall experience at your school.
Want help to "Make Your Statement" with creative college campus signs? Give FASTSIGNS a call today!