From paint wars to Barbiecore, the billion dollar Barbie movie box office phenomenon was more than just a success in the cinemas – it was a marketing powerhouse that included everything from a real Malibu Barbie Dreamhouse, to pink fashion trends and dozens of licensing agreements with brands from Xbox to Crocs.
As the sun sets on the summer of Barbie, there's a lot marketers and businesses can learn from the Barbie team from experiential events, partnerships, word-of-mouth and PR – if you loved Barbie, if you hate Barbie, the marketing was undeniably effective, creative and buzz-worthy.
For business people who want to "be in the know" and keep a pulse on best-in-class marketing, here are some takeaways that can help inspire us all:
Staying in the know
Pantone released its color of the year at the beginning of 2023 – Viva Magenta – as the Barbie marketing campaigns had just started. While Pantone made a point of standing out against the lighter hues of Barbie, anticipating the coming trends months in advance was the kind of anticipatory skills marketers need.
Not to be outdone, in September Behr paint chose Cracked Pepper as its color of the year, which echoed the gray, broody Oppenheimer film tones, a sharp contrast to bright, Barbie pink. The company's announcement came on the heels of the #barbenheimer trend which followed the release of both the Barbie and Oppenheimer films this summer. The two very different storylines paralleled each other as did their audiences, and the Barbie vs Oppenheimer following even had its own #barbenheimer label which got moviegoers interested in seeing both films. The word-of-mouth marketing prompted actors from both sets to praise one another and promise to watch each other's blockbuster hits.
Finding the next Barbie-like marketing boon takes work. It means staying updated with pop culture news and swiftly responding to these trends. This strategic "newsroom approach" involves capitalizing on social trends in real-time. Companies successfully implementing this approach with Barbie demonstrated an exceptional ability to leverage cultural trends as they occur. Be in the know. Stay in the know. Make the effort to monitor trends and look around and not just at marketing sources.
Color Can Connect with Your Audience
Color is a crucial component in branding and marketing, enhancing brand recognition through a consistent palette that customers can associate with a brand, think Coca-Cola's red and Starbucks' green. Color can evoke specific emotions, with red stirring passion and urgency, and blue instilling trust and security.
Color can also emphasize key information, guide navigation, influence decisions, differentiate a brand from competitors, reinforce brand identity through consistency and enhance the aesthetics of visuals, making them more appealing and attracting more customers in the same way graphics and digital signage can do.
Barbie's iconic pink is such a hallmark of the brand, its use in the film became its own Barbie storyline. Even Architectural Digest did an article on how Barbie film Director Greta Gerwig intentionally created "authentic artificiality" that included a hand painted backdrop and caused (for a brief time) an international shortage on the fluorescent shade of Rosco paint - the world literally ran out of pink!
Barbie Pink does generate emotional feelings that are part of the brand personality, the color is often associated with feelings of fun, playfulness and cheerfulness. It's a very vibrant and lively color that can evoke femininity, youth and innocence. But different people may have different emotional responses to this color based on their personal experiences and cultural contexts.

However you want to paint it, color builds brand memories and leverages emotions and so can signs, visuals and graphics. Make a point of making color choices, hues and themes part of your marketing strategy.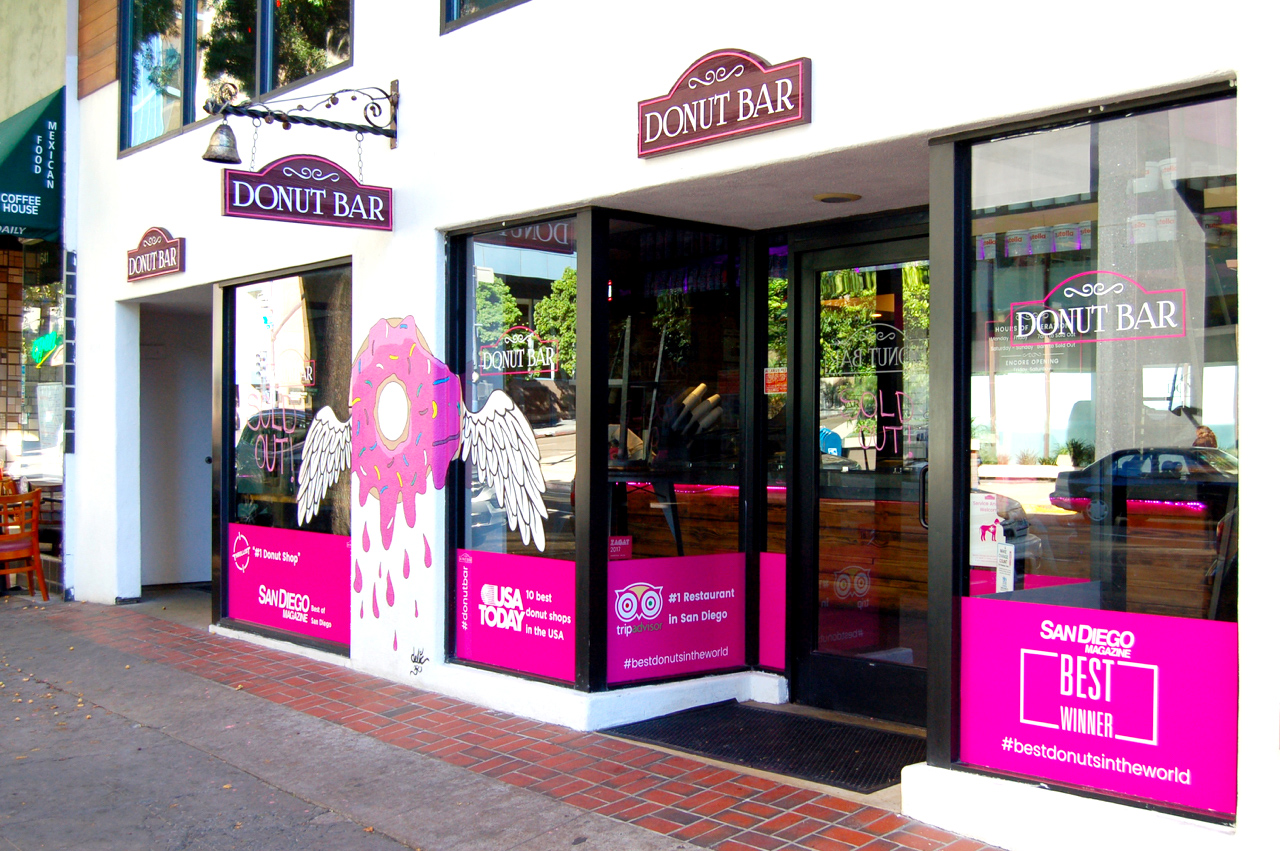 Make Your Statement
Custom signs and visual solutions should tell a compelling story about the brand or business. This could involve incorporating brand colors, logos, and taglines into the design, or using creative visuals to convey the brand's mission or values.
The Summer of Barbie campaigns leveraged social media to engage with audiences, sharing behind-the-scenes content and hosting interactive engaging events and so did the brands that licensed with Mattel and worked with Warner Bros. in the marketing of the film. The same engagement techniques are universal especially for those in the custom signs and visual solutions industry. Think of it as a show and tell opportunity. Part of what made Barbie marketing so successful was the immersive film-goers experience.
From the lobby with Barbie photo booths to Barbie-themed pop-up events, you weren't just watching a film, you were in Barbie's world. As an example, Forever 21 x Barbie created a Barbie capsule wardrobe collection that was also virtually available on Roblox for gamers to wear in a virtual world. Part of the film's success was also elevating Barbie beyond childhood. Just take a look at the furniture brand Joybird which collaborated with Mattel to create Barbie x Joybird so customers could create their own Dream House with colorful hues and rounded edges "just like Barbie!"
Custom visual solutions aren't just for one mojo dojo casa house, they're for every Ken who wants a unique neon sign or for Barbie's who want fluorescent colors in her home office. Tell a story and engage with customers and online audiences. What fluorescent signs have you done that might speak to a current trend or demonstrate your work (hello, #throwbackthursday). How can you engage with your audience and provide a trending immersive experience for your next event?
FASTSIGNS provides brands with a way to visualize and dimensionalize their own unique story through innovation and creativity. Let us help you Make Your Statement.