Back to school time is already in full swing for many, with Summer winding down. A time of excitement and nerves for many, going back to school means the opportunity for an education and gaining knowledge. 
Students spend countless hours within the walls of the schools and facilities where they learn. Providing an environment that helps encourage them and keep them safe is important. Here are just a few of our favorite school projects that FASTSIGNS centers have completed. 
New Design for New High School Campus
After receiving a significant donation, Katz Yeshiva High School of South Florida, originally located within a Synagogue, moved to a newly constructed campus. With their new school campus, they wanted to develop a new brand identity to better reflect their organization.
After producing all of the ADA signage for the classrooms, offices and common spaces, FASTSIGNS® of Boca Raton worked with the school to provide an interior and exterior branding design concept. 



Custom signs and graphics for schools including accent wall murals and inspirational quotes were installed in every room and common areas on the campus. Directional signs and directories help students, faculty and visitors navigate the campus. Decals were created for the bathroom and locker room doors, and floor graphics were added to the gym and basketball court. Exterior signage included dimensional letters, a new monument sign, school logos placed near entrances and parking signage to guide faculty and visitors. The campus's new colorful branding provides students and faculty with an inspiring environment to learn and grow in. 
Preschool Franchise Nationally Rebrands 
Leaf Spring Schools needed a simple way to nationally rebrand all of their franchised preschool locations. FASTSIGNS of Richmond - West End worked with the client on a complete rebranding solution for the preschools that included exterior signage, interior signs, wall graphics and bus graphics, as well as some printed materials.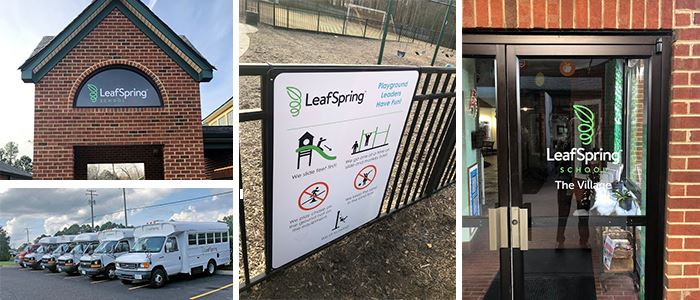 Lettering was added to the Leaf Spring busses and window graphics help designate building entrances. Playground rules are mounted on the outdoor fence to help inform staff and parents, and promote safety. 

Interior signage mirrors the feel of a small city with street signs for directions. Bathroom wall graphics educate about hand washing and diapering procedures. Rooms and offices have kid-friendly identification plaques. A dry-erase A-frame board is used to outline the daily events. Window graphics identify the Cafe, the Lab and the Library, while door graphics label the Rec center. 
College Puts on New Game Face
As a newly appointed NCAA Division 3 school, The Pennsylvania College of Technology wanted to brand their Athletic Department to promote their distinction, help foster school spirit, encourage attendance at events and boost recruitment interest. The branding project included signs for the entrance to their department offices, the field house, gymnasium, a volleyball scoring desk and a conference room. 

To display their logo on a grand scale, a proudly perched Wildcat was placed above the door of the offices, backlit with blue LEDs, setting the tone for additional brand elements. The same approach was used for nearby NEAC and NCAA logos. Acrylic logos, lettering and a brushed silver paw print logo were installed throughout the offices and hallway. A facelit and backlit logo box are now featured in the conference room and the wall behind it was painted with their Wildcat Pantone blue color. Large paneled logos were designed and installed on the exterior of the field house, in the gymnasium and on the scoreboard tables. The college now has more cohesive signs and graphics. Best of all, students stop by the Athletic Department to have their picture taken with the branded signs, including players who take photographs to send to their families.  
For more great examples of unique school signs and graphics: