With some voting by mail and some voting in person, there are several ways the 2020 election season will commence. For those who are comfortable visiting the polls in November, signs and graphics will play an incredible civic duty by informing, directing and protecting voters in this historic election. Here are a few ways they will do that during election season:

Inform Voters:
Signs can provide helpful information to those who are comfortable voting in person about procedures and guidelines. Whether it's a temporary banner on a monument sign, a yard sign or even a fully wrapped column, signs and graphics let the community know the exact location for in-person voting. A-frames are an easy-to-transport option for voting locations in libraries, schools, churches and more while temporary window graphics, banners and decals can remind voters to wear a mask, socially distance and adhere to cleanliness policies. Signs in a space that note that temperature checks will be taken or maximum capacity of a room can also put voters at ease as they feel more informed.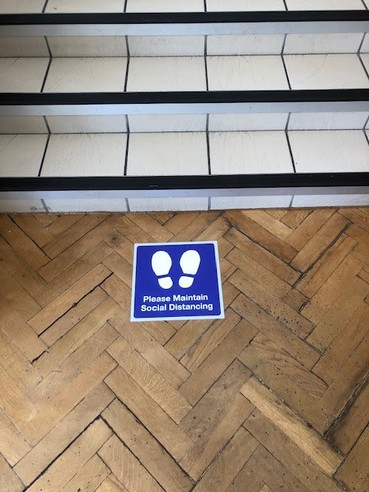 Direct Voters:
Proper signs and graphics can also assist with wayfinding throughout the voting space. Designated directional signs in a parking lot and A-frames at entrances can direct traffic flow around and into the building for minimal confusion. Stanchions with easy-to-read topper signs can organize crowd control while floor graphics will keep people safely separated. Floor graphics can also signify a one-way route through the voting space for minimal interaction. 
Protect Voters:
Voting poll signs can also protect locals this year due to the nature of the pandemic. New elements may include hand sanitizing stations and social distancing graphics on the floor for those waiting to vote as well as those standing in front of their ballot. Protective Shields at the voter check-in desk allow volunteers and voters to interact while minimizing particle exposure. Table top signs or posters that show something is a regularly disinfected area, as well as signs for a sanitation station, communicate that polling locations are doing everything in their power to keep voters safe and healthy.
Impact Voters for Good:
Empowering voters and ensuring they have a positive experience at the polls is necessary in 2020. It can impact young voters to continue voting in the future and comfort those who are struggling in today's challenging landscape. In need of preparing your library, church or any other organization as a location for voting? Check out our guide for more ideas (link to flip book?) or contact your local FASTSIGNS.