Hosting a pop-up event is a unique way for brands to attract attention, generate excitement, build awareness and give people an experience to remember. Whether part of a product promotion or an experiential marketing campaign, these trending events help companies make a splash in the community. A key component of a pop-up event is letting people know what is happening, where and who will be there. Effective temporary signs and visual graphics help achieve this. Take a look at these four awesome examples of pop-up event signage FASTSIGNS created.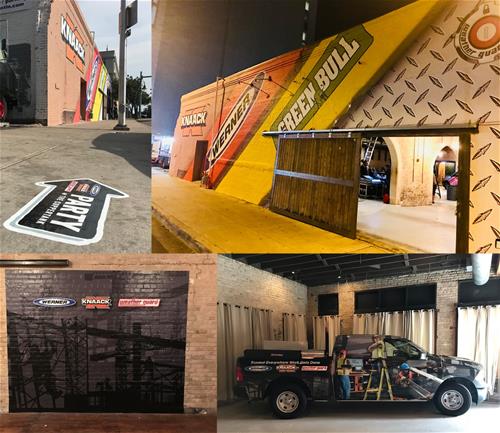 WernerCo hosted a large customer event during the Specialty Tools and Fastners Distributors Association's Convention. The WernerCo event was held at the Coppertank Event Center, a historic 100-year old building in downtown Austin, Texas. FASTSIGNS® of Elk Grove Village, Illinois transformed the venue for the special one-night event. The exterior of the 12,000-square-foot building was wrapped with temporary, branded graphics, totaling 160 feet in length. Additionally, WernerCo needed directional signs, photo backdrops and promotional graphics. FASTSIGNS provided arrow-shaped concrete graphics on the sidewalks to direct attendees to the venue, a branded mural adhered to an interior brick wall for photo opportunities, and full vehicle wraps for trucks displayed at the event.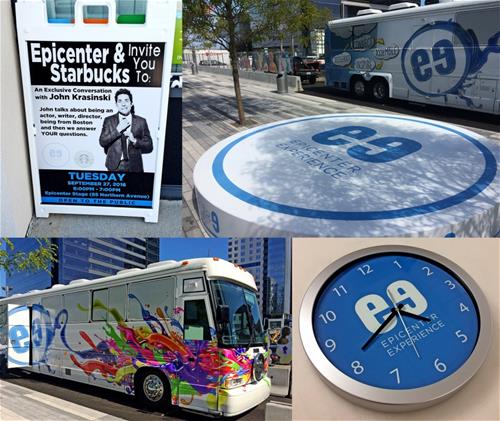 Epicenter Experience, a mobile research company that enables brands and people to engage in active, real-time conversations, held a series of pop-up events across the Boston, Massachusetts area. To raise awareness, FASTSIGNS of Quincy wrapped the company's bus with eye-catching graphics and provided an LED logo sign for the front of the vehicle. Posters, flyers and A-frame signs were used to promote the pop-up events and share details about speakers and locations. FASTSIGNS also built a custom branded stage that was portable, so it could easily be put together and taken apart on the day of each event.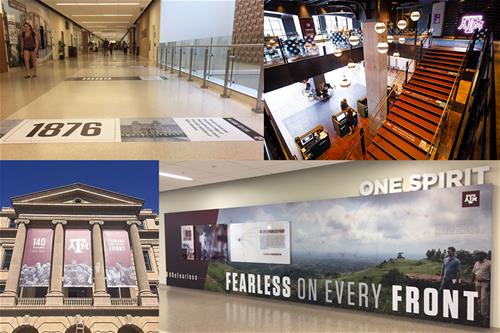 Texas A&M University participated in South by Southwest (SXSW), one of the largest annual events in the country (a combination of festivals, concerts and conferences spanning 10 days in Austin, Texas). During the event, Texas A&M University rented out a local hotel to celebrate their 140th birthday and promote their new campaign, "Fearless On Every Front". They needed to completely brand the hotel during their stay using a variety of temporary signs and graphics. FASTSIGNS of College Station, Texas provided floor and stair graphics sharing the school's history, frosted window graphics and a neon logo to brighten up a lounge area, directional signs on columns to help people find their way, a wall display with dimensional letters introducing the new campaign message, and banners and pole flags to promote the school's presence at the event.
At another SXSW event, Texas A&M University wanted to transform a traditional-style steakhouse restaurant into a hip and innovative space. Panels and dimensional lettering were installed to cover artwork. For panel discussions the dimensional letters were interchanged as needed. Removable, temporary vinyl covered a decorative glass partition and featured the Texas A&M Powerhouse theme with three elements highlighted: "Recharge, Refuel, Reimagine." Additional solutions included turning wine cabinets into mini "de-stress centers," using vinyl decal graphics on glass doors for privacy and Aggie-branded fabric prints for photography backdrops.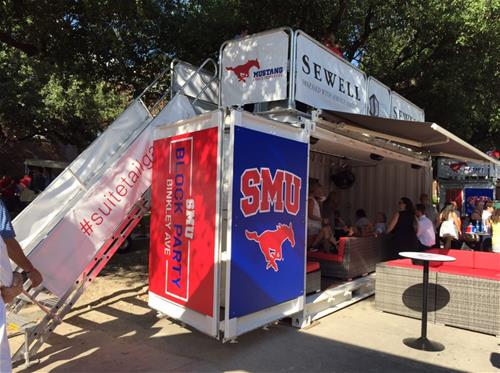 Blockparty provides mobile suites for fans during sporting and entertainment events. For a football tailgate party at Southern Methodist University, FASTSIGNS of North Central Dallas provided temporary signs and graphics to brand Blockparty's outdoor structure at the event, including custom aluminum panels for the doors, vinyl logo graphics on the walls and barrier banners for the stairs and railing. The signs and graphics could easily be put together and dissembled as needed, and are durable enough to last all season long.
Regardless the scale or event theme, having eye-catching and creative visual communications is crucial to the success of pop-up events.