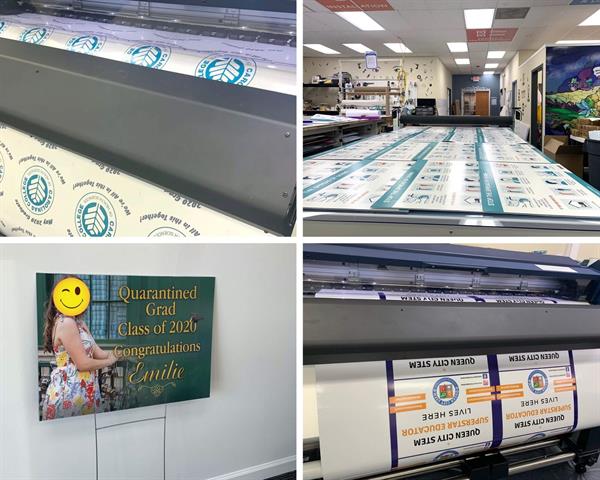 FASTSIGNS® of Charlotte, NC-Independence Blvd's franchisee, Yazan Alhakim, wanted to support his community and fellow alumni at UNCC, as well as other Charlotte schools. 
"While understandable in the current climate, I was disappointed that the commencement and graduation ceremonies across the city were canceled," said Yazan.
As a result, the local center partnered with elementary, middle, and high schools, as well as colleges across Charlotte, to help produce celebratory signage and materials for students and graduates. From lawn signs to banners placed on school buildings and magnets enclosed in diploma mailings to seniors, FASTSIGNS has been showing Charlotte pride for all of its students in various ways.
"Customized lawn signs with graduate names on them let students know that we 'see' them, even during this difficult time. I'm happy for them and want to celebrate their achievements," said Yazan.
In addition, FASTSIGNS®️ of Charlotte, NC-Independence Blvd worked with UNCC to create a custom ordering  website for their 2020 grads and decided to donate 20% of all proceeds from its Class of 2020 signage to the UNC Charlotte Student Emergency Relief Fund.
The UNC Charlotte Emergency Relief Fund helps current students by providing financial support when they need assistance with unexpected, unforeseen and unavoidable emergency expenses, including pandemics.
"Graduation is an exciting time and marks both an ending and a beginning. These students are setting out into a difficult world. We commend their efforts and want them to know that the city congratulates and supports them," said Alhakim. "Personalized signs and banners are a way of visually showing them our support."