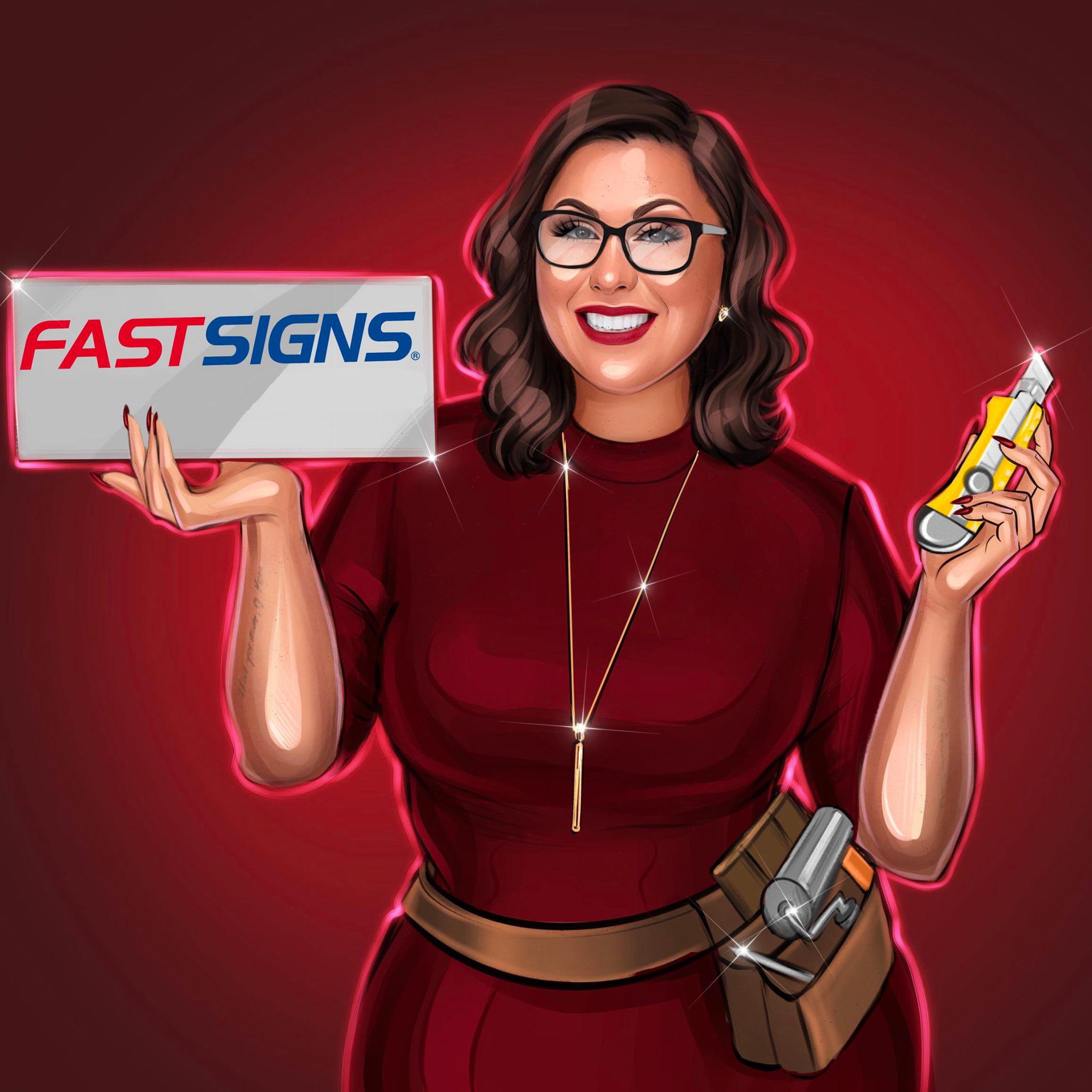 A Background Steeped in Signs
Carmen Ruiz has been in the sign industry as long as she can remember. When she graduated high school, she took a job at a local Miami sign shop in the design and output department. "The sign industry is really all I know. It was my first job and I fell in love," says Carmen Ruiz, now co-owner and franchisee at FASTSIGNS® of Daytona Beach.
"I decided I needed a change of scenery and moved about five hours away to Central Florida. When I looked out my apartment window, I saw a FASTSIGNS center. When I visited and saw they were hiring, I knew it was meant to be. I've worked in the Daytona location ever since," says Ruiz, who credits the sign industry for her enthusiasm not just with signs but life. "It has been a blessing. Daytona Beach is a great community with the excitement and tourism of a big city but with a small town feel."
While she wasn't formally trained in the sign industry, Ruiz shared that she has had incredible mentors along the way. Rod Quick, the owner/operator of FASTSIGNS Daytona took Ruiz under his wing and taught her everything she needed to know about running a sign business. "I am a product of mentorship. Rod always pushed me out of my comfort zone, encouraged me to network, and become more of the face of the business," adds Ruiz, who is now Rod's business partner. "I was very honored and proud when Rod asked me to become a co-owner. I have a lot of pride in what I do."
Since she has been in her new role as co-owner, she has made reading a priority for her growth and adjustment into being a business owner.
"The Purpose Driven Life by Rick Warren is my YEARLY read. It's a reminder that there is a bigger purpose than where I am standing today. It continues to motivate me to be better, to press through and to keep my focus on God's purpose for me in each task he gives me, including being intentional and purposeful in my business." Carmen is also currently reading 'The Power of Focus' by Jack Canfield.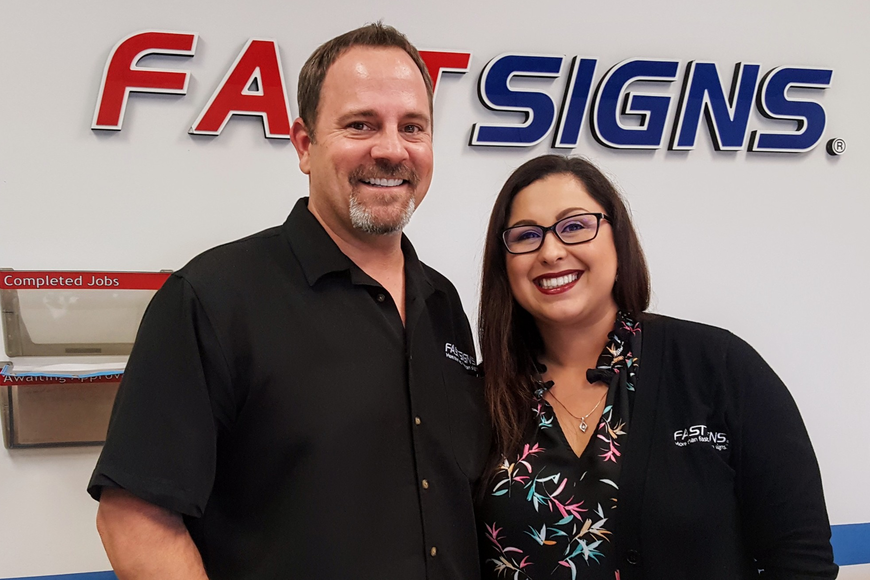 Being Intentional in Business
Carmen and her team experience success because of relationships they build with their clients and community. Carmen has worked to shift perspective and show their capabilities within the market. They strive to be wise stewards, intentional in their projects, and they work strategically with their time, energy and resources.
The Daytona Beach community has many nonprofit organizations, and community members are actively involved in them. One challenge that Daytona Beach faces is that businesses open and close very quickly. Because of this, Carmen's team has worked to prove they are present and active.
"This community wanted to see that we cared and were fully invested. We continue to show that we are involved, we want to be at the table, and we want to be considered for big projects."
Carmen and her team make it a priority to select one big FASTSIGNS Cares project annually. For 2021, they rallied around the mission to raise awareness of Domestic Violence that affects women in their community. They work closely with The Beacon Center, the only certificated domestic violence shelter in Volusia County. They are also a dropoff facility for the nonprofit.
Carmen has a personal mission as an advocate for raising awareness about domestic violence. In conjunction with The Beacon Center, her team assists with the Let's Talk About It campaign to encourage the uncomfortable conversations about domestic violence and its effects.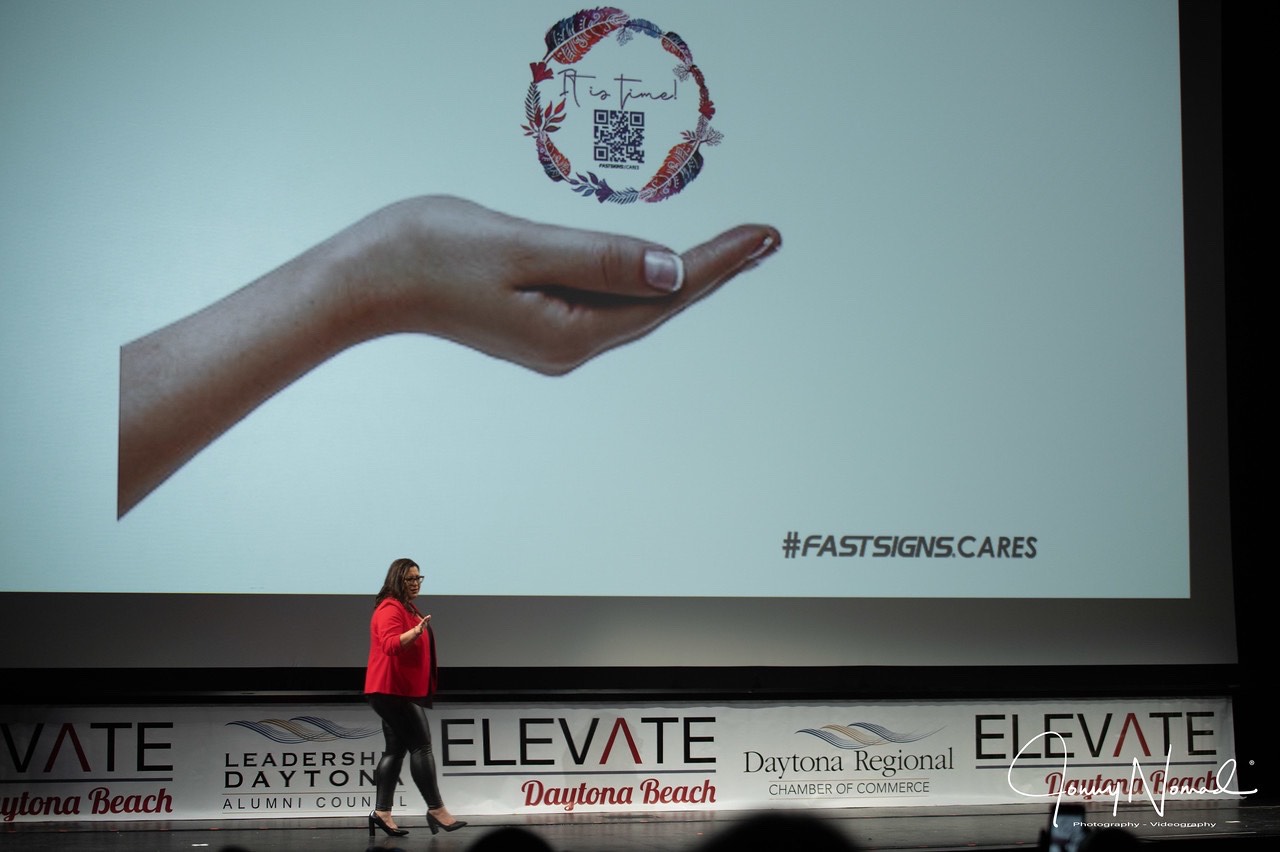 To support this campaign, FASTSIGNS Daytona created three different poster sets for doctor's office bathrooms to help victims, businesses in Florida about employment protection laws, and the ministerial sector, which included digital assets on how to handle domestic violence from the pulpit. In addition, they transformed their center's community web page to provide these free assets.
Solving Customer and Community Challenges
"My role as franchisee provides me the opportunity to solve customer challenges, and I love when they get excited because we provided an awesome solution for them. My business also gives me the flexibility to make an impact in the community that I love."
The FASTSIGNS model allows franchisees to take the successful playbook and put their own special touch on that to become effective in their own community.
Since March is International Women's month, we also wanted to hear what advice Carmen would give to other female leaders. "Be unapologetically a woman. In a male dominated industry, we often hold back, but whatever defines you as a woman you need to be that."