Working together in a family business provides a great way to create shared experiences, take advantage of different skill sets and build wealth together for future generations. In honor of Father's Day 2019, FASTSIGNS International, Inc. is highlighting some of the many father and adult "children" relationships that help make these FASTSIGNS franchisee's successful and happy.
"I treasure working with my sons because I value family as the fabric of life and feel incredibly blessed to be part of their professional lives," said Chris Farr, father and franchisee of FASTSIGNS in Conroe, Texas. "I'm also proud to have created a legacy that they desire to participate in now and carry on after I retire. These things give me joy in abundance!"
"My parents have owned their FASTSIGNS center for over 20 years and my first memories of the location are from when I was about 10 years old," said Larissa Croll, co-owner and daughter of Matt Metcalf, Franchisee of FASTSIGNS in Englewood, Colorado. "I loved to weed vinyl decals, even though I wasn't very good at it. It's been great coming full circle to now own the center with my parents and husband. My Dad is one of the hardest working people I know and he's a wealth of knowledge. Being able to learn from him has been my favorite experience since I've started working here, and I know his guidance is setting me up for success."
"Overall I love having him being a part of what has taken me 28+ years to build," said Bob Danielson, franchisee at FASTSIGNS of Omaha - 114th Street. "Last year my son, Andy, received shares in the business because of the dedication and hard work he has put in over the last 14 years."
"It has been a great experience working in the business with my Dad for the last 20 years," said VP of Operations Chris Mengel, son of Franchisee, Kevin Mengel (FASTSIGNS locations in Exton, PA and Phoenixville/King of Prussia). "We have gone through so much together in business, as well as personally. Some of our experiences could have led someone to give up, but working together in the business has kept us strong and focused. I think working with family can be difficult at times, but when you succeed, there is nothing more rewarding! I could not have a better business partner and life coach than my Dad. I am thankful every day we get to work together."
"Working with my father through the FASTSIGNS business venture has been rewarding," said Matthew Romero, franchisee at FASTSIGNS of Lake Charles. "We have the ability to work closely yet independently, and I'm thankful I have had the opportunity to learn many business lessons from him over the years.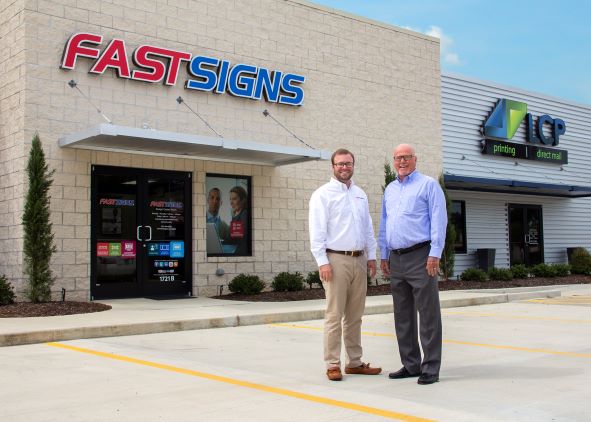 Happy Father's Day to Fathers everywhere, and thank you to those who are leading by example and teaching their children about the many benefits of being in business with your family.