For many, no event has more significance in the United States than Memorial Day. Honoring fallen soldiers from all wars, we also now use this day to celebrate and honor active soldiers and veterans who volunteered to serve our country.
Signage plays an important part in many events, and Memorial Day and all the activities surrounding it is no exception. Our nation's most evident and recognizable symbol is a sign: the American flag.
The United States has a strong and impactful brand which embodies: strength and power, honor and friendship—all represented by our bold red, white and blue, the American bald eagle, and our seal with an olive branch and arrows clutched in the eagle's talons.
Spreading the brand of the United States of America across the continent over Memorial Day weekend, those red, white and blue colors will mark everything from children's slushy drinks to the livery and uniforms of parade participants.
Up and down streets throughout America on Memorial Day, you will see flags and signage to show support of our country and to thank those who have given their life for us.
An example of this is the Storyboard Project of Carry the Load, a non-profit organization devoted to restoring the true meaning of Memorial Day by remembering fallen soldiers but also honoring military, law enforcement, firefighters and rescue personnel who serve our country's citizens.
As a tribute to those who have fallen in the line of duty, Carry the Load hosts an online memorial wall where family, friends and acquaintances can post stories and photos of those they are remembering in response to the organization's piercing question: Who are you carrying?
The Storyboard Project was a result of those photos and stories, said Whit Peterman of Carry the Load. Every year Carry the Load organizes a national bi-coastal relay that culminates in the Dallas Memorial March. Winding along the Katy Trail in Dallas, 2' x 4' signs are hung on light poles with the details of fallen service men and women whose eyes peer over the crowd as a strong and poignant reminder of loads needing to be carried by others now.
In the second year of the Storyboard Project, one woman held a vigil beside a sign through the night until the event crew came to cut down signs. She explained that she hoped to get the sign that carried her son's photo because it was the first time he was publicly recognized, said Peterman. He was glad to give her that sign and one every year since as a token of gratitude and hopes that she feels some comfort for her son's sacrifice. Today, smaller versions of the trail signs are offered to participants as a keepsake to remind them of their loved one's representation in the march.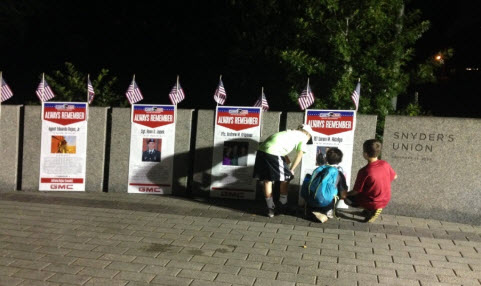 The Storyboard Project is a way of saying thank you to family members," Peterman said, "Even though we can never repay our debt to them as a society."
Year round, many FASTSIGNS® franchises provide a sign or banner to mark the event of a troop homecoming for families and loved ones. Just as the Storyboard Project's, those signs themselves become a memento of the event they commemorate.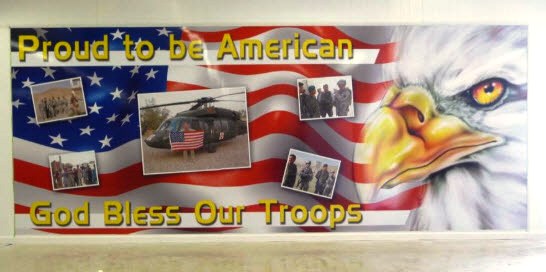 This Memorial Day as Americans gather across the country to honor the fallen, celebrate our Armed Forces and show our appreciation for those protecting us today, look around for signs of community. In quantities unmatched by any other than the United States flag, you will see banners on buildings and signs on doors of businesses everywhere. On this special day, they will say, "Closed in Observance of Memorial Day."
FASTSIGNS franchisees support soldiers and veterans in many ways, from hiring veterans, collecting donations for the American Red Cross to providing those welcome home signs for returning soldiers.