Sometimes a dull space just needs some vibrant colors or art to make it pop. In the world of science, there has been discussion surrounding how the arts affect public health that provide foundation for future discussions for our communities. But while scientists work to find correlation, no one can argue the value of brightening up our surroundings and enhancing wellness in the community with some aesthetically pleasing pieces. With everything we have experienced over the past year and a half, brighter surroundings certainly don't hurt.
Ready for some creative projects there's no saying no to? Here are just four of many favorites we pulled:
FASTSIGNS Helps Transform City Areas with Art of the Box Project
Over the last year, FASTSIGNS® of Tallahassee assisted the Knight Creative Communities Institute with their Art of the Box city art project. Through this endeavor, a variety of local artists were commissioned to create various designs to display around town. Artists submitted original artwork for consideration and finalists were selected. With the use of full color premium vinyl, FASTSIGNS turned two-dimensional works of art into three-dimensional masterpieces in an outdoor environment. 
The transformed public canvasses truly renovated the areas with excitement and enhanced the streets for community members. Even more impressive was the opportunity these provided for local artists to openly showcase their talent. To read more about this project, visit the link here.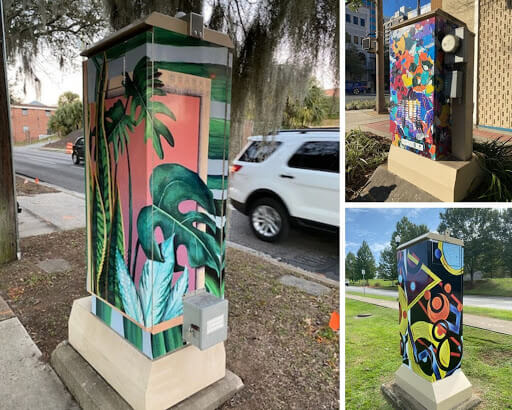 Underground Retail Spaces Attract Passersby with Beautiful Graphics:
Underneath the buildings of Houston lies a tunnel system that spans the downtown region. These tunnels are dotted with retail space such as restaurants, small shops and doctor's offices. During the heat-filled summer months of Texas, the tunnels are heavily trafficked. When Milam Holdings had space for restaurants that needed to be leased, they sought a way to advertise these spaces, brighten the area and draw the attention of passersby. Bright colors and eye-catching images were incorporated to make the dimly-lit underground area come to life. 
Revamping the total of 63 windows, FASTSIGNS® of Houston, TX - Midtown printed all of the panels in house and installed them onsite. The window graphics helped transform into a bright and inviting area and also help inform people that leasing is available. A walk through the tunnels is now both enjoyable and informative as a result of the aesthetically pleasing prints that grace the space.
Creative Art Installation Comes to Life in Tallahassee Capitol Building
FASTSIGNS® of Tallahassee was tasked with bringing a creative sign project to life: a unique interior art installation of colorful wall panels in the newly-renovated and highly-frequented committee room located inside the Tallahassee Capitol building. The actual artwork was created by Marty Holland, a local artist who was commissioned and who is also on the Senate's Multimedia Communication and Instructional Design team. 
The team at FASTSIGNS designed six panels that brought the art deco theme to life in the multi-storied room. Marty's artwork was relevant and also highlighted the diversity of the Sunshine State with everything from beaches to produce, live oaks and palm trees, lighthouses, theme parks and more. His largest installation so far, Holland, who is an accomplished designer and artist, can now boast of an unconventional gallery showing that is permanent. To read more about this project, visit the link here.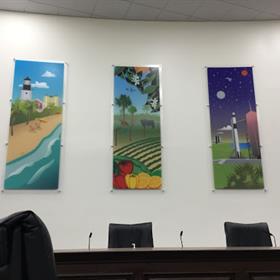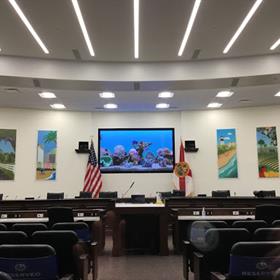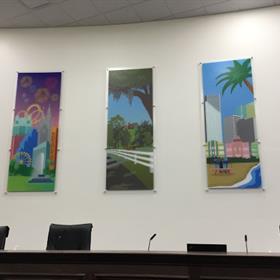 FASTSIGNS® of Apopka Revamps Wall with Skyline Mural
The team at FASTSIGNS® of Apopka had the pleasure of making a corporate wall pop when they installed an amazing wall graphic of the Orlando skyline in an office building. The customer wanted something that related to and would be significant to Orlando, so FASTSIGNS constructed the design from scratch. The larger than life mural was 347" W x 112" H, and nder track lighting, the piece truly became a work of art. To see how Big Picture highlighted the project, visit the link here.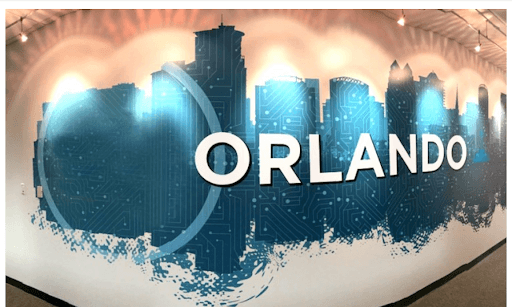 Let Signs and Graphics Liven up "This Old Thing"
Whether you're starting afresh or need some pep in your space's step, a creative visual communication plan or solution for a specific challenge is just what you need. Just like your spring wardrobe may need a little TLC, corporate, governmental and city spaces can always use some creative touches to make them a little more accessible and welcoming to the public eye.
Ready to bring new life to your space? Call FASTSIGNS today!