(BLOOMINGTON, IN) January 8, 2019— FASTSIGNS® of Bloomington was recently named a winner in the Customer Solutions contest held through FASTSIGNS International, Inc. because of their extensive work with Evolve, an apartment complex project in Bloomington.
In 2018, Matt Eckstein, Account Executive at FASTSIGNS, observed a construction site where an apartment complex was soon to be constructed. Eckstein led outreach efforts to connect with both the project manager and the owner. Upon receiving their plans, Eckstein realized that what was initially proposed is not allowed under Bloomington ordinances. Therefore, to assist the project manager and owner, Eckstein proposed new options that were in code.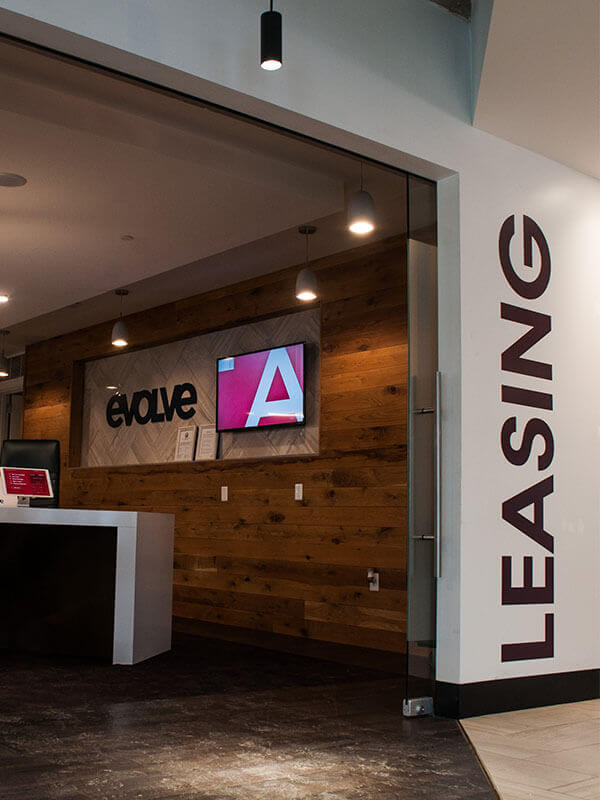 The complex sits on the corner of a busy intersection with side roads running through the back end of the complex. It was important to make sure the Evolve name could be seen from all directions and all entry points. FASTSIGNS worked to make sure the property's signs and graphics provided proper visibility for the new complex, while ensuring brand continuity was maintained across the entire footprint of the complex.
"With Evolve, I had the opportunity to more fully understand the purpose of wayfinding signage," said Eckstein. "I also had five skilled people on my team supporting me daily, and we designed everything from the very beginning, while keeping everything coordinated with their colors, designing monuments and wayfinding signs."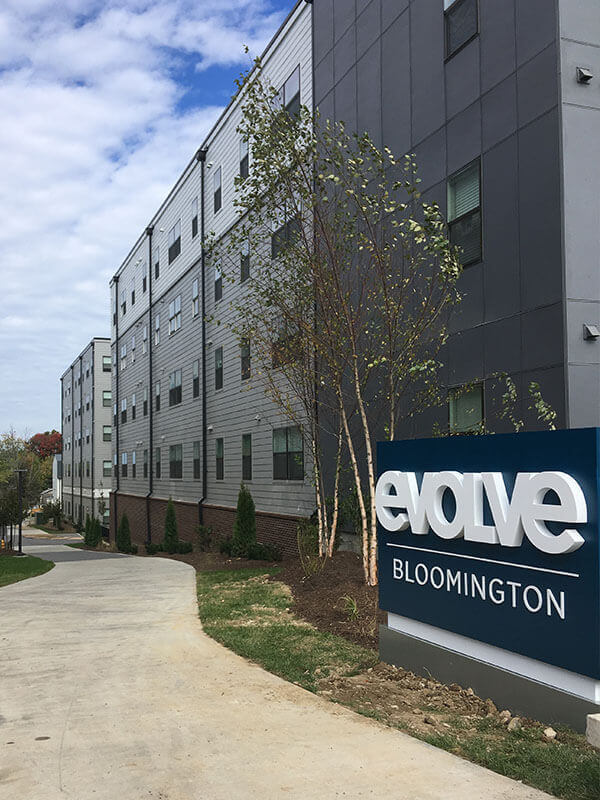 Evolve is a student housing complex that includes multiple buildings, encompassing a city block in a highly trafficked area of Bloomington with multiple entry points and roads around the complex. It sits across the street from Indiana University Athletic facilities such as Memorial Stadium (football) and Assembly Hall (basketball) as well as other ancillary facilities. It touts many amenities including a workout facility, pool, tennis court, yoga room, sauna, tanning bed and indoor basketball court.
Signs and visual graphics helped this complex stand out in the community. FASTSIGNS helped Evolve differentiate themselves from other housing complexes in town by adding value with the looks of their leasing/office space as well as the amenity areas. FASTSIGNS also created an ease of access to information for the students with all the identification and directional signs. Ultimately, the project was submitted to the Customer Solutions Contest through FASTSIGNS International, Inc. and was selected by a panel of judges as one of the award winners for 2018.
"This project was the big one that popped in our minds when thinking of the perfect one to submit for the Customer Solutions contest," said Michael Richardson, franchise owner at FASTSIGNS. "With the number of products used, it was extensive. When you think of comprehensive, it's one that involved quite an array of solutions. It was large scale and we successfully outfitted an entire facility."
About FASTSIGNS®
FASTSIGNS® of Bloomington is a locally and independently owned and operated sign, graphics and visual communications company that provides comprehensive visual marketing solutions to customers of all sizes—across all industries—to help them attract more attention, communicate their message, sell more products, help visitors find their way and extend their branding across all of their customer touch points including décor, events, wearables, digital signage and marketing materials. To learn more, visit fastsigns.com/2020 or call (812) 415-4028.