(BLOOMINGTON, IN) Feb. 20, 2020— FASTSIGNS® of Bloomington was recently recognized at the 2020 FASTSIGNS International Convention through the FASTSIGNS Cares initiative for their extensive work with the Riley Children's Foundation's B-Town Red Wagon Brigade.
Riley Children's Hospital is one of the premier children's hospitals in the nation, and the beneficiary of the B-Town Red Wagon Brigade is the Riley Children's Foundation. This foundation allows Riley Children's Hospital to conduct lifesaving pediatric research and enhance treatment for patients with family-centered services.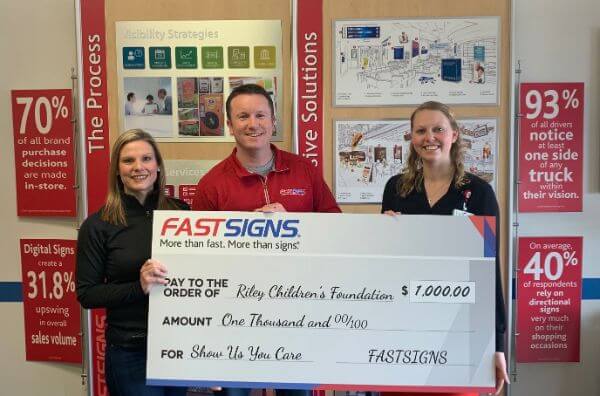 The B-Town Red Wagon Brigade is a yearly event to raise money that includes a night of entertainment, fundraising and Riley patients telling their stories. This past year's event was held at Memorial Stadium on Indiana University's campus. Maranda Richardson (Owner, FASTSIGNS) is one of the tri-chairs for this yearly event.
With the visual communications assistance that FASTSIGNS provided and the hours Maranda and her co-chairs have put in, the event has seen a 131% increase in fundraising over the past 3 years.The center donated a sign package with products that included design time, sponsor materials, banners, mailers, foam core event signage, digital media for the IU football stadium jumbotron and inside TV's, yard signs and over 250 sets of sunglasses.
"I am involved with this organization because I feel it's very important to give back to those in our community," said Maranda Richardson. "We are fully committed to the B-Town Red Wagon Brigade. When you hear Riley children and families speak, you know you would do anything you could for them. You feel instantly compelled to be their cheerleader, wanting them to succeed in life."
"I've seen the hours spent each week throughout the year that Maranda spends on this event, and I've seen the passion for these kids and this organization. This is a volunteer-run, smaller event as opposed to one run by the full-time employees that you'll see at larger organizations," said Mike Richardson, franchisee at FASTSIGNS.
About FASTSIGNS®
FASTSIGNS® of Bloomington is a locally and independently owned and operated sign, graphics and visual communications company that provides comprehensive visual marketing solutions to customers of all sizes—across all industries—to help them attract more attention, communicate their message, sell more products, help visitors find their way and extend their branding across all of their customer touchpoints including décor, events, wearables, digital signage and marketing materials. To learn more, visit fastsigns.com/2020 or call (812) 415-4028.
Click here to download an image of FASTSIGNS of Bloomington Franchisees, Maranda (left) and Michael (center) Richardson with Michell Turchan, Regional Riley Society Gift Officer.