Upper Cervical Chiropractic of Spartanburg
Upper Cervical Chiropractic of Spartanburg Case Study
The Challenge
Upper Cervical Chiropractic of Spartanburg was relocating their office and needed new signs and graphics to brand their space, promote their services and direct visitors around their new building.
The Solution
The exterior of the new building received custom lighted channel letters and an acrylic panel to identify their practice day or night. The windows and doors were covered with graphics that promote their services and feature their hours of operation in a colorful, patient-friendly way. The perforated window vinyl and clear laminate helps reduce the direct midday sunlight, providing a more comfortable experience for patients in the waiting area.

Inside, wall graphics and a decorative panel of inspirational quotes that align with the clinic's mission serve as interior décor. To direct patients around their offices, vertically aligned wall graphics help identify each area. For final touches, the mission statement for Upper Cervical Chiropractic of Spartanburg was framed and a wall in the children's area received special graphics and props.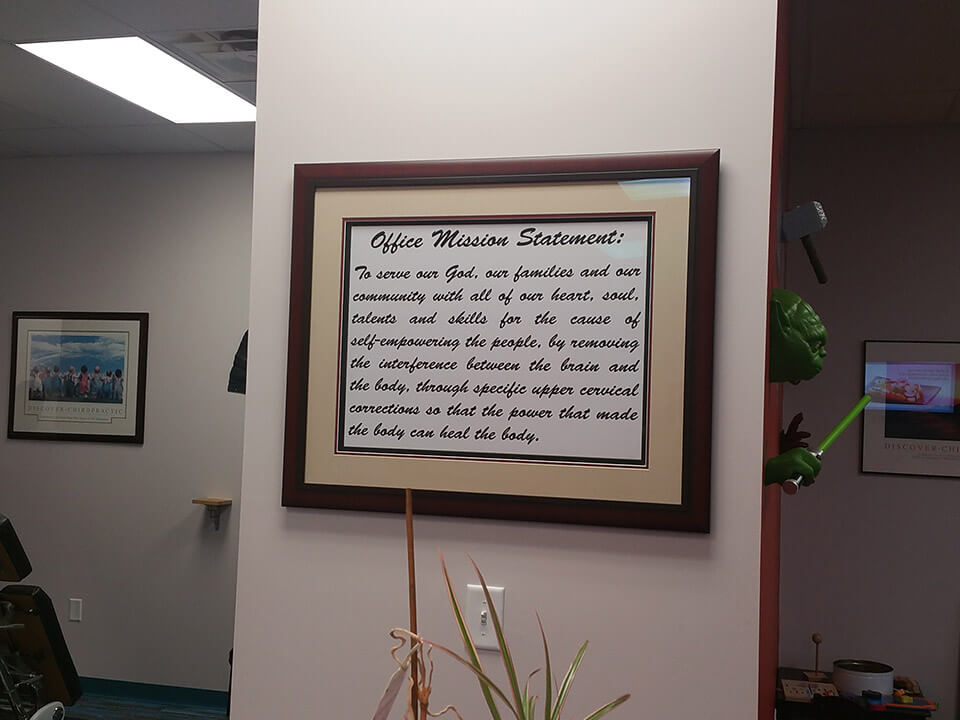 The Result
The new signs and graphics at Upper Cervical Chiropractic of Spartanburg promote a motivating atmosphere for staff while providing a welcoming environment for visitors. The visual graphics help draw attention from potential new patients while creating a more positive experience for existing patients.

*FASTSIGNS® of Spartanburg, SC is owned by Pete Brushaber.