Northgate Arinso-Jacksonville
Office Move Offered Refreshed Branding Opportunities
The Challenge:
Northgate Arinso – Jacksonville (NGA) was relocating to a new, larger facility. They used this opportunity to refresh their brand and communicate their corporate objectives in their new space. They needed sign and graphic solutions for wayfinding, privacy and internal brand communications.
The Solution:
FASTSIGNS® designed a cohesive mix of visual communication solutions to address challenges unique to the new office space of NGA. These included etched vinyl graphics applied to glass to create privacy and to block out unattractive window views while allowing natural light to filter through. In one training room, for example, the windows overlooked a generator; FASTSIGNS provided a window graphic displaying the downtown cityscape to create an attractive alternate view and still allow the outside light into the room. Glass office doors used etched vinyl graphics to obscure viewing the office space, while still allowing employees on either side of the door to see someone approaching the door.

FASTSIGNS recommended removable wall fabric with latex inks for wall murals. These were initially placed in break rooms and in the IT department, and can be expanded to other parts of the building in the future. Custom acrylic room identifiers using standoffs, fire exit maps on brushed composite, hanging PVC signs, a branded desk numbering system and dimensional logos rounded out the branded wayfinding elements in the building.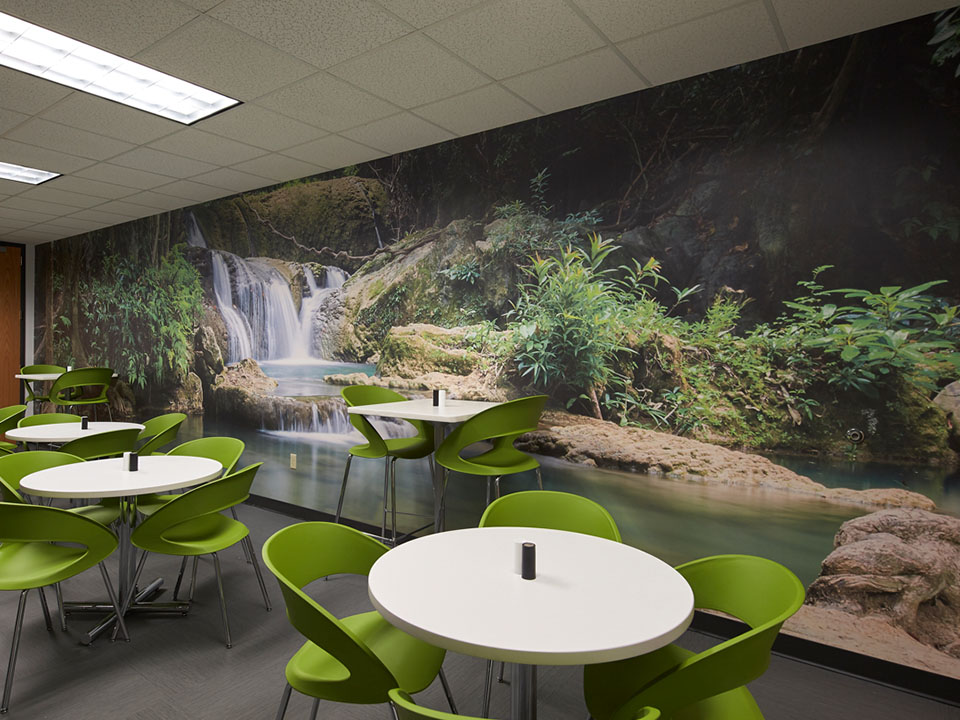 The Result:
The solutions FASTSIGNS provided NGA reinforced their image of a growing global company. Employees are surrounded by graphic reminders that they work for a valuable and growing organization.
*FASTSIGNS of Baymeadows Rd., Jacksonville, FL is owned by Deborah and John Ansel.